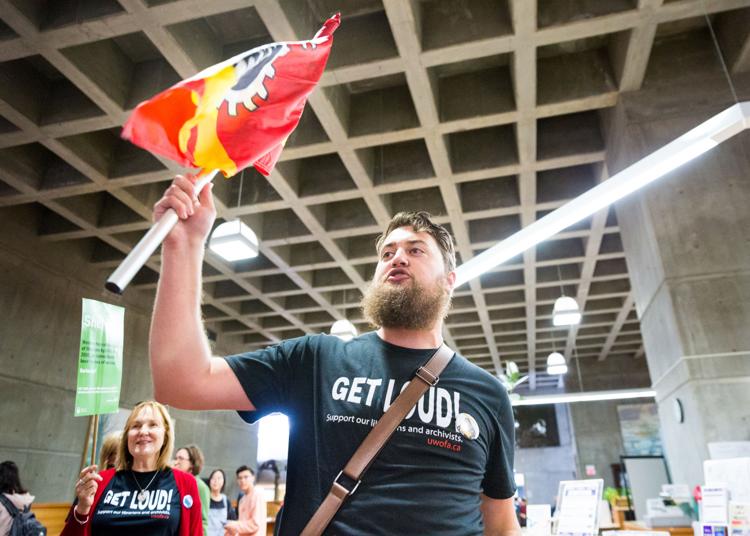 Students joined librarians and archivists and marched through campus today, attracting attention to their negotiations with Western and calling for "solidarity forever." 
The University of Western Ontario Faculty Association, which represents campus' librarians and archivists, negotiated with Western University throughout the summer without reaching an agreement. In early September, they filed a no-board report to the Ministry of Labour, which could allow them to strike by mid-October.
UWOFA demonstrated today in the hopes of garnering support from Western students and to spread the word about their cause. 
Though the protest supported librarians and archivists, it was organized by Western's graduate teaching assistants and postdoctorals union — The Public Service Alliance of Canada's Local 610 is a very politically active group on campus, especially where labour is concerned.
The protest was organized by PSAC 610, the Graduate Teaching Assistant and Postdoctoral Associate union at Western, with the march being led by Ari Vangeest, PSAC 610's president. 
The rally began by marching into the D. B. Weldon Library to sing for their cause, with the protesters songs filling Weldon's concrete halls.
Librarians and archivists singing loud to garner westerns attention pic.twitter.com/rAbn5k3equ

— Katrina McCallum (@KatrinaGazette) September 26, 2019
Protestors then marched to Natural Science chanting for "fair compensation" and "so-so-so, solidarity."
Kristin Hoffman, deputy chief negotiator and a librarian, said the union is calling for fair compensation and more professional autonomy. According to flyers being distributed at the rally, Western's librarians and archivists are ranked 16th in Ontario for compensation.
"The key issues that we are asking for are related to workload. The number of librarians has fallen by 20 per cent since 2010, which means we have more work to do and we can't provide as good support to students and faculty. "
Protesters then marched into the Allan and Betty Taylor Libary, singing that "the union makes us strong."
Vangeest spoke, calling for a fair deal, autonomy in the workplace, and benefits the rest of the university have already. 
"A cut to one is a cut to all," Vangeest said. 
Collection of Protest photos
Darryl Bedford, president of the local chapter of the Ontario Public Sector Employees Union, represented Fanshawe College at the protest. He said UWOFA was supportive during their own strike two years ago, so Fanshawe will support the efforts here at Western. 
"Western should give them a fair deal," Bedford said. "Western has the money and resources to make that happen."
The protestors moved to Oxford Dr., calling for support from Alan Shepard, Western's President, by chanting beneath his office window on the backside Stevenson Hall.
"Which side are you on?" The protestors sing to Shepard's window #uwofa_la pic.twitter.com/Lm15k1MJQ6

— Katrina McCallum (@KatrinaGazette) September 26, 2019
They finished by marching through the University Community Centre, parading into the University Students' Council's office, calling for them to express support UWOFA's efforts. Protestors did not speak to any of the excutive of the USC, and instead chanted outside the office. 
The USC has a policy of remaining neutral during labour disputes. The policy flared up in a council meeting last year amid faculty's collective bargaining, when councilors tried to discuss the negotiations, but could not.
The last time I was in the usc supporting @UWOFA I was asked to leave. What side is the @WesternUSC on when it comes to our services? The workers? Or the administration who has cut librarians and archivists 20% over 10 years? #getloud https://t.co/vtoxGE7VzF

— Ari Vangeest 🌹 (@arivangeest) September 26, 2019
PSAC announced during the protest they will deliver a letter to Shepard this afternoon. Some members of the Society of Graduate Students were also in attendance, stating their support for UWOFA's cause. 
 Negotiations between Western and UWOFA will soon continue into another month. The bargaining began in the summer, and has drawn disappointment from the union leadership, who have said they want to avoid a strike.
"If it has to come down to it," Vangeest said in Taylor Library. "I'll see you on the line."