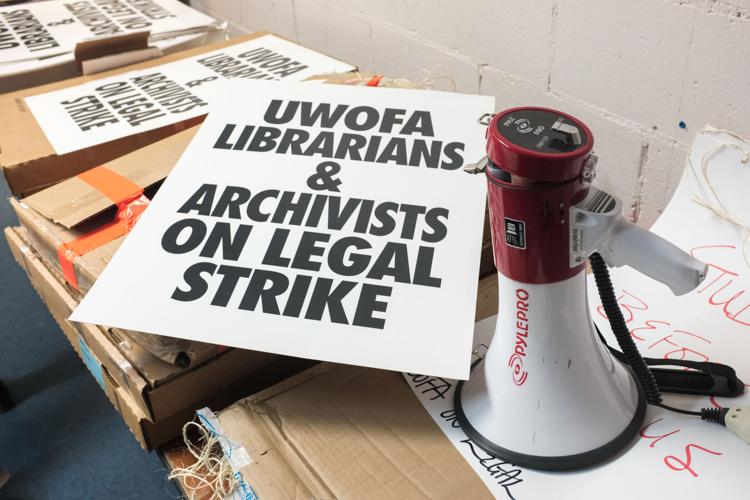 Western's library staff has found a place off-campus. While their union wrestles with Western over pay and workload, they've found a strike headquarters, as months of bargaining could collapse into a work stoppage by midnight tonight.
The University of Western Ontario's Faculty Association will be in a position to legally strike after midnight Tuesday morning. If a collective bargaining agreement is not reached by then, the university's 42 librarians and archivists can withhold work, bringing research support to a halt.
This comes after months of back-and-forth negotiations, as Western aims for the standards of a proposed bill that limits public sector pay. This is the fourth labour dispute Western has dealt with in a year.
Negotiations with a conciliator continue today, as each side makes a last-ditch attempt to stall strike action. The two parties also met on Thursday, speaking for the first time since UWOFA filed a "no board" report allowing strike action on Sept. 16.
Union members voted overwhelmingly in favour of a strike mandate on Aug. 21.
UWOFA president John Ciriello has since said he feels optimistic about the direction of negotiations. But, he said, the two sides still have major differences.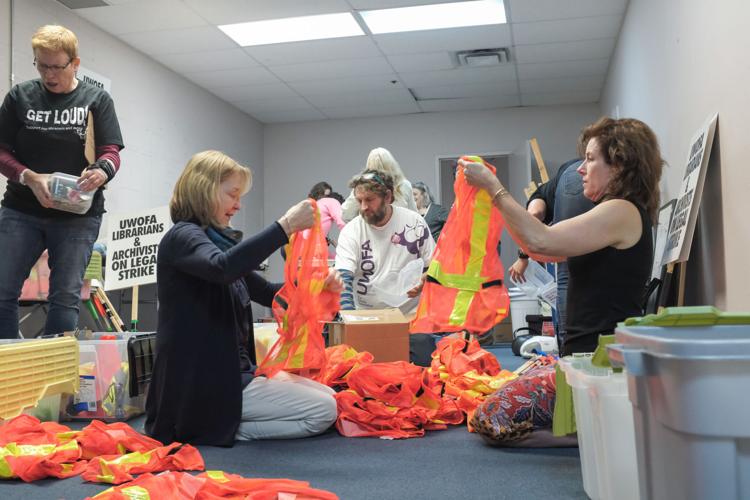 Regardless of negotiations, the faculty union is prepared to picket.
They've moved off campus, taking up a remote strike headquarters in a plaza at Oxford Street and Wonderland Road. It's the same strip mall plaza the union moved into during negotiations between Western and faculty.
Union officials allowed the Gazette inside for photographs but could not be interviewed on the record.
The window is filled with the same green, red and blue pro-research worker flyers that union members have been passing around campus for the past month. Inside were stacks of t-shirts, buttons and flyers.
The building was separated into two main areas: one with a long table where the strike committee conducts meetings and another where they have been working fervently stapling together signs to carry on the picket line.
The signs are white, with the phrase "UWOFA librarians & archivists on legal strike" written in bold black letters. Union members will also make signs out of the colourful flyers being passed around campus for supporters to hold on the picket line.
UWOFA librarians and archivists are prepped and ready to go. Strike deadline is 12:01 am on October 8. Add your voice at https://t.co/D3f3ufynjP to urge @WesternU for a fair settlement. pic.twitter.com/QYKC3n749i

— UWOFA (@UWOFA) October 7, 2019
Union members also put together strike kits for those leading the protesters, filled with twine, markers, buttons, orange safety vests, and all of the necessities to have at the front lines.
A table with Tim Horton's carafes and snacks and a large map of campus were at the front of the headquarters.
If strike action occurs, librarians and archivists will be unable to cross the picket line onto campus.
With only 42 members, librarians and archivists make up a small bargaining unit. But with the support of faculty and other municipal unions, they're taking action to make themselves more visible on campus.
Eight porta-potties were set up across the outskirts of campus starting on Thursday, marking where the union will picket. More were set up over the weekend.
Bus routes will also be detoured around campus, in order to avoid crossing the picket line. The London Transit Commission has not outlined detoured routes.