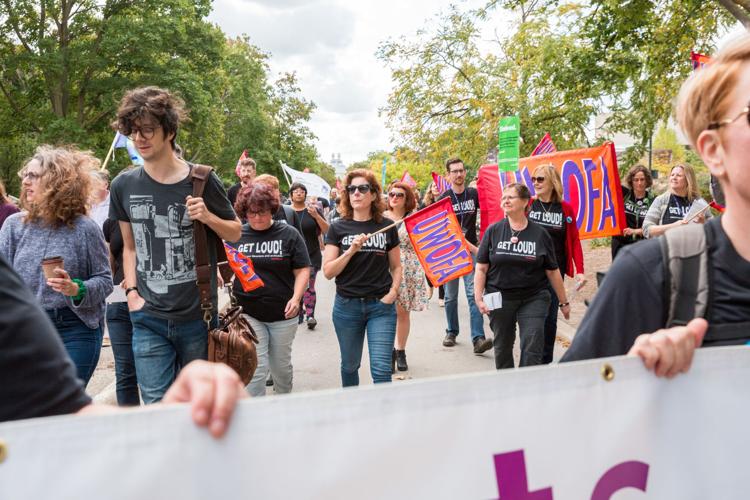 Deadlocked negotiations between Western and its library union could collapse in almost a week, marking another labour dispute's arrival at the brink of a strike.
The 42 librarians and archivists have been in bargaining since summer. But they are stuck, despite conceding to a new labour standard Western is trying to adopt, according to the union's president.
"The bottom line is that we are no further ahead than where we were back in August," said John Ciriello.
It is campus' fourth labour issue in a year, riding a wave of resentment between labour groups and the administration. This separation might only widen if the union strikes, or if the labour standard piloting with the librarians becomes a campus norm.
Both sides say they want to avoid a strike. But if the library workers do strike, important library operations will continue.
Campus libraries will be open, allowing students to still get books and photocopy or print documents. A Western FAQ on the topic clarifies that affiliate college libraries are not under the union.
The University of Western Ontario Faculty Association, who represents the library workers, said negotiations have been coloured by a new standard the university has introduced.
They said Western University is holding them to the changes proposed in Ontario's Bill 124. The bill, meant to "ensure that increases in public sector compensation reflect the fiscal situation of the province," has not been passed or tabled on the legislative agenda.
UWOFA-LA's asks on compensation, benefits, complement and workspace and have bent to the proposed bill's standard, Ciriello said.
He could not name specifics about proposals each side has offered, but said a recent offer by the union that met this standard was rejected.
Western University contrasted the union's account, saying in their own bargaining update that "progress is being made resolve outstanding issues."
A professors' strike, which loomed over campus during negotiations in 2018, would have stopped all main campus classes, effectively freezing the university. Librarians and archivists have taken the spotlight not for their size, but as other labour groups embrace them as a fellow traveller.
UWOFA-LA's cause was paraded around campus in a major demonstration on Thursday, a recent example of union collaboration.
Western's teaching assistant and postdoctorals union led the march through the D. B. Weldon library and the University Community Centre. Faculty and union members from Fanshawe College joined them in solidarity songs, which they choired from the UCC's two upper floors.
Ciriello said the demonstration did not involve UWOFA-LA's bargaining team.
But, the protests are "to let students know, and everyone else on campus know, that our employer has no appreciation of our librarians and archivists," he said. "They don't believe they're an integral member of the academic staff."
Similar demonstrations have pushed the same message. In one case, demonstrators spoke to Western's president directly about whether the administration values the union's workers.
A faculty unionite crashed an open meet-and-greet with top Western officials this OWeek, handing out pro-union pamphlets. The professor, David Heap of linguistics and French, was eventually asked to leave.
When he spoke to president Alan Shephard, Shephard said he is a "big fan" of the workers but would not endorse their bargaining requests, according to Heap. Heap later posed for a photo handing the pamphlets to Western's mascot, J.W. the Mustang.
This year, across four major labour disputes, has often been iconoclastic. During 2018's faculty negotiations, UWOFA projected pro-union messages onto University College at night.
But despite all the public sparring between employer and employee, Ciriello said the disputes often wait until late to resolve.
"We want to have some understanding with the employer," he said. "I think we will resolve the issue, but I don't know if the employer has that same optimism."