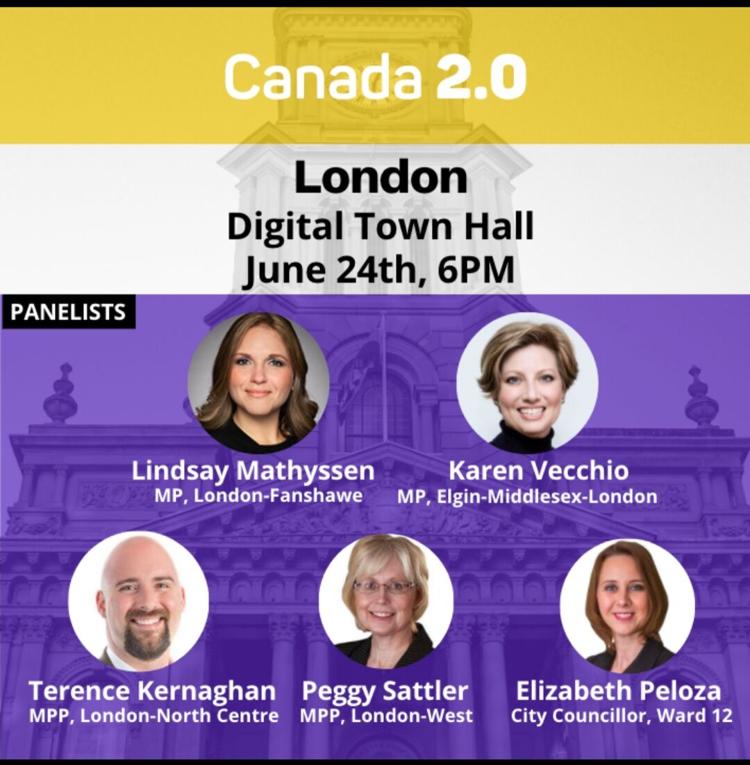 Politicians from local, provincial and federal bodies met for a virtual town hall to answer post-secondary students' questions about how Canada and London should evolve moving into a post-coronavirus world, focusing on alleviating the financial insecurity many students are facing in quarantine.
The June 24 town hall, Canada 2.0, was hosted by Future Majority, a non-profit and non-partisan group who aim to give young voters the ability to voice their opinions and contribute to politics in a meaningful way.
"We are all here today because we want to build a Canada that is healthier and more just for everyone," said Dena Haile, volunteer for Future Majority. "COVID-19 has massively disrupted our society and what the future holds. We need to ensure that Canada builds back better."
The town hall comes as the pandemic has amplified financial insecurity and systemic racism both in Canada and abroad. But, as the Great Quarantine subsides and provinces begin reopening, many students are still unemployed and left wondering what their lives will look like in September and beyond.
Volunteers for Future Majority posed questions to the politicians about a variety of topics including financial security heading into the school year and government support.
The politicians — representing the New Democratic Party, the Conservative Party of Canada and the Ontario New Democratic Party — included NDP Member of Parliament Lindsay Mathyssen and CPC MP Karen Vecchio, along with NDP Members of Provincial Parliament Terence Kernaghan and Peggy Sattler. City Councillor Elizabeth Peloza and Shawn Lewis also attended.
To alleviate issues of accessible education, Kernaghan and Matthyssen, both from the NDP, discussed working towards free post-secondary education.
"I think [free post-secondary education] will be the thing that is the great equalizer," Kernaghan said. "It's where people can have that class mobility they might not otherwise have."
But, in the meantime, he highlighted a need for an increased amount of grants for Black and Indigenous students, students of colour and LGBTQ2+ students.
"[We have to ensure] that students feel that they belong in school. That school is a place where their identities and realities are reflected," Kernaghan said.
However, much of the discussion was overshadowed by students' growing concerns for their financial, and even emotional, stability going into the new academic year.
During the town hall, moderators asked if income has been affected by the outbreak of COVID-19. Sixteen per cent of attendees stated that their income was greatly affected, while 33 per cent said they somewhat suffered from a loss of employment.
When asked about potential solutions, lawmakers focused mainly on the Canada Emergency Student Benefit, highlighting its shortcomings and benefits.
Mathyssen focused on the necessity of a universal CESB, pointing out many of the eligibility requirements excluded groups from receiving financial aid.
She also criticized the lower amount of $1,250 that students received compared to the $2,000 allocated for Canadian Emergency Response Benefit recipients and said they need to push for a higher amount of aid for all students.
Vecchio also emphasized that more must be done to help students, but took a different approach than universal financial aid.
"What I talk about are targeted programs. I spoke at the House of Commons the other day about the fact that I got the child tax benefit outrages me," said Vecchio. "I look at people who are really going through hard times, and when a Member of Parliament receives $280, and that's great, that's the universality of it. But I prefer that it goes to those people who really, really need it."
Kernaghan talked about the importance for students to receive financial aid, like Ontario Student Assistance Program, without having to involve their guardians, as some students may be emancipated or no longer be financially supported. He indicated that the CESB may pose a solution to this.
"How is it that you should have to apply for OSAP and report what your parents earn?" he asked. "What if you emancipated yourself? That is something we should fix, and I am so glad that the CESB came around."
This sentiment was largely agreed upon by the other politicians in attendance, as Vecchio also believed that parents should be separated from their children in receiving financial support.
However, it was Peloza who emphasized the need for the student voting body to push their elected officials to bring these proposals to fruition.
"What I need from you is to hold us accountable," Peloza said. "If we are not doing what we want, let us know."