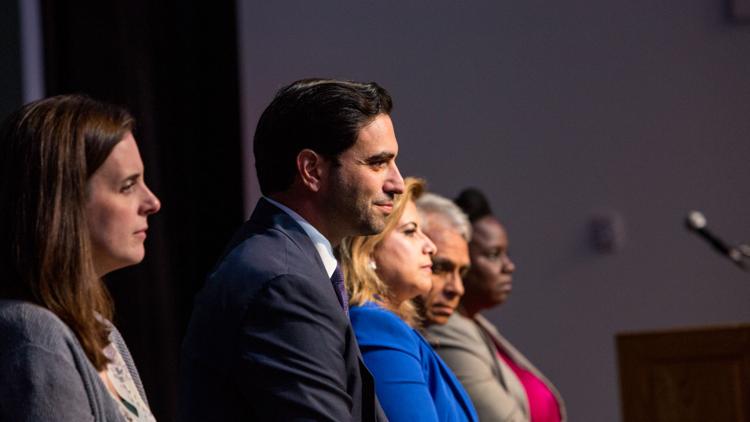 Candidates jockeying for Western's federal riding made their cases at King's Tuesday night, in their second major debate but their first appeal directly to the student vote.
Five out of six registered candidates attended: the incumbent Liberal, Peter Fragiskatos; Dirka Prout, NDP; Sarah Bokhari, Conservative; Carol Dyck, Green Party; and Salim Mansur of the People's Party of Canada. 
Clara Sorrenti, registered under the Communist Party of Canada, was not present.
Topics ranged from climate change, election reform, abortion and transportation. But the debate at King's University College's Kenny Theatre honed in on jobs.
Questions from audience members pressed the candidates on how they would ensure local graduates, a large bloc of London's population, could get jobs.
Dyck cited the Greens' major promise to make post-secondary education free. She added that paid internships are the foundation for students to step into the working world.
Fragiskatos, who has held the riding since 2015, said the government will focus not only on STEM faculties but also on the arts and humanities. He said the government aims to reduce student debt (the Prime Minister recently proposed a boost to student loans) and mentioned a plan to pause debt for low income graduates when they start a family to help lessen financial stress.
Fragiskatos was a political science professor at King's before his election.
Bokhari, the Conservative, focused on businesses that would hire students. By allowing for more small businesses to grow, students will have better opportunities at finding jobs after graduation, she said.
Mansur, of the new right-wing PPC, said that balancing the federal budget is essential before addressing student debt. 
Prout mentioned how the NDP, like the Greens, will push for free tuition. She said it will "take time," because the party still needs to clear it up with provinces and territories and their respective universities.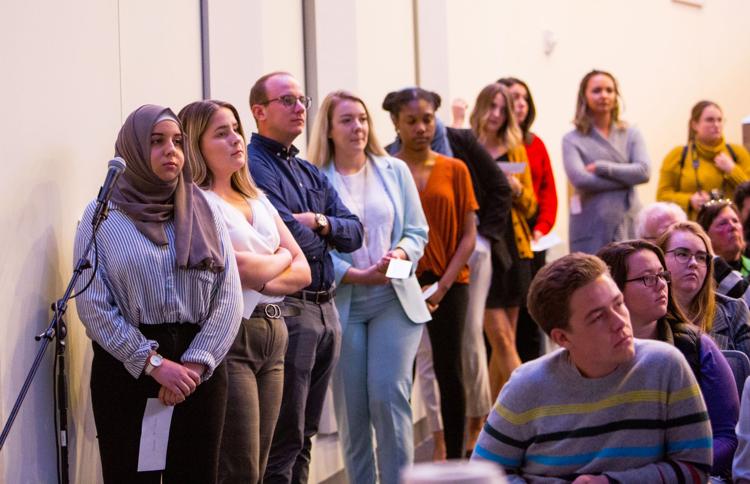 Prout and Fragiskatos received most of the audience questions. While the Liberals are incumbent in the riding, the NDP has a strong provincial presence with three MPPs in the city.
As the two fielded questions, the other candidates rebutted.
Mansur and Bokhari inevitably brought Justin Trudeau's brownface and blackface scandal to Fragiskatos. Bokhari, who came to Canada 17 years ago, said she was "hurt" by the images.
In the aftermath of the photos depicting the Prime Minister in dark makeup, costuming him in a historically racist mimicry of people of colour, Fragiskatos tweeted that he knew his constituents were hurt.
"It was important for the Prime Minister to apologize and his message was sincere. We must all strive to do better," he wrote.
The event was organized by the King's Student Council, Western University Students' Council and the King's political science department. 
The USC's vice-president, Catherine Dunne, reminded the audience as the event finished that on-campus ballots are open until 10:30 p.m. Wednesday.