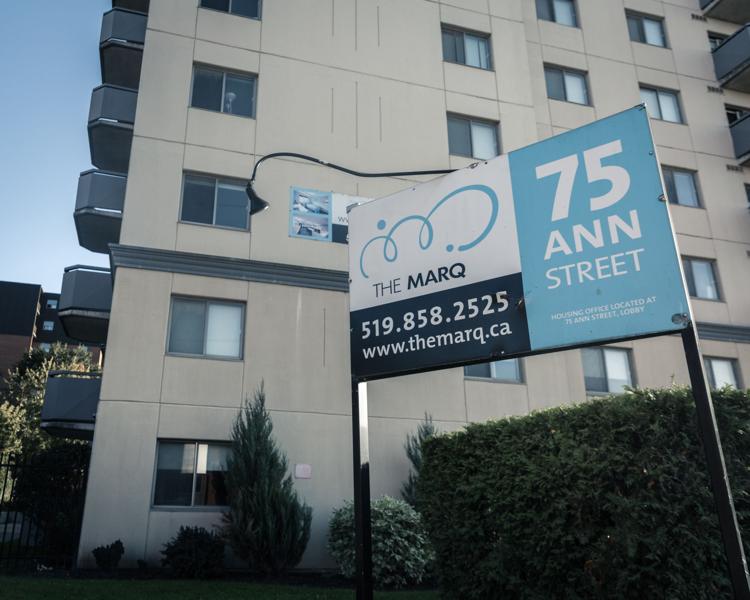 London is investigating a student housing company for selling bedrooms without windows, which are marketed to Western students despite violating local property laws.
The Marq is a renovated 12-storey high-rise that is renting out three and four bedroom units containing at least one windowless bedroom — a violation of the Ontario Building Code Act and London's own property standards, as first reported by the CBC.
According to the city regulations, all habitable spaces such as living rooms, dining rooms and bedrooms must have at least one window or skylight for natural light and ventilation.
In most cases, students renting out the bedrooms are paying more than $600 a month.
An official in London's Realty Services Division said Wednesday that they could not comment on the investigation, as it is still ongoing.
The Marq did not respond to a request for comment.
Chantale Pard, a PhD student at Western University, signed a lease for a bedroom in a three bedroom unit in the building on 75 Ann Street. Being from Halifax, she had not viewed the bedroom prior to signing the lease.
"I didn't find out which bedroom in the unit I was going to be assigned to until a couple of days before I got to school," said Pard.
Pard only began to look into the matter after making a joke to a friend that she had trouble waking up in the morning because there was no window in her room for natural light. Her friend then suggested that a windowless bedroom may not be allowed, and encouraged her to look into it.
Each bedroom requires an individual key fob to access separate rooms. The suspect rooms feel like an office or den, according to Pard.
Pard was also the only tenant in her three-bedroom unit whose room was four walls and no windows.
Pard originally thought the bedrooms were a fire safety concern, but said she confirmed with a fire inspector that a windowless room is only a fire hazard in houses, not in high-rises, as it impedes fire fighters from entering ground-floor rooms.
Pard then got hold of the London's property standards department, who provided her with a N11 form — an agreement to terminate her tenancy — which her landlord signed after a few days.
Pard said she had just hours to vacate the room, as it was signed on Sept. 30, the end of the month.
She was fortunate enough to find another student in her program, who overheard her situation and offered to let her sublet his place.
"I would have been too scared to ask [the landlord] to sign the N11 form if I didn't have somewhere to go. I mean, where do people look for places in October?" she said.