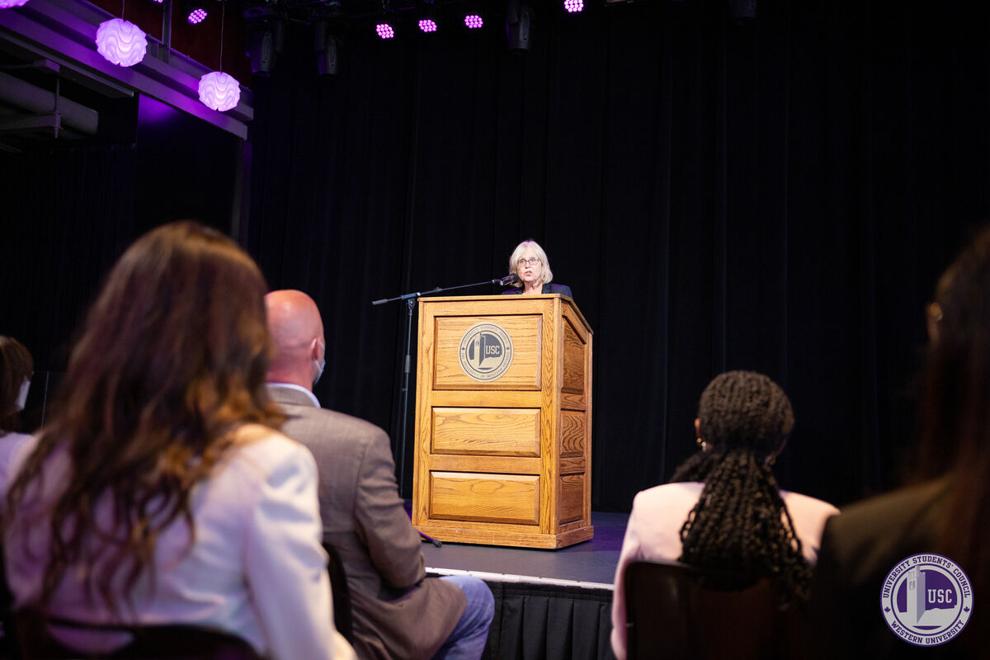 A London MPP and the USC announced an anti-sexual violence policy that will work to increase training for bars and restaurant staff to prevent sexual violence in their establishments.
The University Students' Council executive, London Member of Provincial Parliament Peggy Sattler, along with local New Democratic Party MPPs and organizers from last week's Western Sexual and Gender-Based Violence Walkout announced the Safe Night Out Act, an initiative from the provincial NDP, at a press conference Tuesday in the Wave. 
MPP Sattler said the policy had been in the works for some time, but recently became an urgent matter following reports of sexual assault on Western's campus during Orientation Week and online threats made against Fanshawe students.
"We know that gender-based violence is on the rise because of the pandemic and we've seen that here in London," said Sattler. "It is not only on the rise in intimate relationships, it is also rising in post-secondary campuses."
The policy will primarily focus on training and security in establishments that serve liquor. The policy will make training on consent and sexual violence mandatory for all current and new workers at licenced facilities and require business display proof their staff have received this training.
The policy will also end the minimum wage exemption for liquor servers, recognizing their vulnerability of facing sexual harassment or violence as 80 per cent of liquor servers are women. Ontario is currently the only province with lower wages for people in these positions.
The policy comes after the provincial government's announcement mandating similar training in the Smart Serve certification, a training module for liquor servers.
While both policies push for mandatory training, MPP Sattler believes the Safe Night Out Act is more far-reaching, as it makes training mandatory for all staff, while the Smart Serve program only mandates training for new employees.
The USC executive team also worked with Sattler on this bill. Eunice Oladejo, the USC's vice-president external affairs, collaborated with the MPP through consultations with the Ontario Undergraduate Student Alliance, which gave feedback on previous as well as the most recent version of the bill.
Oladejo said she was able to rely on the work of her predecessors while working on this bill.
"My predecessors dating back two vice-presidents ago have worked with Peggy on giving feedback and student experience," said Oladejo. 
The Safe Night Out Act was brought forward once before in 2017 but it was also tabled and did not receive support from either the Ontario Liberal party or Progressive Conservative Party of Ontario. But, MPP Sattler believes this version will pass successfully in the provincial legislature.
"The world has changed since that time," said Sattler. "What we saw in London is a real catalyst for what more has to be done to prevent sexual violence where drinking is involved."