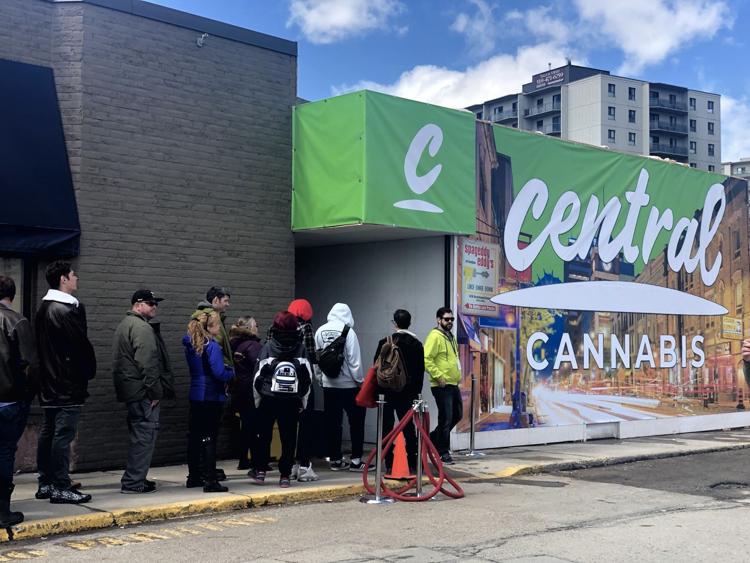 Central Cannabis is London's first-ever legal pot store and one of 10 cannabis retail outlets across Ontario that opened on April 1.
Nearly 200 people lined up to be among the first to visit the only cannabis store located in southwestern Ontario.
Located at 666 Wonderland Rd. N., the store sells a wide range of products, including bongs, lighters and rolling papers.
Central Cannabis is owned by Chris Comrie and operated by Jon Conquergood, CEO of Corner Cannabis.
"[We] expected a crowd and a line up. People are excited to be here and to see, in essence, the first day of [ending] prohibition for [cannabis] retail in Ontario," said Conquergood. He further attributed the store's success to Comrie, Comrie's family and the store staff.
Dozens gather and wait in a 50 minute line to enter London's first legal pot shop that opened this morning in Wonderland and Oxford #LdnOnt pic.twitter.com/G1yqq2J95X

— Rania Osman (@_raniaosman_) April 1, 2019
Central Cannabis features over 100 different strains of cannabis. Experienced sales associates walk customers through the available selections and help according to the clients' needs.
Customers are not allowed to smell or touch their products before taking them home. They are, however, able to smell samples displayed within the store. 
Immediately after legalization in Canada on Oct. 17, 2018, cannabis has been sold through government-run online stores.
On Jan. 12, 2019, the Alcohol and Gaming Commission Ontario awarded 25 cannabis stores with retail licences through a lottery system. A total of three retail outlets are set to open in London.
"There a lot of steps through the process, challenges along the way, but as you can see, we've overcome them," said Comrie. "This has been a great turnout."
The city will open two more stores on Richmond Street and on Wellington Road South, respectively. They will open when their retail store authorizations become effective.