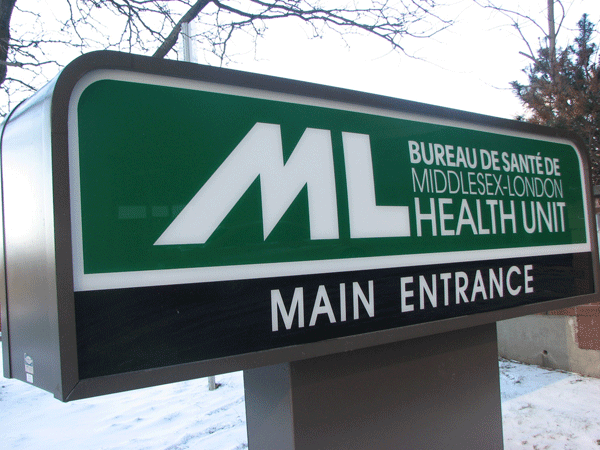 London moved back into Ontario's red restrict COVID-19 zone Tuesday after the health unit confirmed the fourth Western student outbreak in a week and an increasing spread of variants.
"If anyone had any lingering doubt, I think it's painfully obvious we are now clearly in the midst of the third wave," said Mayor Ed Holder. He also announced London's first coronavirus-related death in more than two weeks over the weekend.
According to chief medical officer of health at the Middlesex-London Health Unit, Dr. Chris Mackie, this week's case spike is reflective of activity as far back as two weeks ago.  
"It takes that long for symptoms to develop, for people to get tested and for those test results to come back," said Dr. Mackie. "This means we are seeing a dramatic increase, really developing over the last week, of numbers that were already on the borderline for red zone. If you take the cases we had over the last week, we're now at around 65 cases per 100,000 per week. The cutoff for red is 40."  
The move to the red zone means stringent measures across multiple sectors, with the most severe restrictions available before wide-scale business closings and lockdown.
There is a limit of five people indoors and 25 people outdoors, although the MLHU strongly discourages indoor gatherings of any kind.
Recreation facilities have decreased from 50 people indoors to 10. Most retail stores remain open but with limited capacities — half regular capacity for general retail and 75 per cent for grocery stores.
Movie theatres are closed in red and no dancing, singing or live music performances are allowed. 
Western University released a statement Tuesday announcing changes to their COVID-19 restrictions — including mandating three-layer masks on campus — given the spike in variants of concern on campus, which now make up half of new cases in Ontario.
"Variants spread 50 per cent more easily and can also be more fatal, particularly in young people, according to some data released from Toronto," said Dr. Mackie.
The University Students' Council will shut down all services until at least April 6 in response to the outbreaks on campus and information from Western and the health unit, which means the study space in the Mustang Lounge will be closed, as well as the Spoke.
The changes come after several Western student outbreaks were declared this week, including an outbreak in Elgin Hall Tuesday after seven students tested positive, outbreaks in both Saugeen-Maitland Hall and Ontario Hall announced March 26 and an outbreak from "business student social" gatherings. Seven outbreaks have now been declared in Western's residences since September and multiple other outbreaks have been linked to indoor student gatherings.
"No level of restriction will control the spread of COVID-19 if people aren't complying with it and keeping their distance, avoiding indoor gatherings, wearing masks," said Dr. Mackie. "This is our last chance really, to avoid a significant lockdown … now is the only chance, to avoid that higher level of restrictions."
Dr. Mackie warned it is likely London will have to lockdown if cases continue to spread as they are and noted the importance "now, more than ever" of complying with the health unit rules.