Londoners are getting ready to stand in support of Black Lives Matter and protest against the injustices faced by the Black community, following days of police violence against protesters across Canada and the United States.
Demonstrators will gather at 3 p.m. in Victoria Park on Saturday for a peaceful march organized by Black Lives Matter London.
London's group was founded by five Black women who, after being inspired by the protest in Toronto, came together to bring the movement to the city.
This is the first time the London community has gathered in solidarity since George Floyd, a 46-year-old Black man from Minnesota, was killed in police custody. Known to his friends and family as the "gentle giant," Floyd died on May 25 after being pinned to the ground by police officer Derek Chauvin and three others, until he showed no signs of life.
His death has ignited global protests.
Chauvin was charged with second-degree murder and the three other cops who were involved were charged with aiding and abetting second-degree murder.
But, this is only the very beginning of addressing what is being called the "pandemic of racism."
The organizers are urging supporters to maintain social distancing during the protest and be mindful of the coronavirus pandemic. They are asking anyone showing symptoms to stay home.
Protestors are asked to wear a mask, maintain a six-foot distance from others where possible and to march in groups of five people or less from your household.
Supporters are encouraged to self-isolate for 14 days after the protest and to get tested at one of two testing centers: Carling Heights Optimist Community Centre and Oakridge Arena.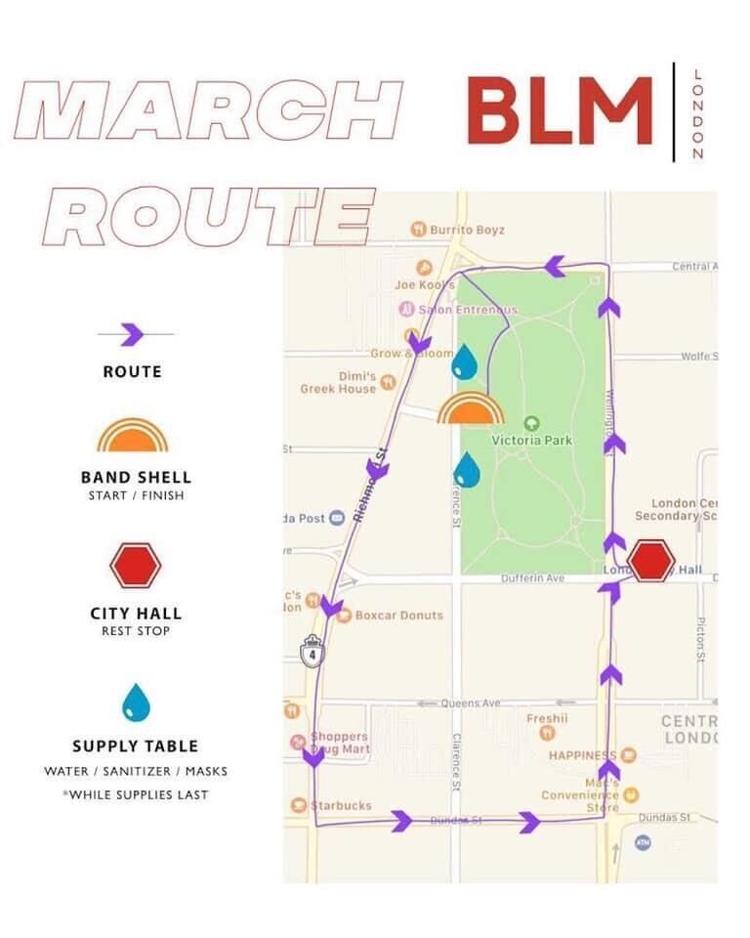 Information about the protest can be found on Black Lives Matter London's instagram page.
Those who wish to support Saturday's protest but are unable to attend can donate to the Black Lives Matter London GoFundMe page. The funds will be used to provide masks, hand sanitizer and water to protestors.
Additional funds are being saved to establish the group as an official chapter of Black Lives Matter. It would be the fourth chapter of the organization in Canada, alongside those in Vancouver, Toronto and Waterloo.
Black Lives Matter London has raised over $30,000 through their GoFundMe, surpassing their initial goal of $5,000 with the help of 870 supporters.