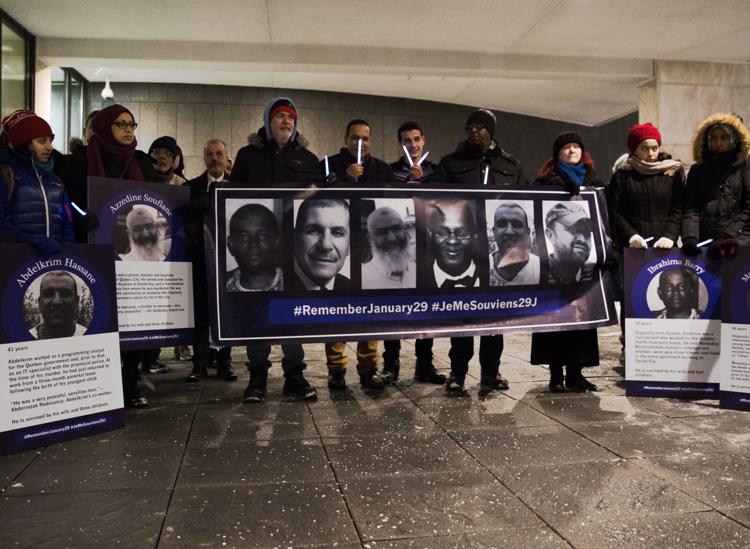 Londoners payed their respects at an all-day memorial on Monday to commemorate the deadly Quebec City mosque shooting that took place one year ago.
On Jan. 29 last year, a lone gunman opened fire, murdering six muslim Canadian men and injuring 19 others at the Islamic Cultural Centre mosque in Sainte-Foy, Que. shortly after an evening prayer. 
A committee room at London City Hall displayed posters of the six men who were murdered the night of the attack; approximately 50 people showed up throughout the event.
The event took place between 12 to 8 p.m. and was organized by National Council of Canadian Muslims and the People for Peace London.
Leila Almawy, representative of NCCM's London chapter and the memorial's organizer, highlighted the idea that Canadians need to have more conversations surrounding hate, fear and oppression in relation to Islamophobia.
"A lot of people are still processing or are unable to process what happened. There's a lot of fear within my community of going to the mosque and just praying there," said Almawy.
London has had it's share of Islamophobic hatred in 2017, including several anti-Islam rallies that drew crowds of counter-protesters and sparked police involvement. 
"I can tell you first hand that family members of mine have faced Islamophobia. One day my mom was driving her car and some guy on his bicycle made it a point to stop and spit on her windshield because she wears the hijab," said Almawy. 
During the vigil portion of the memorial, which took place at 7 p.m., Omar Sallam, member of the Islam Chaplain at Western University gave an empowering prayer, followed by speeches by Mayor Matt Brown and Selma Tobah, a graduate research assistant in the Faculty of Health Sciences, among others. Each speaker emphasized the importance of solidarity and the systemic racism that causes acts like the Quebec massacre to take place. 
Tobah notes that going to the mosque is no longer solely an act of worship for Muslim's but an act of defiance to those that are Islamophobic.  
"What happened was terrorism, but the victims were black and brown, and the gunman was on the right side of white supremacy, so this nation forgets," says Tobah.
Besides the memorial, Londoners also showed their respect in other ways. London's City Hall lowered its flag to half mast in recognition of the mosque attack, and London Muslim Mosque officials presented "Your Last Walk in the Mosque" on Sunday, Jan. 28 — a documentary that highlights the personal stories from family members of the Islamic Cultural Centre affected by the attack.
Beyond London, dozens of other memorials were held at the same time across the country.