The London Transit Commission announced yesterday that many scheduled buses — including the 2, 6, 10, 13 and 33 — will detour around campus should Western University's teaching assistants go on strike.
TAs are currently voting on the university's last bargaining offer, and will finish Friday, April 13. Tomorrow, the union representing TAs, Public Service Alliance of Canada Local 610, will announce if TAs will strike or not.
On Wednesday afternoon, an LTC's service update stated:
"Please note that delays associated with picket lines would negatively impact schedule adherence on all routes on campus, and also affect transfer connections for other routes. In an effort to mitigate negative impacts to transit customers, public transit services do not cross picket lines."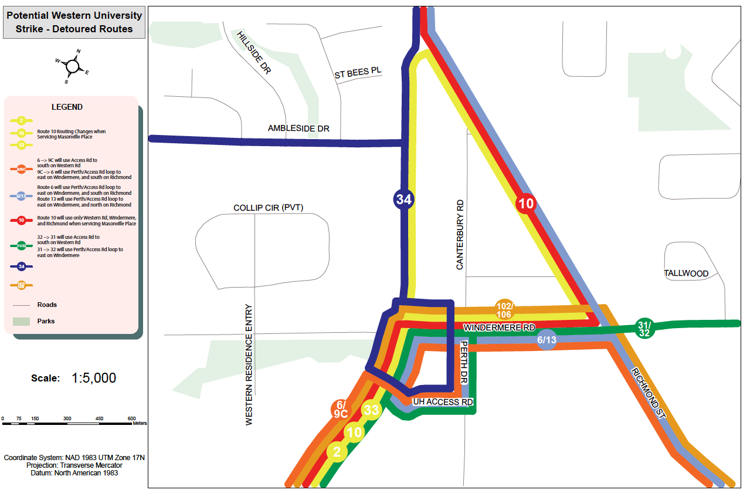 In an email, LTC's general manager, Kelly Paleczny, said detouring the route in advance is standard practice.
"LTC plans in advance for detours when we are aware of a potential disruption that will impact any of our routes. We are providing advance notice of the potential for the detour in an effort to ensure our customers are aware of what service impacts to expect should the strike proceed," Paleczny said.
Keith Marnoch, director of media relations at Western, said campus shuttles — the Brescia University College and King's University College shuttle — will continue as usual, and he said the university does not have plans to put anything new in place if buses bypass campus. Marnoch added scheduled exams will take place as planned.
University Students' Council communications officer Jana Cernavskis said the USC is working on communicating the information to students.
"Our main concern right now is that undergraduate students have access to the resources that they need to finish their academic year in good standing," Cernavskis said. "And that any service disruptions they may be facing are regularly communicated so they can prepare for longer travel times to campus."
Paleczny said the detours will remain in place as long as there are picket lines that have the potential to impact service.
This article will be updated as more information becomes available.