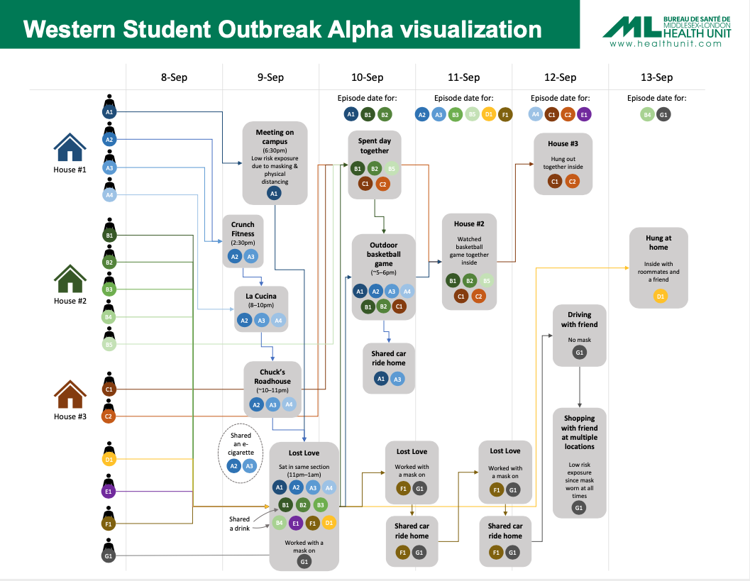 The majority of students affected by Western's COVID-19 outbreak are linked to one of three houses and at least 12 are connected to Lost Love Social House downtown.
Of the 28 Western students who tested positive for the coronavirus, 15 are linked to the outbreak. Eleven of those 15 are connected to one of three households.
In a graphic released by the Middlesex-London Health Unit, authorities show how the cases in Western's outbreak spread. The students visited many local businesses and downtown bars where they had "contact much more close than necessary," including La Cucina Ristorante, Crunch Fitness and Chuck's Roadhouse.
"We've included in this chart the people who have tested positive" said Dr. Chris Mackie from the MLHU. "But of course there are many other contacts at each of these situations where the risk was present and large numbers of people were gathering."
Several of the affected students drove together without masks and shared drinks and e-cigarettes.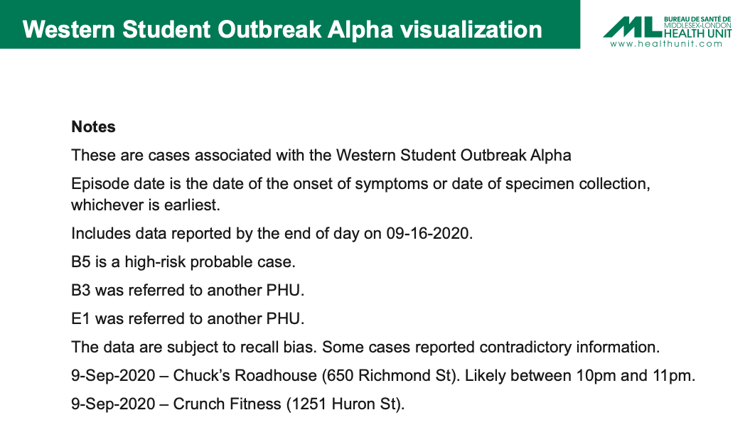 One case, identified as F1 on the MLHU's graphic, is staff member at Lost Love who worked two additional shifts at the bar on Sept. 10 and 11 after initially being exposed to the virus on the day before. The student was wearing a mask throughout their shift and risk of transmission to other patrons was low.
A second Lost Love employee, marked as G1 also tested positive two days later, after working and driving with their infected coworker.
Lost Love shut down operations on Sept. 12 to deep-clean and give their employees time to seek testing and self-isolate. The bar is currently closed and plans to reopen Sept. 26.
According to the MLHU a number of the 28 students who have tested positive visited campus. One student linked to the outbreak participated in a low-risk meeting on campus the morning of Sept. 9, where masks and social distancing were in place.
In addition to visiting local businesses and campus, students affected by the outbreak played basketball outdoors and gathered at one of the three houses to watch the Sept. 11 playoff game.
"House two [invited] folks from house three to their home to watch the basketball game together inside," said Dr. Mackie. "There were additional individuals at that gathering that aren't shown here because they haven't ended up testing positive."
One of the students who visited Lost Love is reported to be a "high-risk" case.
"[The activities in the graphics] are the sorts of activities that we believe are responsible for this outbreak," said Dr. Mackie. "It's gathering in large groups, it's gathering in close contact with people outside of your household or bubble, it's unnecessary, very close contact … all the things we know are just the highest risk in terms of the spread of COVID-19."