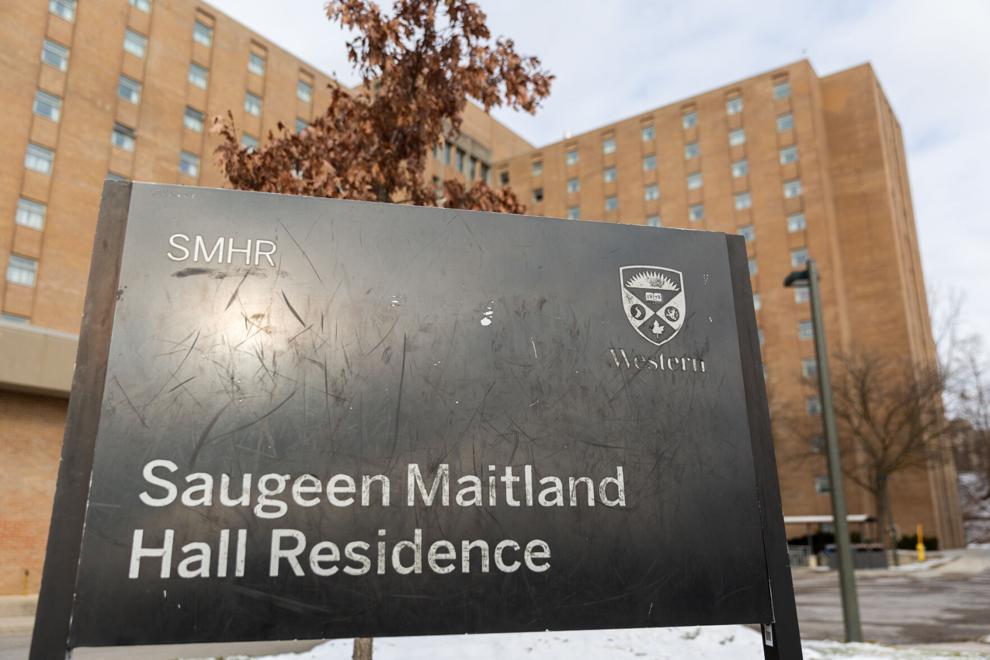 Many international students have spent over six months in Western residences, away from their families since first arriving in August.
Western University's residences are shut to most students until mid February, a decision the administration made 11 days after Queen's Park announced a province-wide lockdown barring Ontarians from seeing those outside their household.
While some students with pre-arranged travel plans and extenuating circumstances were allowed to return to residence early, many have decided to take a refund of their fees and stay home until the end of reading week.
The closure left residence buildings largely empty for the start of classes — the only students remaining were those who never left in the first place.
First-year medical science student William Chu has rarely left Elgin Hall, a suitestyle residence with a kitchenette and living room in each suite, since he arrived in August. Chu, an international student whose family currently lives in China,  and his family decided it was not worth it to travel home for the holiday break.
"Going back is a pretty monumental task," admitted Chu. "There are no direct flights straight back to Beijing, which is where I'm from, meaning I would have to quarantine in Shanghai and then catch another flight back."
According to Chu, there were about 15 people, including staff, in Elgin over the break. Chu celebrated Christmas and New Year's Eve with friends from other floors — also international students stuck in residence — since his entire suite was otherwise empty.
"I assumed I had the entire floor to myself," said Chu. "I knew a few guys on [other floors] and we would meet up, but I did feel a bit isolated during that period of time."
Now that the break has ended, Chu has seen more students trickle into the residence but none of his suitemates have returned and he is still one of the few people on his floor.
Kevin Li, also an international student in Elgin, had a nearly opposite experience. While Li was also unable to travel home to see his family, he was able to leave residence and stay with a friend for a week in Toronto.
A first-year science student, Li returned to Elgin before the end of the break and said his floor is currently full and his closest friends, also international students, never left residence.
"I enjoyed the quietness [when most students were away for the break], I had my really close friends that I could spend time with," said Li. "It was a nice break from all the chaos that usually goes on in residence."
Li decided not to travel home to the United States over the break for the same reason as Chu; it would have been too much of an inconvenience to have to quarantine there and in residence.
Katie Ko, a first-year business management student, has also been unable to see her parents in Hong Kong since she arrived to quarantine in residence in August. 
According to Ko, her floor in Elgin is around 30 to 40 per cent full and two out of her three suitemates are back. Like Li, Ko was able to spend time with friends in the Greater Toronto Area for a brief period over the break.
Ko said she also saw no point in returning to her home in Hong Kong only to have to quarantine for 14 days and again upon return to Elgin.
The frosh all said the strong international student community in residence keeps them sane.
"During reading week, [every international student] was here because they were not going to go back home," said Ko. "We all have a really good relationship."
Ko noted that this may not be the case with students in traditional and hybrid style residences, where there is less space to socially distance and non-international students might not feel as safe returning early.
"Students in [Ontario] Hall, for example, are not able to interact in common rooms because they are closed," said Ko. "A lot of my O-Hall friends have chosen to study at home and take a refund because they know they would not be able to interact with many people anyways." 
Most students will be allowed to return to residence after reading week, once the province-wide lockdown is lifted. In the meanwhile, students in residence are been supported by sophs and dons who have also returned.