Adrianna Wiley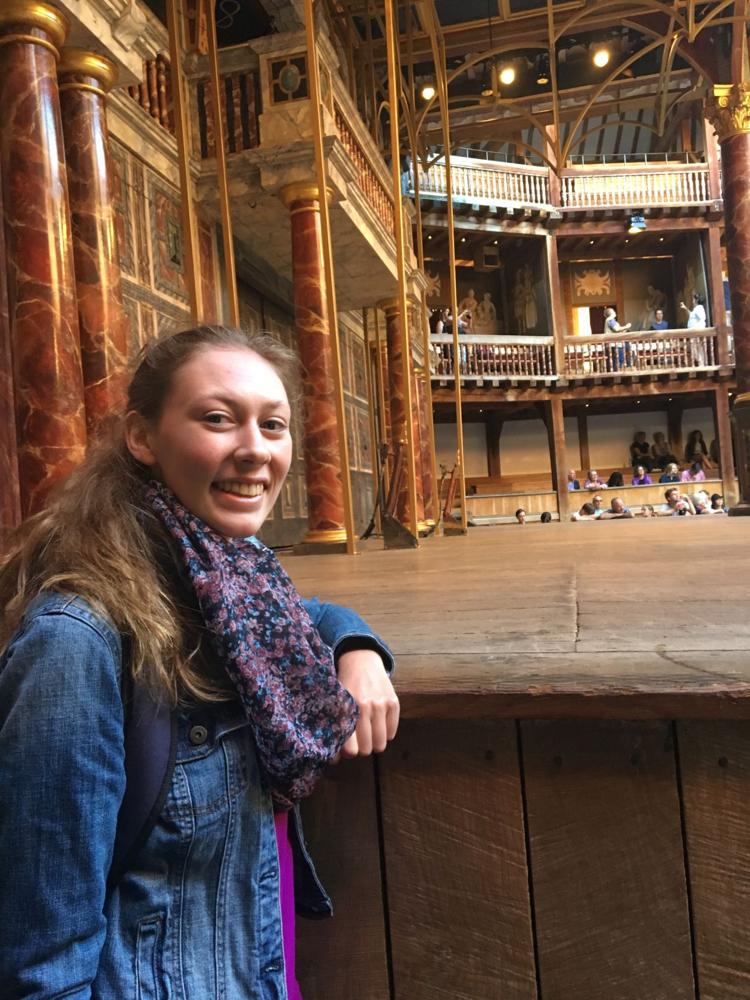 What is your current year and program? I am a third-year student doing a specialization in anthropology and a minor in biology. 
What is your favourite campus eatery? Like many Western students, I love The Spoke. For me, it not only provides delicious bagels and symbolizes Western spirit, it also reminds me of home. Back in Guelph, we have cafes for everything. In first year, whenever I missed home, I would go to The Spoke and grab lunch and a fair trade coffee. After three years at Western, I have many happy memories of The Spoke. It is not only a great eatery, it is "a parliament for the people."
Why are you running for this position? 
Running for social science president is not something I would have considered doing on my own. I am running because a group of my peers/constituents in the department of anthropology asked me to consider taking on the role. After some thought, I realized it was an opportunity and a responsibility I could not ignore. Ultimately, I want to be social science president for the people who told me to run, for the people who often get left out of student politics. I am running to listen to all the students of social science and to support their diverse needs. 
What do you see as the biggest challenge faced by students in your faculty? 
Wellness is a challenge faced by students in every faculty, and it is also an issue that underlies many other problems. If students are not well (in any dimension) then it makes academics and student experience a lot more difficult. Unfortunately, as students, I think, we often feel like we have to push ourselves beyond what is healthy. 
How do you hope to mitigate this? 
Student wellness is a multifaceted issue which must be addressed holistically. In terms of mental wellness support, I would like to implement mental health training for faculty and administrators, including academic counsellors. Professors interact with students every day and having this training would allow them to help their students thrive. Additionally, I would continue to run events which reduce the stigma around mental health and promote mental wellness. We need to stop handing out "laundry lists of resources" and actually get students the help they deserve. I would listen to students and act on their requests because ultimately mental unwellness affects everyone differently. 
What are the three most important initiatives you hope to accomplish in your term? 
Broadly, the three most important initiatives I hope to accomplish are, first and foremost making academic counselling work for students, making council more accessible to the average social science student and improving the soph team connection to council so the needs of first-years are being addressed. 
Why do you think you are best suited for this position? 
I think I would make the best social science president because I believe that "no matter how small an act of kindness or generosity or simple positivity you put out into the world, it will make a difference" (quoted from the Wonder Woman comics). I am from a small department, so I know as well as anyone that the needs of students in this faculty are extremely diverse and equally important. I come to leadership with an anthropological approach; that is, an understanding that it is unity in our differences that makes us stronger, that we all have valid perceptions and world views that need to be considered and that solutions need to be holistic and need to address the concerns of all parties involved. Essentially, I know I would be the best social science president because I don't want to be president for me, I want to be president for everyone in this faculty.
Camellia Wong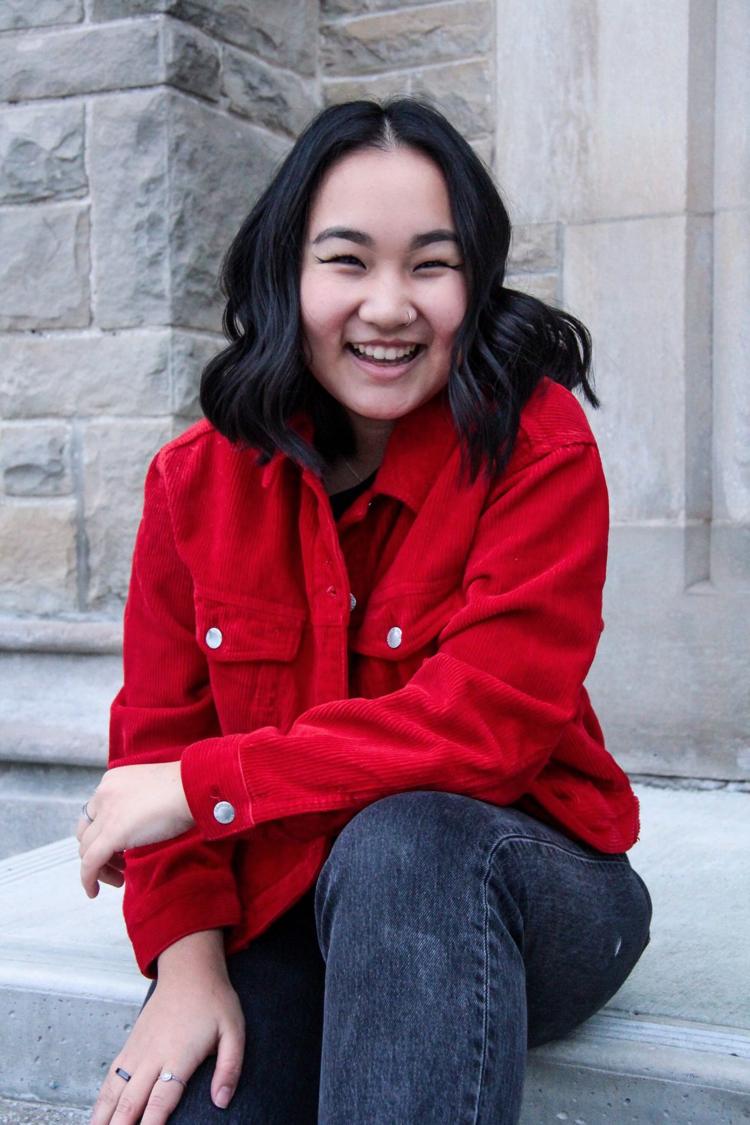 What is your current year and program? I am currently a third-year student enrolled in the political science and transitional justice program!  
What is your favourite campus eatery? The Spoke! Mushroom-Swiss bagels fuel my days!
Why are you running for this position? 
Representation matters. And I believe that everyone deserves to see themselves in their role models. I hope that by running, I will be able to encourage at least one person from an underrepresented community to take on a leadership role at Western, whether that be in student politics, the clubs system or the orientation program. On top of this, the Western community has provided me with so much, and through student politics, I found a place where I truly fit in. I believe that it is important to give back to this community by giving students the same wonderful experience that I had at this school.  
What do you see as the biggest challenge faced by students in your faculty?  
The biggest challenge facing social science students is accessibility. The clubs, councils and organizations on campus work hard to run programming, develop initiatives and offer services that are beneficial to our students. Over the past year, I have noticed that students are struggling to identify and access the resources that are right for them. At the same time, many of these resources are going unused or unattended. 
How do you hope to mitigate this? 
If elected, I am committed to working alongside our communications portfolio and organizations across our campus to make resources more accessible. By allowing clubs and councils to participate in our "Week at a Glance" initiative, educating our council members on the resources available on our campus and highlighting important services that were created for our constituents, I believe that the SSSC can make accessibility a reality. Finally, in order to increase interest in the programming and initiatives that we are highlighting, our team will utilize unconventional marketing tactics, such as chalking Concrete Beach or stickering Spoke bags to garner our students' engagement.  
What are the three most important initiatives you hope to accomplish in your term? 
I am committed to ensuring that each student feels comfortable on this campus. By carrying out initiatives, such as gender neutral bathrooms in the Social Science Centre, or developing programming, such as international student orientation, I hope that I will be able to help students make this school their home.  
If elected, I will address issues of wellness holistically. I believe that our wellness is made up of several different spheres, including mental, physical, spiritual and occupational. By running themed wellness months, mitigating academic-related stressors and addressing sexual violence on our campus, our council will be able to provide assistance to every aspect of wellness that students struggle with.  
Lastly, I hope to set my successors up for success. The Social Science Students' Council is engaged, and we have the capacity to do so much. I believe that we should build off each other's goals every year and establish a long term vision for this council. If elected, I hope to kick-start initiatives that future councils can continue and set our organization up for success for years to come!  
Why do you think you are best suited for this position? 
I believe that, as the social science president, the council's mandate should reflect our students'. Through leadership opportunities on the Social Science Students' Council, Western Women in Leadership and the Western Charity Soph Team, I have been exposed to so many diverse voices. It has allowed me to expand my perspectives and to begin advocating for the concerns of all students. However, there is still work that needs to be done.  
As president, I will give each student an opportunity to have their say, which will in turn create a council that is focused on putting forth inclusive programming, initiatives and communications. This will ensure that each student feels safe on our campus, and that all incoming first-years will have the chance to make this campus their home. 
Nikol Kamenetsky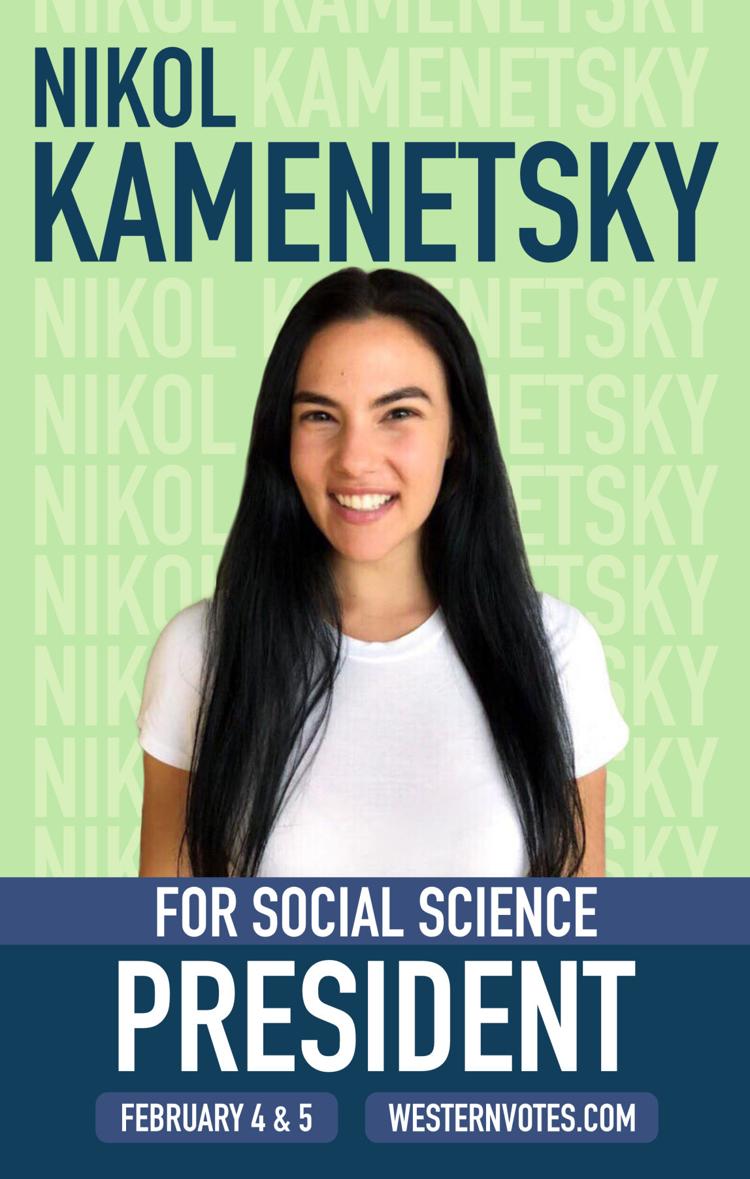 What is your current year and program? Second year, BMOS.
What is your favourite campus eatery? The spot with the shortest lineup that day.   
Why are you running for this position?  
Sitting in my very first council meeting back in first year, I immediately fell in love with the energy and passion the council invested into the students of this faculty, and beyond. 
The overflowing pride I have for social science is not a temporary feeling — it is a permanent call to action. When I started off as a first-year representative, I immersed myself into every event, conversation and learning opportunity I could find and make time for. My love for the council grew exponentially after being elected into the USC as a councillor, and I explored the ins and outs of the USC sphere of policy, debate and hardcore student advocacy. Bringing this knowledge back to the SSSC and continuing to explore ways of making the student experience more convenient, more accessible and overall more enjoyable is a priority with no plans of slowing down. This drive to keep pushing students forward, coupled with extensive knowledge of how the SSSC and USC both operate, I know that I am equipped to step into this role with confidence. I wholeheartedly look forward to investing my all into this role, for you (yes, you, reading this right now!). Always.  
What do you see as the biggest challenge faced by students in your faculty?  
While it's difficult to narrow the concerns of nearly 7,000 diverse students down to a single one, there are currently two barriers that are undeniably prominent: 1) the supports available to students struggling with deeper layers of mental illness are weak, inefficient and out of touch, and 2) the absence of a course waiting list system during course selection. Waiting for a spot to open up in a class really just becomes an online battle of furious page refreshing.  
How do you hope to mitigate this?  
Reflecting on the large amalgamation of mental health stories shared with me in the past, as well as drawing from my own experience, I know this: those who need help most are often the hardest to reach. Getting out of bed, putting on clean clothes and walking to the bus stop can seem impossible, even with a strong desire to get help. Knowing this, we can no longer continue to dismiss students who are not able to utilize, let alone benefit, from any of the walk-in resources Western currently has. Don't get me wrong — the expansion of our resource repertoire is astounding and has contributed positively to the lives of countless students. However, it is my number one priority to put at-risk students at the forefront by continuing to work with the social science dean and Western administration on creating a calling and texting helpline, exclusively for Western students. While similar resources exist (e.g., Good2Talk), they are often accompanied by a long wait time due to the sheer number of students who use these helplines. Hiring a full-time counsellor to perform these services for Western students is a project that I hope to see completed as soon as possible. 
In regard to the course waiting lists, the USC has made great strides in this realm by successfully advocating for a course waiting list pilot project, set to be available in summer 2019. It is crucial to ensure that this launch is successful and will continue to progress into a permanent feature which remains to enhance your academic experience.  
What are the three most important initiatives you hope to accomplish in your term? 
Mental Health and Sexual Violence training to be completed by all professors and TAs. 
Reignite the lost spark between our social science departments. Dean's orders! 
Textbook Library in our council office, free for students to borrow as needed. 
I also look forward to making progress on my vision for a Social Science Centre revamp: fresh paint, lots of greenery, better lighting and comfortable study spaces. Preliminary discussions concluded that this is a multi-year project, so it will not be completed during my term. 
I encourage you to read through my full platform on my Facebook page, "Nikol Kamenetsky for Social Science President." It was hard selecting just a few points for this question! I would love to hear your thoughts on the rest of them.  
Why do you think you are best suited for this position?  
Being the only candidate with a solid foundation of USC experience, stepping into a presidential role is a very natural progression. Bypassing the learning curve that someone joining the USC sphere for the first time will encounter is hugely valuable, seeing that faculty presidents have responsibilities on the USC as well as their faculty councils. If elected, I will be able to dive right into getting my platform points completed, navigating my next steps efficiently and effectively. I am also eager to get started because not only is each point accompanied by a clear, well-researched action plan (feel free to message me for more details!), but I know what an exorbitant difference many of those goals will make to countless groups on campus. Feeling the excitement that surged through the conversations of every single person who contributed their passions to my platform — our platform — was one of the most memorable moments of my campaign. I truly love this faculty to no end, and it means the world to have students trust me with their visions. I want to make them proud at the end of the day, because advocacy and creating change is where my passion continues to grow. To wrap up, I want to thank you for taking the time to read my responses in this piece, as well as the responses of the two other incredible women in this race.
Correction (7:49 p.m., Feb. 4): Camellia Wong's third answer was corrected given that there has been a social science president who is a woman of colour during the past three years. The Gazette apologizes for this error.