Meet the president: Mitchell Pratt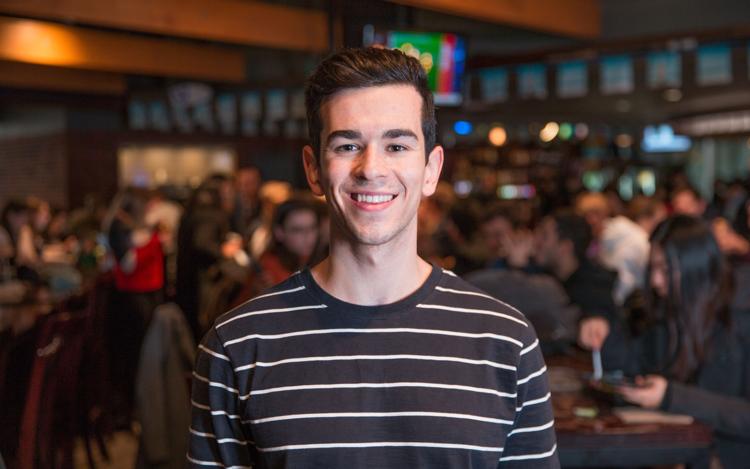 Mitchell Pratt is sitting at a roundtable across from Danny Chang on a Monday morning in the fall of his presidential term. He nonchalantly has one leg propped up on top of the other and a mug in his hand with the words "World's Best Boss" printed on it. The two are discussing action steps for improving safety, sustainability and sexual violence prevention on campus, among other student issues.
In the background, ceiling-high shelves are stacked with a variety of Mitchell's books on history, politics and most notably, The Lord of the Rings trilogy — a series he has religiously reread every summer since grade 9. A windowsill is lined with money tree potted plants labeled with the names of the executive University Students' Council officers, bearing witness to Mitchell's love of witty analogies. To the right of the windowsill, a whiteboard is permeated with notes and a countdown: day 146 of 365.
The elections
The present scene in Mitchell's office gives little indication of the winding path detailing his arrival to the presidency. Last January, Team PrattChang was one of two slates running for the 2018 USC presidential election. The team's platform prioritized improvements to student experience, mental health resources, academic processes and campus safety.
The elections began on a positive note before quickly advancing into uncharted territory, when the vice-president of the rival team, Rav Datta, stepped down in the controversial aftermath over his alleged past misconduct toward a student. His slate partner, Ocean Enbar, announced he would continue to run alone, and he was allowed to do so by the USC's elections governance committee, setting a precedent to the course for the elections.
"I felt bad in terms of the way that all unraveled, because I had a lot of respect for Rav and Ocean," says Mitchell. "It was difficult for Ocean, I think, to go through the last week or so of campaigning on his own, and I really admire his fortitude."
The elections were further marked by a lack of female candidates and fewer running slates compared to previous years. While positive in some aspects, the limited competing slates presented an unforeseen challenge for Team PrattChang.
"That really competitive discourse among more than two slates really helps bring a lot of what the USC is to the public forefront," explains Mitchell. "I think that's one of the times of the year where campus is most engaged."
For this reason, the team had to double down on their efforts to engage the student community in the campaign and voting processes. In 2018, a paltry 23 per cent of eligible students voted in the election, a five per cent drop from the previous year. Mitchell describes his particular obsession with reaching what he refers to as the "other 70 per cent" of students who are either unaware or uninterested in the elections and the USC in general.
Mitchell and Danny stepped down from their roles as social science and science faculty presidents, respectively, for the two-week campaign. Mitchell recalls the mental exhaustion of juggling academics on top of introducing himself and relaying his 30-second pitch for presidency to countless students on a daily basis.
"It was really exhausting consistently being the best version of yourself … [and] being constantly accountable and accessible to people in the student community," he says.
Their outreach efforts evidently paid off when the team finished with a landslide victory of 4,922 votes compared to the rival team's 1,661 votes. On an exhilarating February evening in the packed Spoke, Mitchell Pratt became USC president.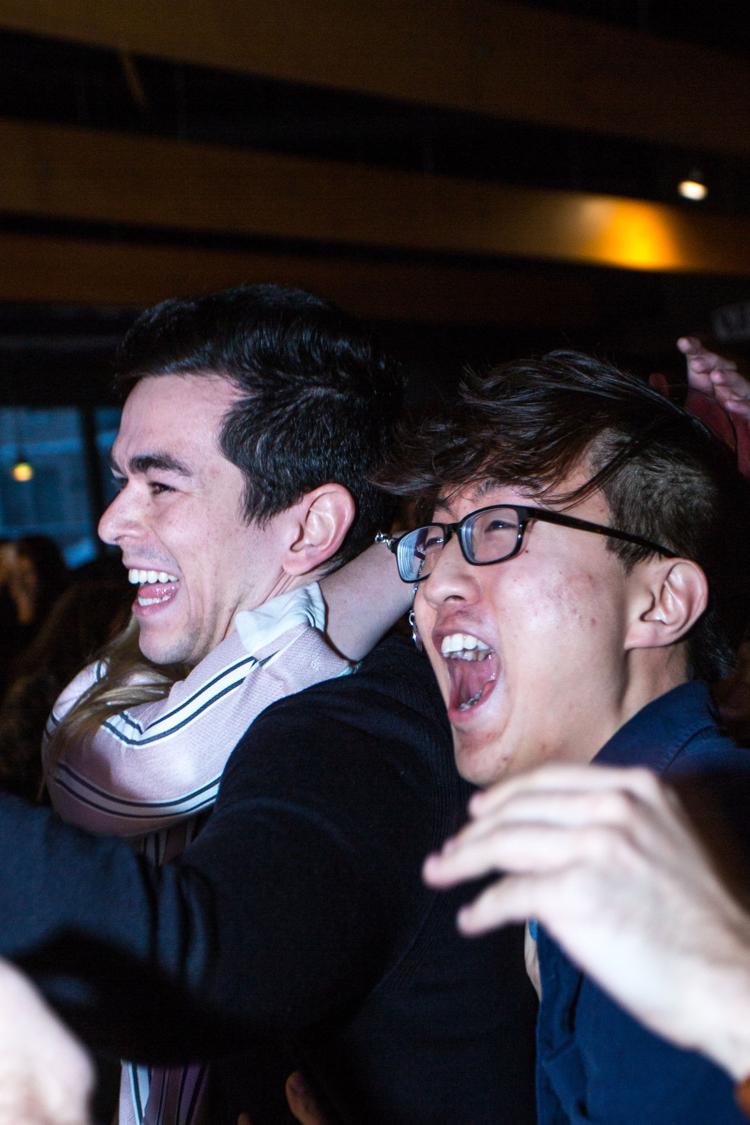 Back to the beginning
Mitchell's rise to the summit of student politics has been in the works for a long time. From a young age, Mitchell's father ensured dinner conversations went past daily small talk and into local news and international events. He encouraged Mitchell to read the newspaper, think critically and form opinions. His mother passed on her social-butterfly personality, which serves him well in student governance.
In fact, Mitchell's involvement in student politics commenced long before his arrival at Western. In 2014, he was the athletic council president at Abbey Park High School in his hometown of Oakville, Ont. He played soccer competitively for most of his life and worked as a lifeguard for four years until his second year at Western, during which he taught advanced lifesaving courses.
With a passion for politics, Mitchell arrived at Western to study international relations. As a first-year student, he had no intention of getting involved in the USC. After multiple rejections to first-year representative positions at Western clubs, his sister suggested he run for social science student council. The thought lingered, and Mitchell went on to become social science councillor in his first year, social science senator from his second year to his third year and social science faculty president in his fourth and final year.
Along the way, he was repeatedly asked by friends and roommates if he would consider running for USC president. Mitchell recalls a memorable moment when a previous social science councillor put forth the question.
"I looked at her, and I was like 'I could never picture that, in all honesty. There's people who are way more qualified [and] way more passionate,' " says Mitchell.    
"My dream was always to be social science faculty president … I didn't really know I wanted to do it until I found someone who I was very inherently comfortable running with," he explains of running for the USC presidency.
Mitchell and Danny met briefly in student politics circles over the years. Two weeks after becoming presidents of the two largest faculties at Western, they sat down for coffee in The Spoke. The meeting turned into a three-hour discussion of what they liked about the school community, their frustrations with different things around campus and what they thought needed to be fixed.
From that point on, the notion developed from a vague possibility to a probable reality in Mitchell's mind. He explains he found in Danny a trustworthy companion to run with for the presidency. The following year saw the pair through difficult times that forged a deep and lasting friendship between them.
"We've seen each other at pretty much the depths of each other's despair. We've seen each other at our lowest and … our highest," says Mitchell. "Danny really keeps me accountable to who I am and why I ran for this position as a person. He has really helped me figure out a lot of my own leadership philosophies."
Less than a year after their meeting, the team landed a remarkable victory in the very same place their intention to enter the race for presidency was first conceived.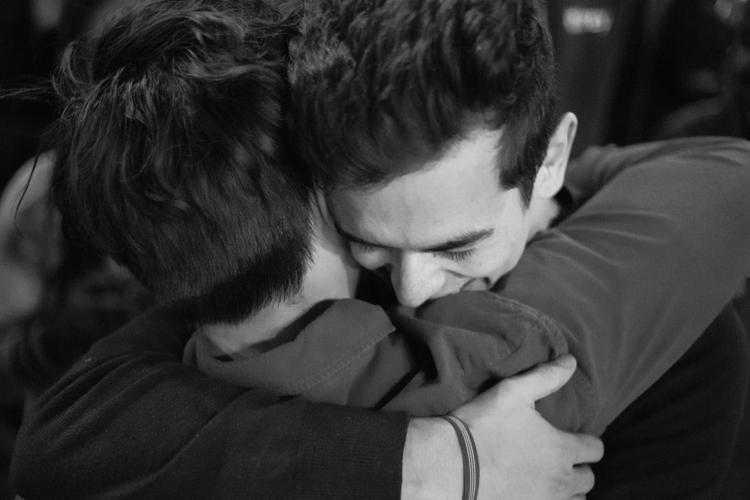 Now and onward
Mitchell's average day as president often runs from 10 to 12 hours of meetings, events and answering endless emails. Above all else, Mitchell strives to enact the greatest positive change in students' individual lives.
"The amount of power that's vested in five 21-22-year-olds in these roles is extraordinary. The things you can do are extraordinary," he says. "I keep a countdown on my board … because, realistically, you have 365 days to make an impact in what you do."
Faithful to his fondness for analogies, he jokingly compares the job to being the mayor of a small town of 29,000 people, whose four-year term is condensed into one, and he has to make the most of it.  His previous leadership positions provided a wealth of knowledge and many more mistakes to learn from.
In particular, he regrettably recalls feeling entitled as he commenced his role as social science president, because he was acclaimed for it. As a result, he engaged in little consultation and long-term strategic and organizational planning.
"I feel like I could have had so much more of an impact in that position looking back on it," he says. "I was held back by own entitlement entering into that role, and I really did have a healthy dose of reality served to me.… I really learned I can't get through on personality alone. I need to be strategic, I need to be organized [and] I need to be accountable to people."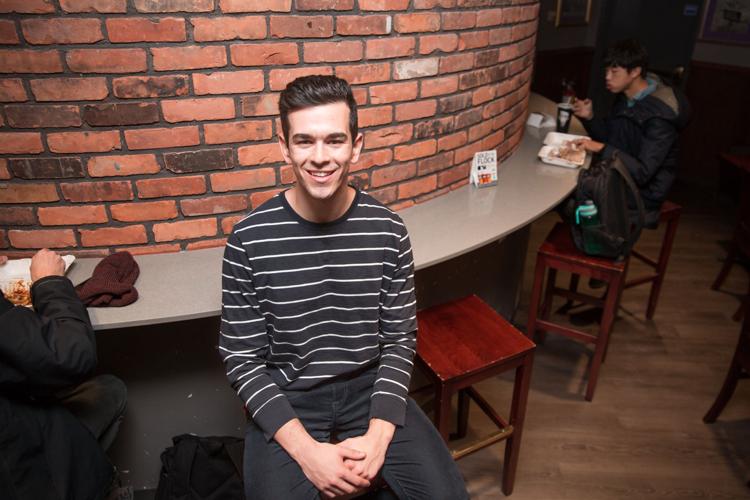 Mitchell's short months in office to date are marked by the major success of planning and executing Purple Fest, the largest university concert in Canada this year. The concert contributed to his efforts to mend the growing gap between the USC and the student body. Mitchell commemorated his team's efforts in bringing this idea to fruition by printing a large poster for each member, signed by the team and senior managers.
The presidency is also not passing without taking its toll on Mitchell. As with any position of political leadership, the pressures of constant scrutiny and criticism are not to be taken lightly. Expectations of constant accessibility in the age of social media can overwhelmingly invade one's personal life. One of his biggest fears is doing something to publicly break the trust of the students who voted for him during the elections. 
"I am my own biggest critic," emphasizes Mitchell. "I read Reddit, I read Facebook comments, I read Gazette articles. I see where people's concerns are coming from about myself, and then I can better myself.... It's exhausting sometimes, because you feel pressure, and you feel like you need to be doing more."
Mitchell looks forward to possibly taking a social media hiatus after the end of his term. While considering a master's in international relations, his post-presidency plans remain vague. Over his undergraduate years, he had one toe in several doors, with degrees in international relations, politics and history and an internship at a law firm. 
For the time-being, Mitchell is focused on leading a $30 million organization at 22 years old.
"I only get this opportunity once, and I really want to live it to the best of my abilities and do as much as I can for the students on this campus who have given so much to me over the years," says Mitchell.