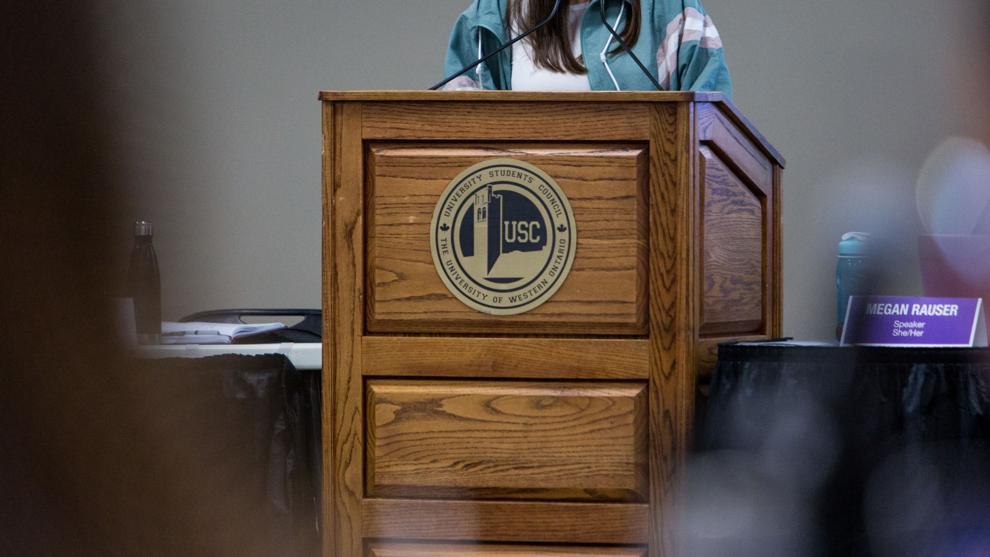 The USC announced the five students who will join president Zamir Fakirani on the executive council next year. 
The new executive will face a year of challenges as they navigate the transition back to in-person learning, Huron University College's move towards independent academics and the continuing fallout of the coronavirus pandemic. 
While students at-large elected Zamir Fakirani as president last month, the University Students' Council internally selected the remaining five executives. Both the incoming and outgoing councils elected the vice-president university affairs and the vice-president external affairs roles through a blind ballot at Sunday's annual general meeting, while the vice-president communications and public affairs, vice-president governance and finance and vice-president student support and programming were all chosen by hiring panels.
Ziyana Kotadia will be the next VP university, acting as the central advocacy voice to university administration. 
Kotadia, the outgoing Huron University College Students' Council president, will continue the work advocating against e-proctoring and increasing compassion from faculty started by current VP university, Victoria Barroso.
"The [VP university] role is still very new, so I'm excited to flesh out the possibilities for the portfolio and translate what I've learned as HUCSC president to the USC," Kotadia said.
Kotadia ran against three other students — Chava Bychutsky, Jerika Caduhada and Augustine Mendes — for the role and won with 57 per cent of the vote in the final round of ranked ballots. 
Eunice Olajedo ran unopposed for VP external and unanimously passed council's vote of confidence. She will be responsible for advocating to community partners and all levels of government. 
As the current associate vice-president of advocacy initiatives on the Social Science Students' Council and a provincial advocate, Olajedo has prioritized addressing racism on campus throughout her undergrad. 
"I'm really looking to make this portfolio in governmental advocacy more accessible to students so they know what's being advocated for on their behalf," Olajedo said. 
The VP finance role will be passed on to Nathan Szierer, who headed last year's USC Elections Governance Committee as the chief returning officer. 
As VP finance, Szierer will oversee the USC's budget as well as clubs and governance operations. 
"It's important for me to increase the accountability and transparency of our governance with the aim of helping students better understand how we operate and how we're able to support them," said Szierer in a statement.
Szierer also hopes to assess the council's environmental impact, expanding resources available to club executives and providing more student development opportunities through USC programming. 
Callista Ryan will serve as the next VP communications. Ryan initially ran for USC president this year and came third in the at-large elections. Her presidential candidate platform emphasized the need for transparent communication with student constituents. 
"Student engagement and communications is my passion," said Ryan in a statement. "I am looking forward to working with the incoming executive to support students and ensure we continue to engage with students … I am going into this role with so much energy and excitement."
Ryan currently works as the USC's associate vice-president communications under outgoing VP communications Cam Wong. As VP communications, Ryan will be responsible for promoting USC services and running council's social media pages. 
The VP programs role will be filled by Maddie Osborne, who currently serves as the associate vice-president peer support under outgoing VP programming Hannah Tobias-Murray. 
As VP programming, Osborne will take the lead on organizing next fall's Orientation Week and other student events, as well as running the USC's core support services like the campus food bank and Peer Support Centre. 
"I've been so intrigued by how dynamic, intersectional and personally meaningful wellness is," Osborne said in a statement. "I'm excited to lead a passionate team ...  dedicated to supporting students on this campus while executing creative programming."
Council ratified all members of the 2021-22 executive team at their annual general meeting Sunday.