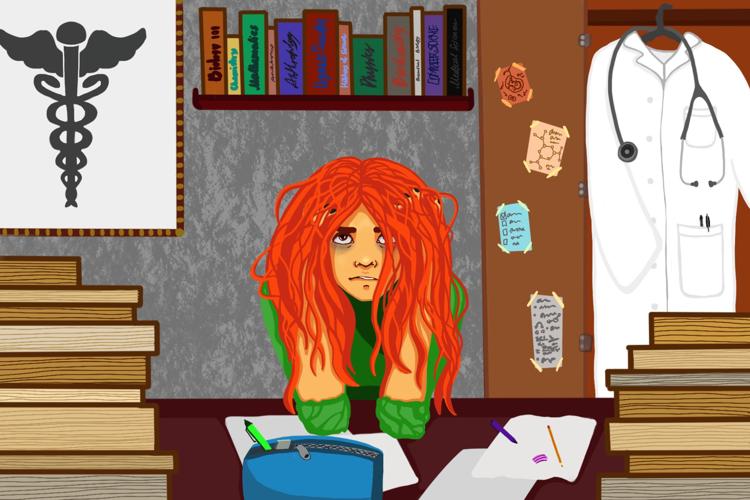 A survey conducted by the Canadian Medical Association demonstrates elevated burnout and susceptibility to mental health problems in the medical community, specifically among resident doctors. 
The CMA found that of the 2,547 physicians and 400 resident doctors surveyed, about one third were experiencing burnout or depression. Even more alarming is that 19 per cent had contemplated suicide at some point in their lives, and eight per cent had done so in the last 12 months.
Female physicians, medical residents and physicians in their first five years of practice were found to be the most vulnerable to mental health problems.  
Caroline Just, a fifth-year neurology resident and a representative of the Professional Association of Residents of Ontario at Western University's Schulich School of Medicine and Dentistry, voiced concern about the workload resident doctors face.  
"The hours are very, very intense. I've worked 80 hours [per week] regularly during my residency, and you don't really get to see your patients get better because you tend to be mostly on the in-patient side," said Just. 
"The things that we know are important for resiliency, like eating well, sleeping well, spending time with family, exercising, are hard to find the time for," she added. 
Despite 82 per cent of respondents to the CMA survey reporting high resilience, one third met the criteria of depression while 30 per cent reported high levels of burnout.  
When asked about what structural changes could make residency less stressful, Just emphasized the importance of ensuring there are jobs for doctors upon completion of residency, as limited openings in some specialties is a major contributor to stress.  
In addition, she highlighted changes with regard to the culture in the medical community.  
"So much of what I think needs to change is how we view each other. I think, in any stressful environment where you're busy, one assumption we make is that we're the only ones who are busy," said Just. "So, there's somewhat of an increase in antagonism because of that."
Jordan Ho, a second-year medical student at Schulich, says that while medical school is challenging, burnout doesn't seem to be a problem yet. 
"We're definitely stressed and tired, but not yet burned out.… I will also say that it's hard to estimate burnout levels because none of us really talk about it that much," said Ho.  
According to Ho, one of the major sources of stress for medical students is finding a residency position. While only 11 medical graduates were unmatched for residency in 2009, this number has been steadily increasing and is projected to reach 140 in 2021. 
"We are more focused on the upcoming problem of getting into residency. That being said, many of us have ruled in or out specialties based on our perceptions of work-life balance," Ho added. 
The PARO 24-hour helpline is available to residents, their partners and family members, and medical students in need of immediate assistance or referrals for a range of mental health concerns. The toll-free number is 1-866-435-7362.