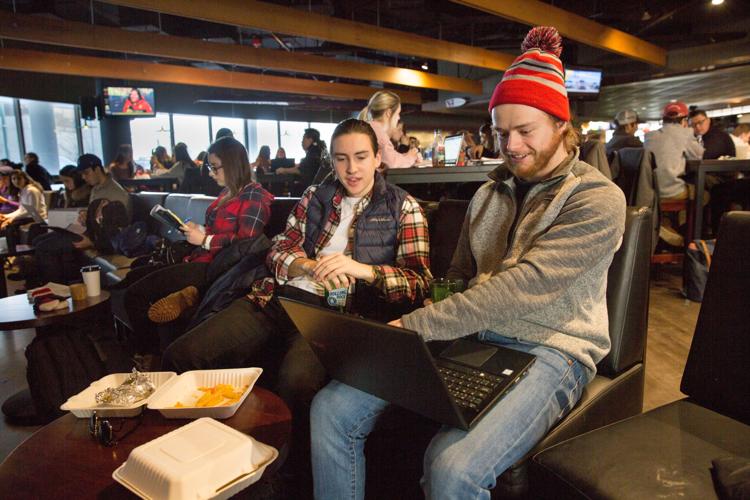 Ontario's minimum wage increase in January has led to price increases and reduced employee hours across campus.
Minimum wage increased from $11.60 to $14 last month, and it will rise to $15 next January. The changes are part of Bill 148, a flagship of Liberal legislation introducing labour reforms. The minimum wage hike has sparked fierce debate in the province: throughout January, the province lost over 50,000 part-time jobs, 24,000 of which were previously held by workers aged 15 to 24; experts are divided as to what extent the wage increases are responsible.
As a result of the wage hike, many businesses across Western University's campus have been impacted. University Students' Council President, Tobi Solebo, said that the wage increase raised the USC's operational costs by $300,000. The USC runs many campus operations, including the Spoke, the Wave and the Purple Store, all of which were affected; The January wage-hike lead to the USC cutting from its operational budget, and its student fee will increase next year by over $30, in part due to the minimum wage increase.
The Gazette talked to a selection of businesses across campus, both USC-run and independent. 
The Spoke
Spoke general manager, Ben Lollar, said that prices have increased overall by around five per cent.
While not all items increased, the largest increases were to chicken fingers, buffalo fingers and quesadillas. The bar's most popular items have increased, though not as much, according to Lollar: bagel prices increased 10 cents, coffee by 10 to 15 cents and buffalo chicken wraps by 25 cents.
Lollar said that employee scheduling has not changed; the high traffic the café sees requires many employees to be working at once. He said that no student jobs have been cut, and the business' expectation is to maintain all student employment opportunities.
The Wave
Wave manager, Cris Cervoni, said that much of the menu's prices have increased by between eight and 10 per cent; employee scheduling has also decreased.
"We tried our best not to raise prices too much.... If everyone raises all their prices at the same time, it's gonna be a big sting for everybody," he said. "We're rolling pretty lean and mean these days: ideally, we'd like to have tons of students working here, but we don't want to bleed the place dry."
Price changes were prioritized onto the store's more popular items, which Cervoni said includes the buffalo wrap, the spinach dip and some of their burgers.
The Grad Club
Prices have increased and hours by employees have decreased, according to general manager, Marc Lalonde.
He said prices have increased around seven per cent since price increases began in September. Though much of the staff was already above minimum wage, only those below were given a raise. Many of the restaurant's employees are unionized and will renegotiate their wages this summer.
The Purple Store
Items at the Purple Store increased in price in response to an increase by the store's suppliers, said senior manager, Nick Vassilou.
Three Purple Store student employees told the Gazette that their hours had been reduced: Whereas part-time employees used to help open and close the store with supervisory staff, now it's only the supervisors.
Vassilou said there were small price increases to the Purple Store's merchandise. For example, two of the employees said that some tee-shirts have jumped from $20 to either $22 or $23.49. Hoodie prices also went up. 
The Book Store
Prices at the Book Store have changed negligibly, according to Stephen Cribar, the store's associate director. While some items have increased, others have decreased. Cribar said the minimum wage raise hasn't noticeably impacted prices.
He said scheduling also remains steady.
Community Centre Pharmacy
Though the pharmacy employs students at minimum wage, pharmacist Al-Taf Jiwawi said prices have increased by a maximum of two per cent. 
Scheduling has not changed, and he estimates it will not in the future.
"Because we hire a lot of students, the minimum wage is an expense — but it's a fact of life," he said. "People need a living wage, and I totally agree with that. It's a short-term pain, but it's a long-term gain."
Grocery Checkout
Food suppliers have been increasing costs since before the hike in anticipation, according Grocery Checkout CEO, Nathan Felder. He predicts that large grocery retailers will see price increases in the future, since they collectively bargain their prices, which Grocery Checkout does not.
A Grocery Checkout employee told the Gazette that many popular items have increased, like milk and eggs: eggs are now $3.30, milk is now $4.30 an; the employee said the items that have increased the most are salads: the pasta salads are $4.29 each and normal salads are $5.39.