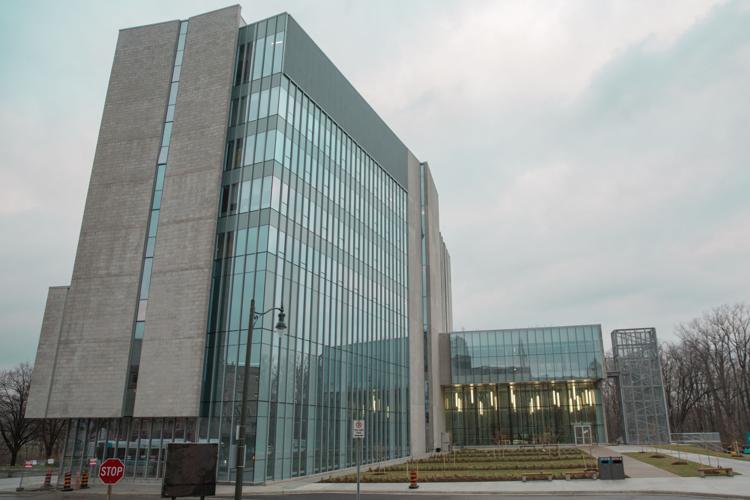 Some Western University researchers are putting their work on hold as their labs move to a new building.  
As of Nov. 25, researchers at the Brain and Mind Institute have vacated their laboratories and are waiting for their spots in the newly-constructed Western Interdisciplinary Research Building. Moving all the equipment is still underway, and they will be able to resume their research in the new building between Dec. 11 and 17. 
However, the move is throwing some researchers' projects into limbo, and especially undergraduates. 
Vivian Huynh, a fourth-year medical sciences student, was in the midst of completing her thesis in the BMI and is now between facilities. She said many colleagues in her lab are worried about being able to complete their research on time for graduation. 
"I remember people were worried about graduating on time, and I thought, 'am I going to finish on time?'," Huynh said.
Students completing undergraduate thesis courses usually do so contiguously with a full course-load and must adhere to a packed timeline. With a start in September, a final presentation and paper is due in April, and data must be collected with enough time for its analysis. This means thesis students usually complete their data collection between November and February, analyzing it in February and March.
Huynh learned of the move last semester, and consequently decided to stay in London over the summer to get ahead on her work. During the school year, she's spent evenings and weekends in the lab to stay on track. 
On the other hand, many researchers in the facility are graduate students or post-graduate scholars, who usually research at Western for multiple years at a time and aren't as affected by a three-week disruption. Avital Sternin is an example: the PhD candidate in psychology at the BMI is also the graduate representative on the BMI's steering committee, which has overseen much of the move.
Sternin planned her research far in advance, and is doing work that doesn't need her lab apparatus — like writing — during the closure. She has been holding meetings with researchers who have questions and requests about the move, many of whom she said were concerned about completing their research. She said in some cases, researchers have found space elsewhere on campus through their professional network. She also helped some psychology students find space in the Social Science Centre. 
While Huynh and her colleagues were uncertain about the impacts of the move, Sternin emphasized that mass-emails were sent to BMI members, and that town hall sessions were held to answer questions and address concerns. The most recent town hall was Nov. 17, eight days before the BMI closure. 
Ben Shapiro is a fourth-year neuroscience student and is also doing a thesis at the BMI. He said he learned of the move at the beginning of the year, and has condensed some of his work to compensate for it, but some of his research can also be completed in the Social Science Centre. He has not stayed after work on weekends, but suspects he might have to after the break. 
If BMI researchers have not made different arrangements, they will be in limbo for nearly three weeks — a quarter of the usual research time for an undergraduate thesis student. Huynh said that research in the BMI even leading up to the move has been more difficult as well, as many researchers who began their data collection in the BMI which is ideally finished it in those particular conditions; she said this created a rush for space and equipment in the Natural Sciences Centre before the BMI closed.
Melvyn Goodale, the BMI's director, said that the WIRB provides an opportunity to increase the program's collaboration with others. He added that many in the BMI were not in the main facility in the Natural Sciences Centre but spread throughout campus — the WIRB can now house most BMI members in one building.
Huynh said she did not know why the move did not take place during summer months, as November and December are peak research times for thesis students, and added that data collection for many of her colleagues has fallen behind. But the move time was not so flexible, according to Goodale. 
"We wanted to move in as soon as possible," he said. "It was more important not to leave an empty building standing for six months." 
He added that the winter move time was known early in planning stages, and that moving earlier will help new the new tenants of the BMI's space move in; the Provost's office will determine who the new occupants are. 
Goodale said that early in the planning, the potential problems for undergraduate thesis students were kept in mind. So the undergraduate supervisors were cautioned that their students should complete as much of their data collection as possible before the closure. 
The moving process aside, BMI officials said they were very excited about the new facility. Goodale said he was delighted about a new facility that will unify much of the program. The Rotman Institute of Philosophy is also moving to the WIRB, and they hope to collaborate with the BMI more while in the same building.
Huynh agreed it is a good prospect, but for future students.
"It's cool for the coming students, but I'm leaving next year and it won't make a difference for me," she said. "I feel like [my thesis] has been more anxiety-driven than exciting."