The Western-based Safe Campus Coalition hosted a nationwide walkout against gender-based violence in post-secondary institutions Monday, on the anniversary of the Montreal Polytechnique massacre.
Dozens of Western University students gathered on the hill of University College to hear speeches and participate in a march through campus.
The walkout honoured the 32nd anniversary of the Montreal Polytechnique massacre where 14 female students in a mechanical engineering class were killed.
​​The event began with opening remarks and speeches from members of the Western community, who spoke specifically on sexual violence on post-secondary campuses.
Danica Facca, a PhD student in health information science, spoke on the prevalence of the issue.
"In Canada, 30 per cent of all women-identifying persons aged 15 and older have been sexually assaulted outside of an intimate relationship at least once," said Facca. "Moreover, the rate of police-reported violent crime is significantly higher for girls and young women aged 24 and younger than their male counterparts."
Chris Mohan, president of Western's Undergraduate Engineering Society, addressed the impact of the Polytechnique massacre on female-identifying engineering students and all students across Canada before reading out the names of the victims and holding a moment of silence.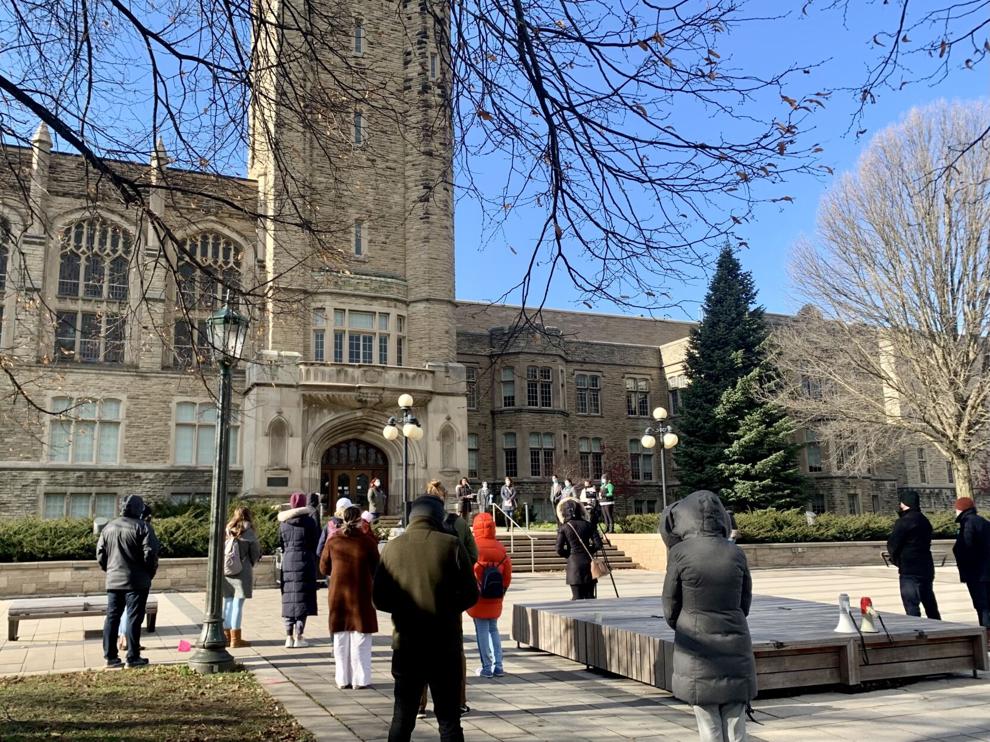 "Today we reflect on the long-lasting impacts of gender based violence in our community, our culture, while also looking forward to what we can do to build a safe and inclusive community for all," said Mohan.
Dec. 6 was designated as the National Day of Remembrance and Action on Violence Against Women by Parliament in 1991, two years after the attack took place.
After the moment of silence, Ziyana Kotadia, the University Students' Council's vice-president of university affairs, took the stage to speak on her own observations of Western's campus culture.
"The 2019 student voices on sexual violence survey indicated that Western University had 71.6 per cent of students disclose experiences of sexual harassment … I, like everyone here today, am ready to see change."
Kotadia said everyone at Western and the broader community needs to work harder to make campus safer for women.
"We need to think through sexual and gender-based violence at all levels, at a personal and individual level, within our own networks and relationships, in our communities and also within our societies and systems," said Kotadia. "I encourage you to take some time to think about where you are situated in broader systems of privilege and oppression."
After the speeches, participants marched through campus before congregating again on UC Hill for closing remarks.
Universities across Canada, including the University of Victoria and Simon Fraser University, hosted similar walkouts on their own campuses.
Western's Faculty of Engineering and the Women in Engineering society observed the event earlier that morning with a ceremony at the Amit Chakma Engineering Building.
With files from Ashley Goveas