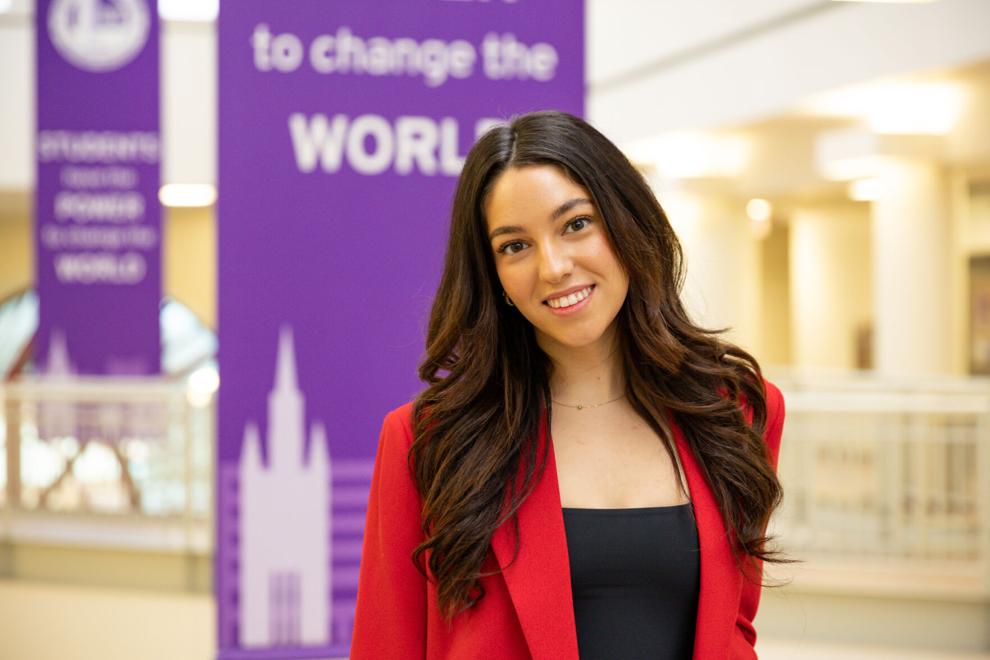 Nika Bajaj is a veteran of student politics.
Bajaj, who served as president of the Social Science Students' Council last year and is now University Students' Council associate vice-president student events and the SSSC's vice-president academic, is throwing her hat in the ring for council's top job.
The fourth-year political science student has been involved with the SSSC since her first year. She went on to be elected as USC councillor in her second year and became faculty president in her third year. Bajaj was also a two-time Social Science soph, a residence soph and served as president of the Delaware Hall Residents' Council in her second year.
Even before coming to Western University, Bajaj was student trustee for London's Thames Valley District School Board, representing 73,000 students with a focus on curriculum reform and organized student walkouts.
Despite her years of experience in student politics, Bajaj promises to be a different kind of USC candidate. Bajaj believes students often feel they are promised "big things and the USC consistently under delivers" on unfeasible policy changes proposed during elections — which she vows to change.
Bajaj promises a concise platform, believing the lengthy platforms typically released by candidates are often "wish lists," which don't fully capture the breadth of the role.
"I really believe in the idea that we need to change the way that campaigns are run going forward, so students want to engage with the USC and believe in the work the USC is doing," she explains.
Bajaj says her shorter platform will "ensure that students know I'm an actionable president, and if they elect me, they have a lot more faith in seeing things that will actually get done."
Bajaj will be running her campaign focused on four key areas — what she calls the "core four" — which include student support and accessibility, student safety, housing and affordability and the student experience.
"I really believe in the idea that students have a voice in their education and should be the people shaping their student experience," says Bajaj.
Student safety is at the top of Bajaj's agenda, including gender-based and sexual violence training, providing rape kits and direct intervention after an incident and improving lighting on campus.
"Speaking specifically to my experience as a woman on this campus, the conversation around [GBSV] has really dwindled off this year," says Bajaj. "In my opinion, it was a very strong force last year. But I recognize that these are difficult conversations to have, but they need to continue to happen."
Bajaj also has a two-pronged approach to address the housing crisis. She has short-term plans, including expanding off-campus residence advisors, and more long-term advocacy for the university to invest in more residence buildings and work with the municipal government on zoning laws around campus.
"There is no student under these current economic conditions that isn't experiencing some challenge around affordability, whether it's from tuition, or the fact that housing prices are through the roof," she says. "It's hard pressed to find somewhere to live on the campus area that's under $1,000 a month to the point that the federal government is having to intervene."
The student experience is important to Bajaj, and her role as AVP student events has allowed her to work with council executives to plan events — including Purple Boots and the Taylor Swift Dance Party — from start to finish.
Bajaj considered running for president last year — when four men were up for the job — in response to women looking for USC representation, but ended up reconsidering. She felt she was not yet prepared to take on the position's commitment.
The USC has not had a woman president since 2015 and that there have only been six women in the role since council's incorporation in 1965.
But after working in crisis communications and public affairs this past summer and becoming AVP student events, gaining more "exposure to USC operations," Bajaj believes she had "the preparedness and the readiness to come into this role and create a lot of actionable change going forward."
Bajaj believes being USC president isn't an advocacy role or a figurehead position. She sees it as a commitment that involves planning for the organization's "long-term strategic vision."
She recalls hearing former USC president Bardia Jalayer tell students on UC Hill during her Orientation Week in 2019 that "students have the power to change the world," and thinking to herself: "that's definitely what I want to do."
The USC elections campaign period begins Monday.
---
Correction (Saturday, Jan. 21, 2023, 9:07 p.m.): This article has been corrected to reflect that Bajaj was a two-time Social Science soph and served as a residence soph for one year.