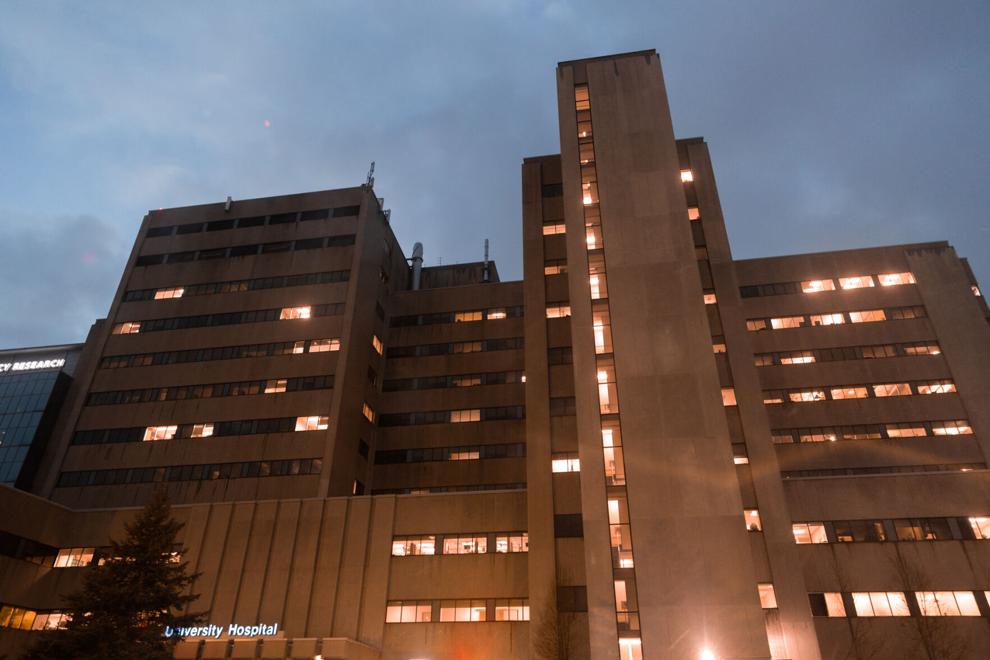 Editor's note: the names of nursing students in this article have been changed for their privacy.
When Lisa Walters arrived at her University Hospital nursing placement Nov. 11, she knew she was entering a hospital with a COVID-19 outbreak.
"My nurse that I was shadowing was freaking out about the whole COVID-19 thing and they told me that three nurses [on my floor] had tested positive, and they were worried because they worked closely with one of those nurses," said Walters, a third-year nursing student.
Walters was sent home at 2 p.m., as University Hospital tested all the patients on her floor for COVID-19. She attended a chiropractor appointment and worked a shift at her job before receiving a call from her clinical instructor Nov. 13 that one of the patients she had been caring for tested positive.
"They asked how much care I provided for her and I said I provided a lot of care," Walters explained. "I checked vitals a few times, I checked lung sounds, I even held a straw for them to drink. I didn't have an N95 mask on, I didn't have gloves on because they make it apparent that you shouldn't waste gloves."
Nurses often save gloves and medical-grade masks for dealing with COVID-19 positive patients. Since they are not required for regular patients, Walters decided to save hers.
The first COVID-19 outbreak was declared in University Hospital on Nov. 10. The outbreak has since spread to all floors in the hospital, with 60 staff and 71 patients infected and 13 dead. Western University cancelled nursing and medical student placements in the hospital on Nov. 30, after the first four deaths were reported.
On Nov. 14, Walters woke up with cold symptoms, including a stuffy nose and a sore throat. Her COVID-19 test came back negative on Nov. 16 and Walters was told to return to her placement Nov. 18. 
"I told [my academic counsellor] it was inappropriate for me to go to work," Walters said. "On Wednesday, I used one of my sick days and didn't go. I had extreme anxiety about going back because of what happened to me and I thought they weren't handling it professionally."
Amy Hyde, another third-year nursing student placed at University Hospital, hadn't been in contact with COVID-19 patients but said she felt Western didn't offer support to students who felt unsafe in the hospital. 
"My clinical instructor has been amazing, but when it comes to Western, I haven't received any aid in how things are going to proceed with COVID-19 patients on my floor," Hyde said. "All of the medicine units have outbreaks right now and I was made aware of that on the news through Facebook, not Western."
In an email sent out to third and fourth-year nursing students on Nov. 28, Victoria Syme, director of Nursing, assured that Western is serious about creating a learning environment for students to develop. The email went on to say nursing placements would not be cancelled, with students placed on the fourth floor — where the first outbreak struck — moved and that further adjustments to clinical placements would be made as the situation evolves.
Before their placements were cancelled, nursing students created an email template to send to Denice Litzan, senior academic counsellor, Sukhi Brar, clinical practice faculty lead and Michelle Wagler, academic counsellor and pre-placement specialist, asking to consider students' concerns.
"We feel we are being put in dangers way since all other professional placement groups have suspend[ed] professional practise such as the LPN program," the template said. "We understand the need for placement to graduate … we firmly believe that it isn't only our physical well being that's being affected but also our mental."
In the Nov. 30 email cancelling placements, Smye wrote that Western would continue to support the impacted students in order for them to progress. The email also reminded students that they're not permitted to work in another healthcare setting for 14 days after their placement.
"Western University prioritizes the health and safety of our students and the community, and our role in creating a learning environment that helps students develop as health care professionals," Andrew Hrymak, Western's provost and vice-president academic, wrote in a statement to the Gazette. "The COVID-19 outbreak at University Hospital is evolving daily and may lead to further changes to clinical learning for our students."
The London Health Sciences Centre mirrors the provost's sentiment, telling the Gazette they are "working with their educational partners to ensure student placements are appropriate as we implement measure to contain the outbreak."
While both Walters and Hyde said they understand working as a nursing student during a pandemic requires flexibility, but the pair said they wished they'd received more communication from the university.
"I understand that they can't know everything, but they've left us in the dark and offered no info," Hyde said.