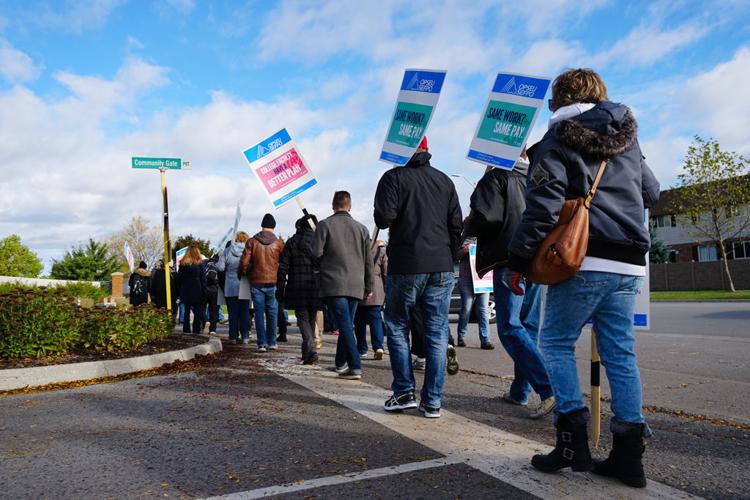 The five-week long strike that has Ontario students in limbo will continue after 86 per cent of college faculty voted against the College Employer Council's most recent offer.
The deal offered a 7.75 per cent salary boost over the course of four years, extended benefits and provisions to address concerns regarding part-time faculty issues. What the two parties cannot come to an agreement on is how much academic freedom a professor or instructor should have in the teaching of their courses. 
Ontario Premier Kathleen Wynne released a statement today after the results were announced, stating that she will be meeting with the College Employer Council and the Ontario Post Secondary Education Union this afternoon.
BREAKING: College faculty reject final contract offer, Wynne announces she'll meet both sides this afternoon https://t.co/z6wxlCv2uo

— Mike Crawley (@CBCQueensPark) November 16, 2017
Approximately 12,000 faculty members have been voting online or by telephone since Tuesday, Nov. 14.
For students, however, the decision to prolong the strike is problematic. Morganna Sampson, Fanshawe Student Union president, acknowledged students concerns are only growing. Issues include funding and the quality of education college students will receive when classes eventually resume.
"The rejection of the offer really means that students could be out of classes again for another indeterminate amount of time," Sampson said. "It's more anxiety inducing for the students as a lot of people are questioning if they are going to be able to finish the semester."
On Tuesday a class-action lawsuit was filed against the province on behalf of the 500,000 post-secondary students affected by the strike. The lawsuit was filed by the Toronto law firm, Charney Lawyers. 
The lawsuit is seeking tuition refunds for missed class time and full refunds for students who choose to drop out. It is also looking for compensation for other fees associated with the education including parking passes and the costs for books among others.
Joel Willett, President of the College Student Alliance, said that although the CSU is not necessarily backing the lawsuit, it speaks to how fed up students are with the strike.
"I think it goes to show the commitment level of students across Ontario who ... want to ensure that they're receiving exactly what they paid for," Willett said.
In the meantime, the province has been trying to address some of the negative impacts the strike has had on students.
Deb Matthews, Minister of Advanced Education and Skills Development, issued a statement last week requiring all colleges to create a fund for students with the savings incurred from the strike. The Toronto Star estimated the savings to be about $5 million. 
Although Premier Kathleen Wynne previously said she was not opposed back-to-work legislation, she pressed both parties to meet back at the bargaining table this afternoon.
The two parties have agreed to continue negotiations and a provincially appointed mediator has been introduced as a tool for both parties to use.