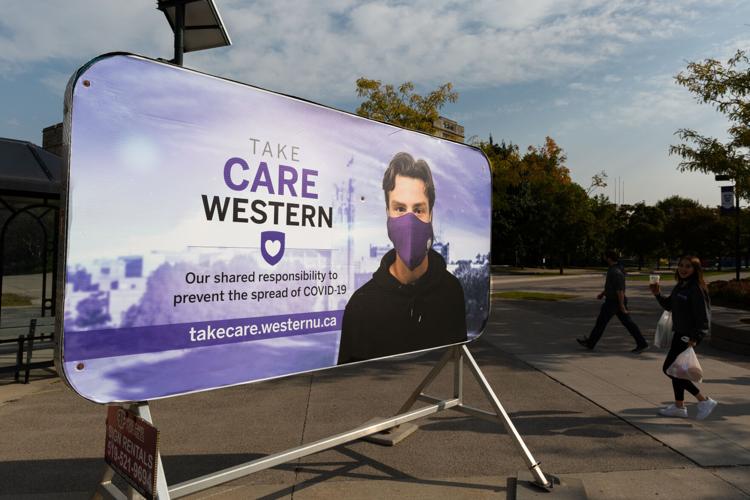 Western is the first university in Canada to declare a COIVD-19 outbreak among students and the first to report cases in the double digits. But while many campuses are shutting down and planning for a fully remote winter term, Western has yet to announce its plans.
Western University reverted back to phase three of its reopening plan on Sept. 17, after reporting 28 cases of the coronavirus and two outbreaks among students. Since then, the school has reported at least 70 student cases and shut down non-academic activities on campus, including sports and dine-in restaurants.
Despite closures, 40 per cent of staff are still working on campus and libraries continue to operate at greater capacity than the initial phase three in August. This is in contrast to moves made by other schools to reduce activity on campus, despite having a lower case count than Western.
Carleton University and Wilfrid Laurier University have the second largest case counts in Ontario after Western, with five cases each. Carleton announced on Sept. 12 that its first case was a student in residence and has since requested students only come to campus if absolutely necessary. Carleton's fall term is largely virtual for undergraduate students and the winter term is expected to be the same.
At Laurier's Waterloo campus, the school guaranteed every first-year a spot in residence and has been operating primarily online with a few in-person courses when needed. Like Carleton, its winter term will be largely online with few exceptions. No classes are running at its Brantford campus this semester.
Queen's University takes the third spot as its coronavirus case count is up to four. All first-years at Queen's have only online classes, with the exception of nursing students. The university has also allowed only 2,300 students to live in residence, half of their normal capacity — a sharp contrast to Western's 70 per cent capacity.
Queen's will continue to deliver mainly remote classes next term, but a small number of on-campus academic activities will be held to ensure students are able to meet their academic requirements.
Like Queen's, the University of Waterloo is holding all first-year classes online, with the exception of a few science and math courses. Upper-year students are also allowed to take in-person courses beyond science and math. The school is reporting no positive COVID-19 cases so far and has not announced plans for winter term.
University of Toronto reported two positive cases at their Mississauga campus on Sept 18., but none at their campus in downtown Toronto or Scarborough. U of T also welcomed students into residences this September and offered in-person components in over a third of its courses. Ryerson University, also located in downtown Toronto, has not reported any COVID-19 cases and requires students to get special permission before entering campus. The two downtown Toronto campuses have not reported a single case, despite their location in the province's epicentre.
McMaster University has also only reported two cases so far this year, one in August and one in September and only one of which is a student. The school has held classes almost entirely online so far and will continue to do so in the winter term.
While Western officials have not announced a concrete plan for second semester, the university told the Gazette that their "hope is to continue [the] blended model for the rest of the academic year." Over the summer Shepard said he hoped to have more in person classes in January, but in the midst of the recent outbreaks, now claims students are in jeopardy of losing the mixed mode of delivery. Despite Shepard threatening a fully-remote second semester it is unclear what the school will decide come January.
Western's president Alan Shepard has maintained the university's COVID-19 plan has received support from city officials and the local health unit and will continue to consult them in deciding whether in-person courses will continue to be an option.
Correction (Oct. 7, 2020, 11:09 a.m.): This article has been corrected to reflect Wilfrid Laurier's classes are primarily online with a couple in-person classes.