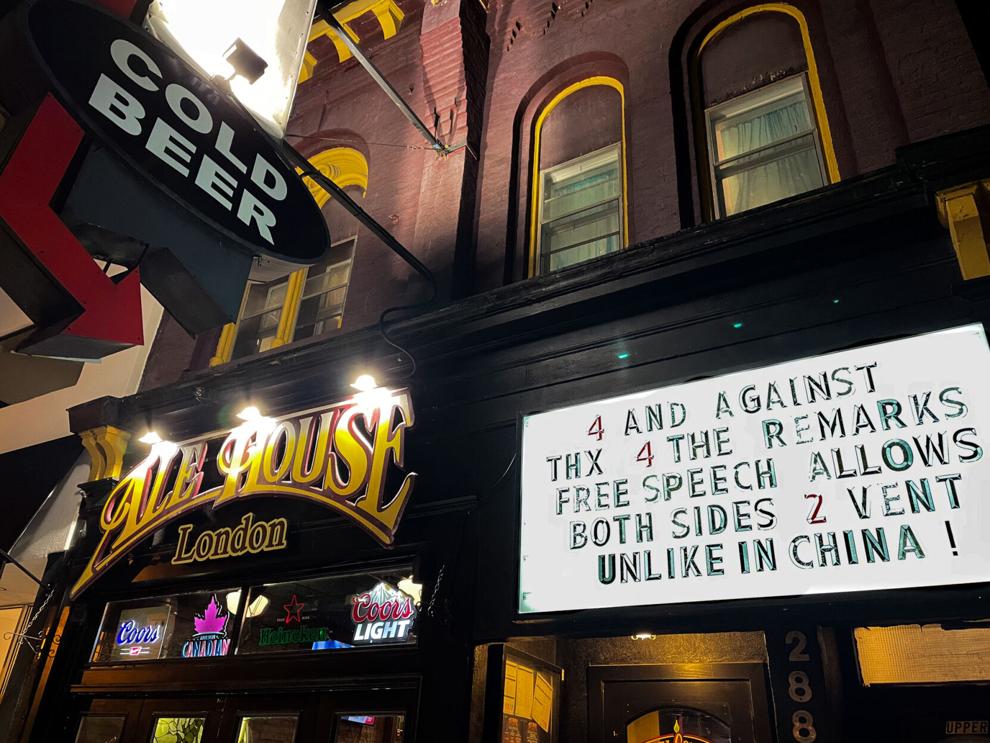 An open letter addressed to the owner of downtown bar Ale House is demanding a public apology to London's Asian population for the bar's controversial signs, which came under fire this month for referring to the coronavirus as the "China Virus."
Second-year King's University College student Teigan Elliott wrote and published the letter on her Instagram. By Monday evening, a member of the King's Social Justice Club had posted copies of the letter outside the bar and downtown, on the north-west corner of Wellington Road and Dundas Street. The letter has now been posted in 11 more locations across North London.
In her letter, Elliott addressed why the term "China Virus" is harmful, explaining "the World Health Organization actually asks that diseases not be named after people or places …. There is a history of using a minority group as a scapegoat during a pandemic [who] is then attacked, discriminated against, harmed."
The letter has reached over 1,300 people on Instagram.
In a past statement responding to criticism, bar owner Alex Petro said his "signs are rants about oppressive governments … they are in no way an indictment of the people of said governments." He has not responded to the Gazette's request for comment about the open letter and has not made any new public statements.
Elliott said she wrote the letter in a genuine attempt to educate Petro.
"It is hard to believe that he was genuinely criticizing the [Chinese] government," said Elliott. "But if there's a small sliver of a chance he feels that way then [my letter] could help explain why his actions were wrong."
Elliott experienced bullying and heard racial slurs growing up as a student with Chinese heritage, but explained the pandemic has worsened existing anti-Asian discrimination.
"[The pandemic] gave people an excuse to be more brazen and [brought] pre-existing biases to the forefront," said Elliott. "Just earlier tonight someone on Instagram said to me that the 'end Asian hate' movement was just [people of colour] trying to push their own agenda."
Elliott believes Petro's statement is a form of "damage control."
"The first two signs in question had absolutely nothing to do with the Chinese government … [Petro] only brought it up after being under fire for a couple of days …. Now we are stuck discussing genocide and communism, and not the initial racism [of Petro's signs]," wrote Elliott in her letter.
The response to the open letter has been overwhelmingly positive, according to Elliott.
"Most people have said the letter is well-articulated, and appreciate how calm it [is]. I've gotten really supportive responses," said Elliott.
She hopes her letter will spark conversations about the situation.
"Even if Alex Petro doesn't read my letter, I hope [that people] have a takeaway about compassion and understanding."