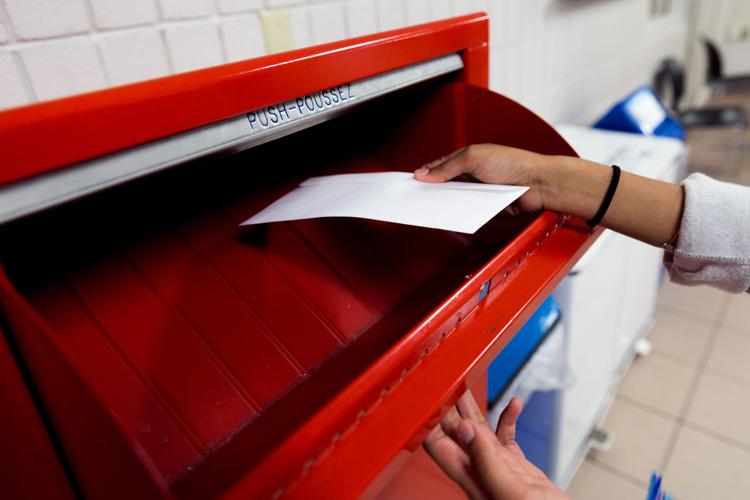 OUSA launched a letter-writing campaign early last week in response to Premiere Doug Ford's recent changes to OSAP.
The Ontario Undergraduate Student Alliance lobbies for over 150,000 students across the province. They launched the campaign in the aftermath of massive cuts to provincial student funding, as the cuts spiked complaints from students who received their Ontario Student Assistance Program loan estimates over the summer.
Their goal is to send students' concerns to the government regarding OSAP funding, which the Progressive Conservatives cut earlier this year.
Students raised concerns about their ability to afford an education and their cost of living while attending post secondary institutions. 
"My OSAP this year got cut down in more than half," said Farzin Feeza, second-year commercial aviation management student. Her loan was cut by $7,000.
"I had to think that, 'Well I need a job this year; I'll need to really save up for textbooks.'"
Catherine Dunne, OUSA president, said the changes are a real concern for students, and the government should pay attention to the negative impacts they are having.
"Now that we're seeing the impacts actually coming in... we are hoping that by sharing [our stories] directly and actually mailing these letters to our provincial parliament, we'll have a concrete impact," she said.
Dunne, who is also the University Students' Council vice-president, said OUSA has sent off 350 letters thus far.
The letters go beyond the loans being cut down. The Progressive Conservatives also eliminated the interest-free grace period on the provincial portion of loans and changed the definition of "mature student" — which now refers to students who have been out of high school for six years or more.
OUSA released a draft letter available on their website. They encourage students who have been impacted by the changes to OSAP to share their stories. Students can also just sign a letter and add their name as well as their postal code.
"It doesn't need to be specific but we totally have that option for students," said Dunne.
OUSA released their own letter, addressed to the Minister of Training, College and University which highlighted students' concerns and stories.
They requested that the PCs create an OSAP framework that allows willing and qualified students, particularly those of low-income status, to access post-secondary education without financial barriers.
"School is less affordable but I was still able to come back for a second year. For others, there's definitely people who do have to think about those things. I hope they change it back to how it was before," said Feeza.
OUSA also started a hashtag in January when OSAP changes were announced. #ONStudentsSpeak was used and is available for students to share their stories on social media of how they would be impacted.
According to a press release made public last week, OUSA has received over 200 responses from students using the hashtag to share their experience.
These responses were also collected in OUSA's campaign video about OSAP.
"We want as many students as possible to get out there and communicate their concerns," said Dunne.