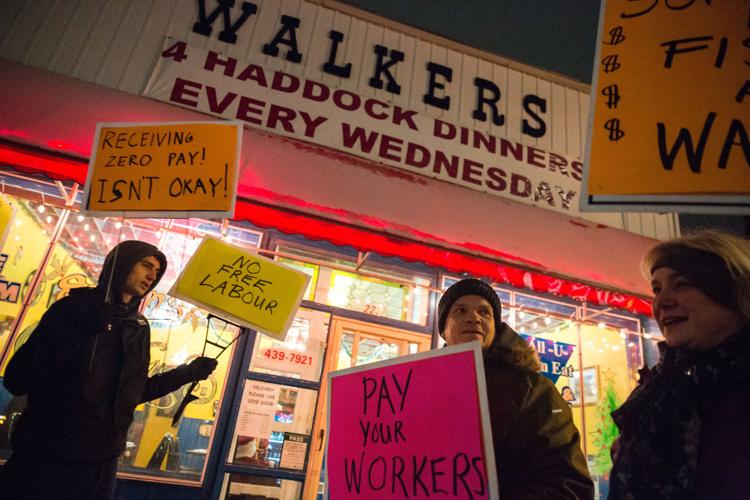 Megan Huffman has done the math: with the hours she worked at Walker's Restaurant and the salary its manager promised her, she made over $1,000. But after weeks of work, she says she was paid only $160.
Walker's was her summer job that she relied on to pay for school at Dalhousie University. It's a story echoed by nearly a dozen former employees about their experiences of underpayment at two restaurants owned by 56-year-old Robert Pouliot, whose business practices have brought protests from the community and scrutiny from local media.
Jasmeen Porillo, a fourth-year nursing student, says Walker's owes her over $600 for her own summer work there. Both Huffman and Porillo have filed claims with the Ministry of Labour to seek help.
Walker's is a fish and chips restaurant in downtown London at Wellington Street and Horton Street. It has been owned by Pouliot since the 2000s, along with a second fish and chips restaurant in the Sherwood area called Robbie Walker's Fish & Chips.
Pouliot told the CBC in December he missed payrolls because one of his managers stole from him. But his allegation does not explain disgruntled employees, including Huffman and Porillo, who say they were underpaid before Pouliot's new manager started work.
Pouliot did not respond to repeated requests for comment on this story.
Only $160 in cash
Huffman grew up in London, but she now studies costume design at Dalhousie. In between semesters, she lives and works in London with her family and boyfriend.
In June of last year, she found a job listing for Walker's on Kijiji: She was asked for an interview on the same day she applied, and in the interview was hired on the spot. She started at the downtown location under then-manager Ralph Black, where she worked until she quit in mid-August.
During this time, she says she received only $160 despite consistent work for nearly three months. She was paid in cash for her first week with no paystub provided.
Though Huffman said Black promised her bi-weekly payments in her interview, she never saw them.
Huffman claims she was owed around $1,000 by the time she lost hope and quit. In trying to get the wages she worked for, she tried to total her time on the job — but Walker's never formally told her how much she worked.
In mid-July, now having worked unpaid for a month, she emailed her manager asking for this information, which was then a month of unpaid employment at Walker's. Black replied 20 days later on Aug. 12, and did not answer her question. In his response, he said, "life sometimes never falls on schedule."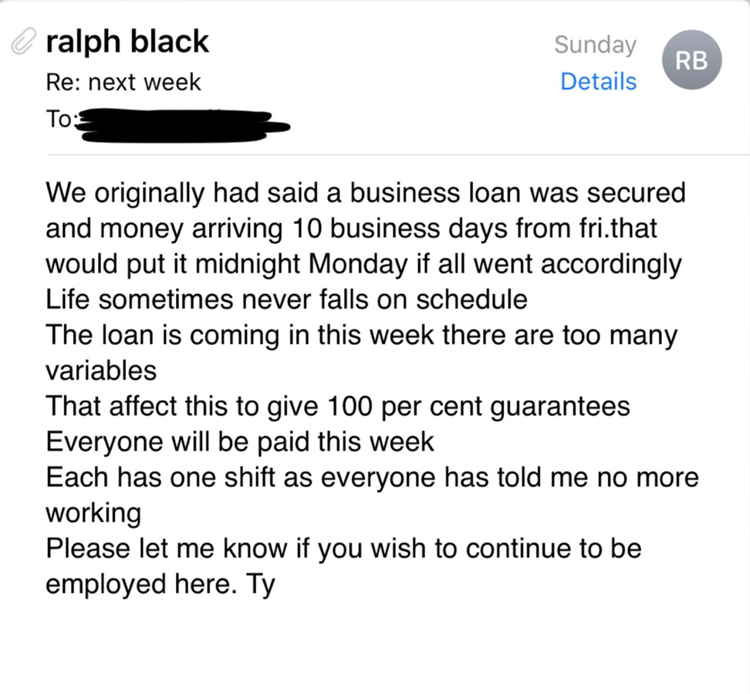 In the weeks she waited for the reply, she continued to work unpaid. When she followed-up at work, Huffman says Black deferred.
"I kept being continually promised that I would get paid the rest via e-transfer," said Huffman. "A date was promised and then it didn't happen and then a new date was promised."
At one point, Black said she should use her old schedules to figure out how much she had worked. Huffman provided copies of her schedules to the Gazette. According to those numbers, she worked 82 hours, which at that summer's server minimum wage earns $1,000.40 gross.
Huffman had difficulty finding summer work as an out-of-province student, so she decided to stay at Walker's. She believed she would eventually be paid her remaining wages — a hope she's still chasing.
Huffman turned to the government for help, filing a claim under the Employment Standards Act against Walker's on Aug. 21. ESA claims are meant to uphold workers' minimum rights through Ontario's Ministry of Labour.
An agent has been assigned to the case, but Huffman said there has been no further progress.
If the claim gets Huffman her wages, she'll put them toward school. But Huffman has also sought help from the Canada Revenue Agency, and she has even called the office of London North Centre MPP, Terence Kernaghan.
"I think I was just naïve enough to believe that when they were telling me I would be paid that they were telling the truth," Huffman said. "It's a lot of stress emotionally and financially."
No pay with no explanation
Like Huffman, Porillo was put in the same difficult situation.
Porillo found a posting for the downtown branch on Kijiji. She was called into the restaurant, where she met with Black. He mostly asked about her expectations for the job. Once she said she was fine with how he described the job, she was given a shift for the next week.
Porillo said she was only paid for her first week of employment with $60 in cash, $100 less than what she was owed. Black promised her the rest for the next day, and after she sent several reminder emails, she received $175 in an e-transfer. This transaction occurred in the middle of July.
She did not receive paystubs — nor any further payment from the restaurant.
"He would give excuses like he was waiting for a business loan, and it would take 10 days to get the money," Porillo said. "After 10 business days, none of that even happened."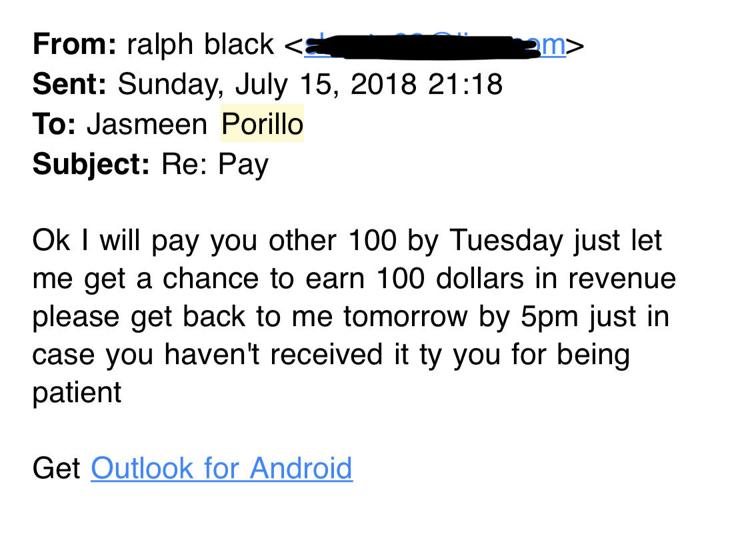 According to her schedules, Porillo earned $911 gross. Porillo continually asked Walker's about this payment but never received replies to any of her subsequent emails regarding wages.
On Aug. 15, Porillo told Black she would not be coming in for her next shift and that she was resigning. Her pay was still unresolved. Two days later, after Black had not responded, she reached out to the restaurant's owner, Robert Pouliot.
Her email raised the pay issue to Pouliot, that she had been paid for 1.5 of eight weeks worked, but again, received no response. In a final email to both Black and Pouliot, she asked one last time about pay.
"I would truly appreciate a quick response from either of you on when I can expect to receive remuneration for the weeks I have worked," she said. "I would prefer to resolve this issue without involving a third party."
Since then, Porillo has also filed an ESA claim for her $681 in payment. She has been assigned an agent but there is no progress as of yet.
Porillo, Huffman and other employees eventually quit, and soon resolved to organize.
Walker's protests
Protestors gathered outside of both Walker's locations in November and December. 
A protest was organized after another two employees were hired in the fall of 2018. They were Hunter Healy and Oliver Taylor, both local high school students looking for part-time work. Healy's and Taylor's parents lead the charge, rallying their families and neighbors for support.
The rest of the attendees were garnered through social media posts.
The group first protested at the downtown location the night of Nov. 28 and continued throughout the week. Around a dozen people picketed the restaurant's front door.
The manager at the time, John Cameron, came out to urge the protestors to leave and contacted police. Cameron told the Gazette at the protest that owner Pouliot told him all wage disputes had been dealt with. But during a standoff between Cameron and Huffman's boyfriend, Cameron said that he knew some employees had not been paid and he himself was missing wages.
Since the initial protest, Cameron has joined protestors to fight for his own wages, handing out flyers through December outside of both Walker's locations.
Healy, a 17-year-old Londoner, said he worked 24 hours at Walker's but said he was not compensated for the $336 he should have earned.
Healy said he is pursuing his wages through a small-claims court in London.
Pouliot responds, but leaves questions unanswered
CBC London has reported similar allegations from several other people who claim they worked for Pouliot's businesses but were underpaid.
Pouliot told the CBC that Walker's has suffered losses, causing him to miss wage payments; he claims these losses came from manager John Cameron, who began work in October. The CBC detailed criminal record information held by Cameron in several provinces, including convictions for theft and fraud.
Pouliot alleged to the CBC that Cameron stole money from the restaurant, though he was unable to prove the claim.
But even if Walker's hit hard times in October, when Cameron started, it would not explain the payrolls Walker's missed in the summer; Pouliot told the CBC that September was the first time he had missed a payroll, despite evidence to the contrary.
Though the Gazette asked repeatedly to speak with Pouliot about Huffman's and Porillo's payments, his employees and managers have always said he is unavailable.
Pouliot told the CBC he is working with the ministry to address the claims but Huffman and Porillo have yet to hear back from him.
While they wait, both will continue at school, hoping for word from either their former boss or the government.