London's local health unit confirmed there are now 138 active coronavirus cases in Western's eight residence outbreaks.
Saugeen-Maitland Hall has the largest outbreak with 44 confirmed cases since the Middlesex-London Health Unit declared an outbreak March 26. At the previous update Tuesday, Saugeen had 30 cases.
The MLHU now only updates case counts in student residences at their Monday media briefings.
Medway-Sydenham's outbreak has also grown to 27 cases, up from 19 last week. Delaware Hall saw the first increase since its outbreak was declared, with 16 confirmed cases. Ontario Hall is also on the higher end with 17 active cases.
Saugeen, Med-Syd and Delaware Hall are traditional-style residences, where students share bathrooms with everyone on their floor. Cases in these traditional-style residences make up over 60 per cent of Western's residence case count.
Western's remaining main campus outbreaks have also seen slight growth. Perth has nine cases, up from five when the MLHU declared the outbreak Thursday. Elgin Hall has one new case for a total of 10 and Essex Hall has eight.
The outbreak in King's Commons, an upper-year apartment-style residence at King's University College, remains contained to the seven students who tested positive when the MLHU declared the outbreak Thursday.
According to Dr. Alex Summers, associate medical officer of health with the MLHU, "the variant of concern is now the predominant strain within our region." The health unit previously confirmed the majority of variant cases were found in 18 to 22 year-olds.
Variants are up to 60 per cent more likely to put young people in hospital Intensive Care Units. The MLHU confirmed there are currently no 18 to 22 year olds in London's ICUs.
The rise in London and Western's cases — with the city reporting a record-breaking 160 new cases on Friday — means the health unit is no longer able to conduct extensive contact tracing for low-risk cases.
The health unit will continue contact tracing in what they consider high-risk settings like Western's residences, as well as educational settings, high-density workplaces and long-term care homes.
"We are notifying cases to make sure that they are aware of their diagnosis and how they should handle themselves," said Dr. Chris Mackie, chief medical officer of health with the MLHU. "We're having to prioritize the most high risk cases and rely on the cases to do some of that follow up with their contacts themselves."
The majority of the city's cases are still among 18 to 22 year olds, and recently-released provincial data shows London's N6A postal code — which encompasses most of the university and surrounding Old North student neighbourhood — has the highest test positivity rate in Ontario.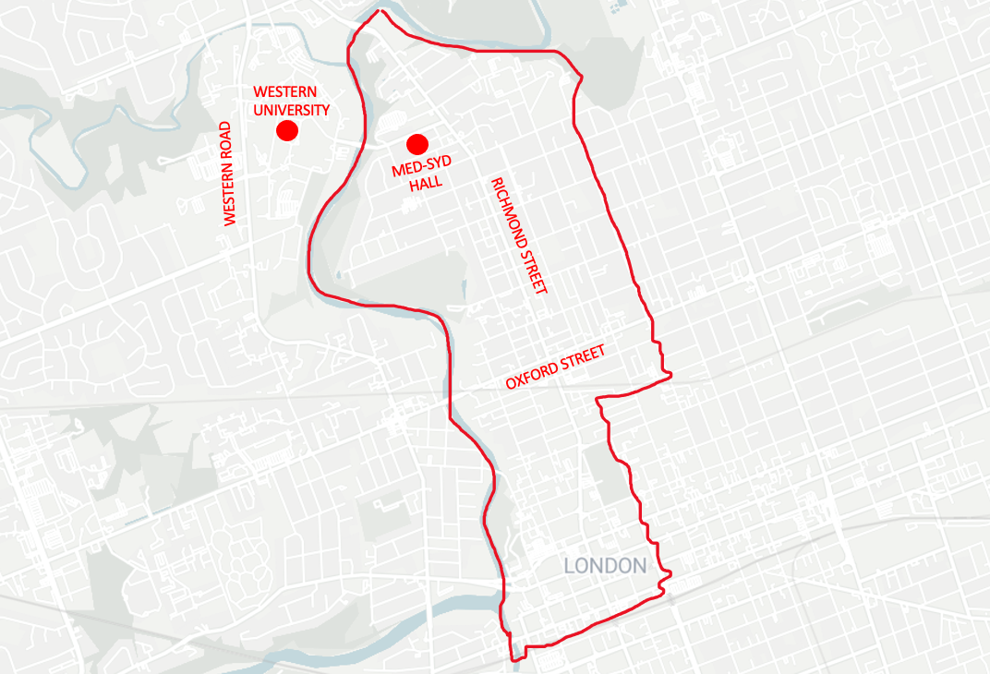 The health unit said the 28.9 per cent positivity comes from the last week of March into the beginning of April, as a number of residence outbreaks were first declared.
Dr. Mackie said the data is "quite concerning."
"Transmission of COVID-19 is happening well beyond the bounds of our university and well beyond just that 18 to 22 cohort," said Dr. Summers. "Just because you don't live, work or go anywhere near that postal code does not mean that you're off the hook from the stay-at-home order."
The health unit is expecting to see another week of high case counts, as health measures like the stay-at-home order usually take two weeks to show results. Dr. Summers also said first-year students moving home for the summer will likely lower the risk of transmission within residences.