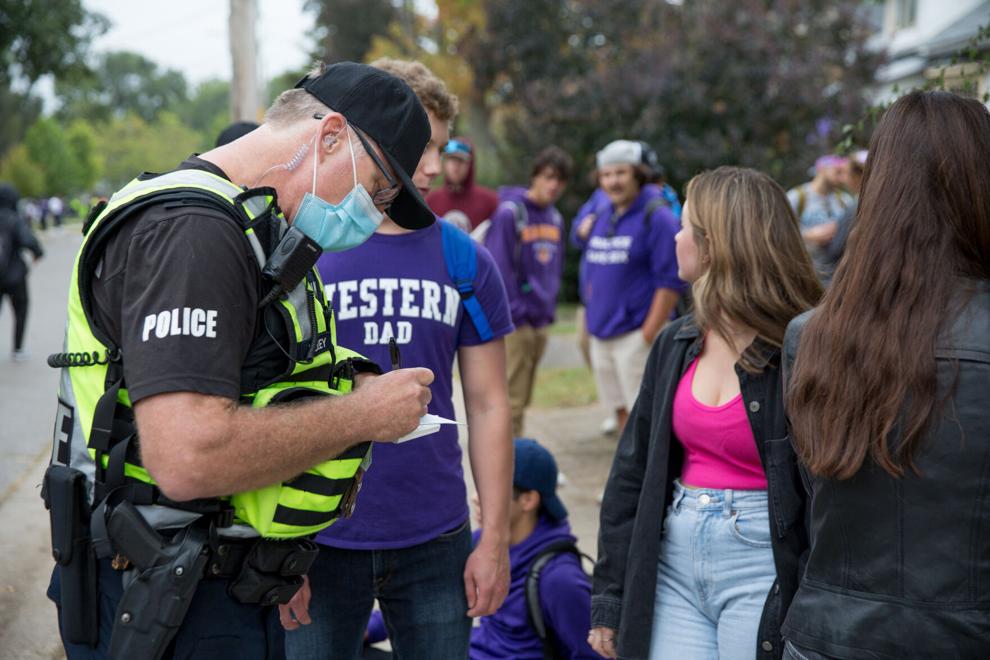 Thirty-two people were transported to hospital and a dozen were fined in the Broughdale neighbourhood Saturday during Western University's unsanctioned Homecoming celebrations. 
Middlesex-London Paramedic service saw 68 calls for paramedics from the Broughdale Avenue area and 30 hospitalizations from 5 p.m. to 3 a.m.. Calls for paramedics were at their lowest during the daytime, with seven calls for paramedics and two hospitalizations from 8 a.m. to 5 p.m.
There were no reports of major injuries.
In addition to medical emergencies, bylaw officers saw 24 noise complaints between the 7 a.m. and 7 p.m., several of which were referred to the London Police due to crowd sizes. The London Police issued a dozen fines for activities ranging from public nuisance and use of a closed street to urination and party attendance. 
Police issued three fines for people climbing on roofs. Another 20 notices were given to those violating the provincial Liquor License act. None of the fines or notices issued were under the criminal code.
"The vast majority of those of Western conducted themselves responsibly over the weekend," said London's Mayor Ed Holder. "They stayed away from Broughdale and surrounding areas, while those who didn't attend were generally respectful. Although it was a somewhat different story during the evening and overnight hours."
Homecoming saw a relatively quiet start to the day on Broughdale Avenue, with police largely outnumbering partiers early on. The numbers grew throughout the day, with many partiers moving onto Huron Street at night, where videos on social media show students jumping off telephone poles and roofs into large crowds.
In 2019, the last year Western saw major celebrations on the last weekend of September, parties in the Broughdale neighbourhood resulted in 800 emergency calls, 14 arrests and 31 hospitalizations. 
Police and the bylaw office plan to issue several more fines throughout the week for violations to the Section 22 order, which limits gatherings to 25 people indoors and 100 outdoors.
While several large gatherings occurred on Huron street in the evening, police are unaware of violations to bylaws that occurred during Homecoming celebrations after 7 p.m.
"The most important outcome for Western's concern is the fact that we had no reports of serious injuries," said Mayor Holder. "That's always a prime concern and the ultimate objective."