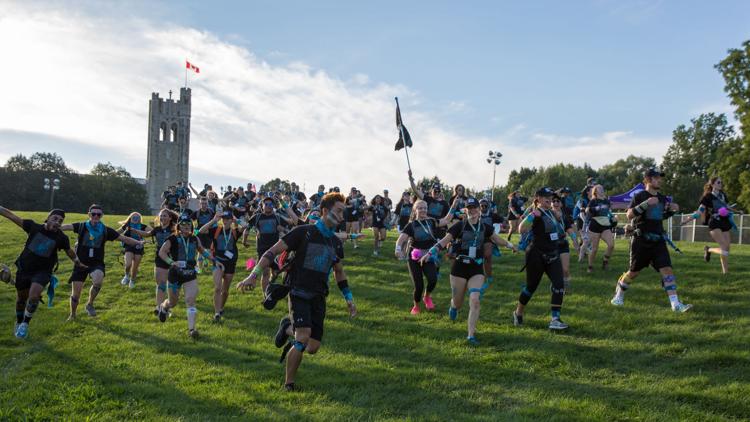 Sophs are not required to be on campus this fall as Orientation Week shifts to "primarily virtual programming" in light of the pandemic. 
In an email sent  Friday night, orientation staff announced that sophs can choose whether they want to perform their duties in-person this fall. Instead, students can opt to become a "virtual soph," though coordinators are still working out what this role would entail.
This is the first of many changes students will see for OWeek 2020, which will have the majority of its events, including opening and closing ceremonies, delivered online and "augmented with in-person programming where possible."
Coronavirus has brought strict social distancing measures and limits on gathering sizes — Ontario residents are currently limited to groups of 10. This has forced the Orientation Operations Committee to rethink almost every aspect of OWeek, which sees around 8,000 students gathering on University College Hill for its events.
"Due to the current limitations on large group gatherings, traditional programming … will not take place in-person." reads the email sent to sophs. "However, the [OOC] is working on a few new and exciting events and exploring apps designed to enable peer connections."
Sophs must inform orientation staff of their plans for fall by July 17, one week after the email was initially sent.
Those who do choose to attend OWeek in-person will see events drastically altered from previous years. Beyond having peers participating online, students attending OWeek 2020 can expect to see a masked and socially distanced Western University. 
Non-medical face coverings will be mandatory in all shared spaces on campus this fall and the university plans  to introduce signage encouraging social distancing measures in its buildings.
Soph training will include strategies for the students to ensure their own and froshs' safety amid the pandemic, as organizers "recognize that the role of supporting incoming students during OWeek traditionally may have included a level of physical contact which is no longer reasonable this year." The email also promises that each soph will be provided with two reusable face coverings and a bottle of hand sanitizer when they arrive on campus.
"Everyone's health and safety is our priority as we continue to plan for [training] and OWeek in the fall."