"It's OWeek 2.0," students shouted in residence Thursday night, after Western announced classes would be cut short over the novel coronavirus.
One Delaware Hall resident saw ceiling tiles punched out, electrical wiring pulled from the ceiling and the residence's lone ping-pong table destroyed.
"It was reckless. People were really drunk. It was just anarchy," said one resident, who asked to remain anonymous. "People didn't [care] about the rules or policies."
Western University announced classes would be cancelled starting Friday to prevent the spread of COVID-19, giving professors a couple days to rework their syllabuses and prepare digital lectures before classes are to begin again online next Wednesday. With many Delaware residents planning to move out in the following days, some reportedly saw the night as their opportunity to have one last party in the place they had planned to leave in April.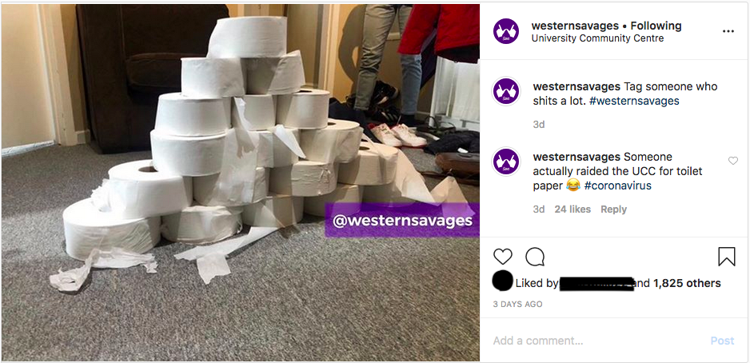 Many of the parties continued into the weekend, as students geared up for St. Patrick's day. An Instagram post by Western Savages on Friday shows a stack of eighteen rolls of toilet paper that appear to be the same large rolls stocked on campus. Custodians in the building confirmed on the same day that several rolls of toilet paper went missing from campus.
According to a resident, many students believed they wouldn't face consequences or charges for their actions since they would soon be leaving the building.
"People thought that they wouldn't get in trouble since they were about to move out," said the resident.
Chris Alleyne, Western's VP housing and ancillary services, condemned the parties in an emailed statement.
"This was a really disappointing situation. This should be a time for all of our students to come together and take care of themselves, each other, and their community. The incident is being investigated by Campus Police and the students responsible will be addressed through the Code of Student Conduct," he wrote.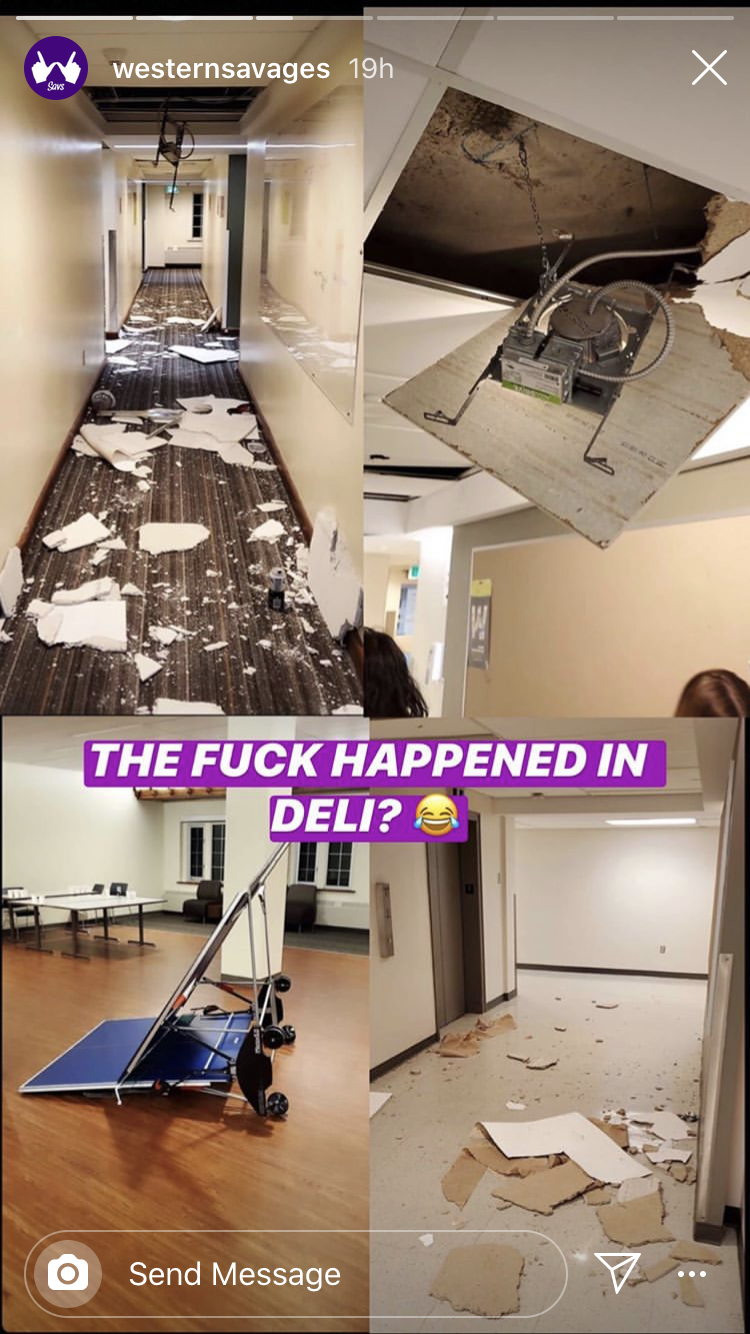 They said nearly every floor in the residence suffered some damage; pictures and videos of the aftermath were posted on social media.
"It was the last day we'd all be in [residence] together. It was like an end of the year celebration," said the student.
By Saturday morning, cars were lined around the traffic circle in front of the residence, as parents waited to take their kids home a month early.
Update (March 17, 9:51 p.m.): This story has been updated to include a comment from Chris Alleyne, Western's vice-president housing and ancillary services.
Correction (March 18, 1:16 p.m.): The caption on the video has been corrected to show it was taken in Saugeen-Maitland Hall, not Delaware Hall.