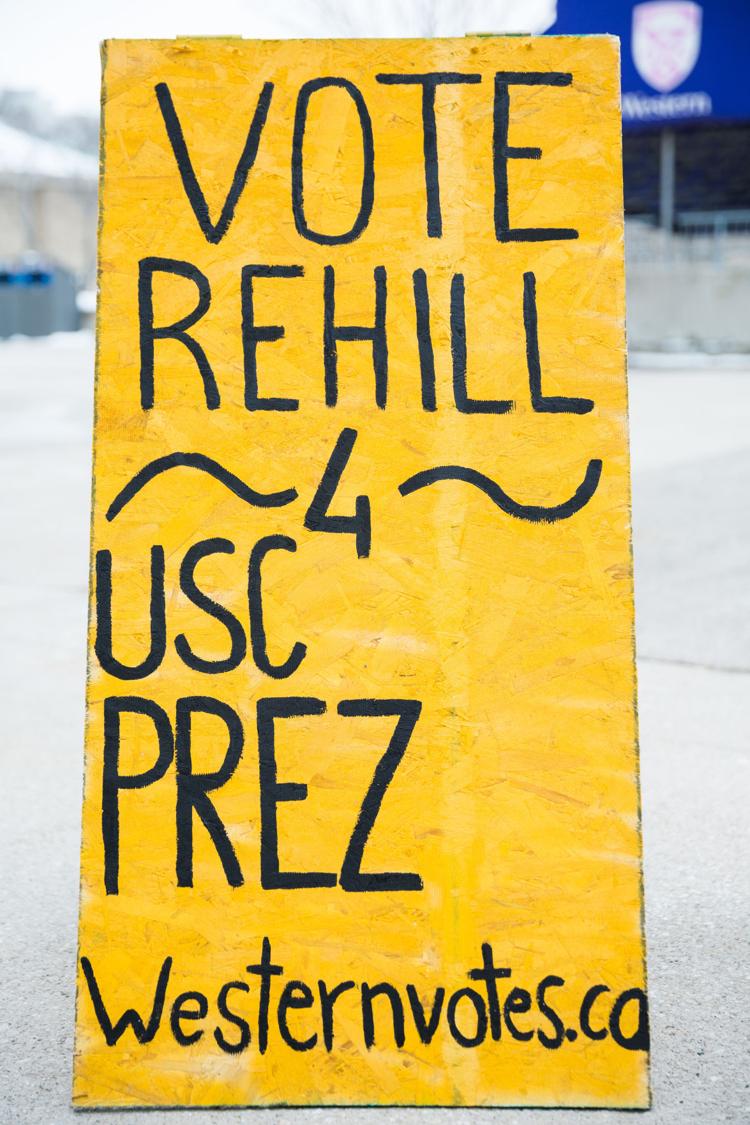 Aleesha Rehill's platform is the longest, and it provides plenty of room for her to describe her detailed plans for the direction of the USC. 
Between revising policy, increasing representation and focusing on student feedback, Rehill covers all the typical platform points well.
Despite some areas, like Purple Fest, that are vaguer, Rehill continues to develop concrete plans that were made with students in mind. 
Environment
Rehill's environmental proposals aren't profound. On one hand, they're achievable — but on the other hand, the University Students' Council should be radical about sustainability.
Rehill plans to introduce more compost bins and improve signage about recycling and composting. She says correctly that much of the waste on campus is improperly recycled, so efforts to improve waste disposal could go a long way.
She also aims to work with Western University to transition to paperless assignment submissions. This may seem small, but would also require a push against professors who prefer to mark by hand. The platform mentions more sustainability efforts at The Spoke and the Wave but does not offer the same specificity. To be fair, The Spoke has already made some recent changes in this direction.
Finally, the reminder at the end of the platform to consider the environment before printing it further illustrates Rehill's thoughtfulness and commitment to the cause.
Community Engagement
Like every candidate, Rehill has plans to get students closer to the USC. This means diversifying and opening the government, in her case — as opposed to plans to get the student body more engaged in the USC overall, which communications director Nico Waltenbury recently labelled the government's biggest challenge.
She proposes monthly updates, more office hours and affiliate involvement. In recent years, the USC has polished its newsletter and a Western News-like publication.
Rehill proposes several changes to council, though she is not a council-insider: she would add representatives for students in residence, Mustangs Athletics and the Greek scene.
She would also push for more motions from councillors, not executives. It's debatable whether councillors are better representatives of the student body, but they are more specialized, which is a theme in Rehill's platform.
When it comes to clubs, Rehill wants to re-examine the club's food policy to increase cultural options available. She also wants to reform the club's website to help students get information if they do not want to go to the very busy clubs week; this would be a welcome change, but the USC website has not noticeably increased in popularity after its recent face-lift.
Wellness
The typical mental health plans are in Rehill's platform, as Western prepares to assemble its services in a renovated Thames Hall.
But, in a novel point, she proposes adding mental health assessments — like tests for attention-deficit hyperactivity disorder — to the USC's health insurance. This would have to navigate problems for the trust that funds the coverage, which prompted council to approve a fee increase in 2018.
In an echo of 2019's ForYe slate, she recommends more diverse mental health staff. Rehill also plans to solicit student feedback on the mental health system's relocation to ensure it's meeting their needs.
Safety
After vice-president Cat Dunne rewrote the book on gender-based violence on campus, most platforms are lighter on the topic than in past years.
This includes Rehill's, but she does plan to spread information about the new policy. This would include information about the reporting process.
She also plans to improve sexual violence policy training at OWeek for sophs. Council made a similar call for this year's training.
Other safety measures include improved lighting on affiliate campuses, throughout the city and especially on areas that are off-campus but frequented by students, like the path behind Medway-Sydenham Hall.
Lighting helps pedestrian safety, which may be the goal, but it is on its own not enough to stop sexual violence.
Equity
With a dedicated pillar, this section receives the most attention in Rehill's platform, with occasional sweeping suggestions. But the span of her ideas shows it was deeply considered, and arguably is the centre of what she offers for the job.
Rehill plans to expand Western's new anti-racism group, and diversify the groups it includes. While the USC was crucial in the group's creation, president Alan Shepard told the Gazette he feels the working group is already on the large side.
She has three major ideas for administration-side changes. Rehill plans to look at Western's policies surrounding discrimination and harassment on campus and work to update the document to reflect current views. 
She also proposes making anti-oppression and ally-ship training mandatory for faculty, as it is for student leaders.
Rehill also plans to make academic counselling more consistent across faculties.
When it comes to indigenous relations, the platform proposes creating an interactive map of indigenous landmarks on campus to increase awareness. Similarly, Rehill also plans to continue the expansion of gender-neutral washrooms on campus, with an interactive map to help locate them.
She also wants to improve relations with athletic teams by promoting them and creating a coordinator position within the USC.
PurpleFest
All platforms have two questions to answer: how to run Purple Fest, and when Homecoming should be. Rehill is orthodox in saying the concert should continue, but diverges on the date switch, saying the situation should become safer before the USC pushes for a return to the September date.
The USC has advocated to reverse the switch since it was moved in 2016, and Western has not once — publicly, at least — shown a shred of interest. Administration officials have also called the switch a success, and publicly too.
After 2019's Rocky Horror Show, Rehill like other candidates is concerned about the reputation of the event, specifically when it comes to the protection of students for ticket sales. It is unclear what this would mean exactly for sales next year — but this could mean changes.  
Rehill does not mention the Broughdale Task Force. This is an oversight, especially after the USC's role in fighting Fake Homecoming was ignored by Western and police in their backdoor memorandum of understanding. And, needless to say, she doesn't mention the MOU either, though it was a defining moment for a young executive this September.