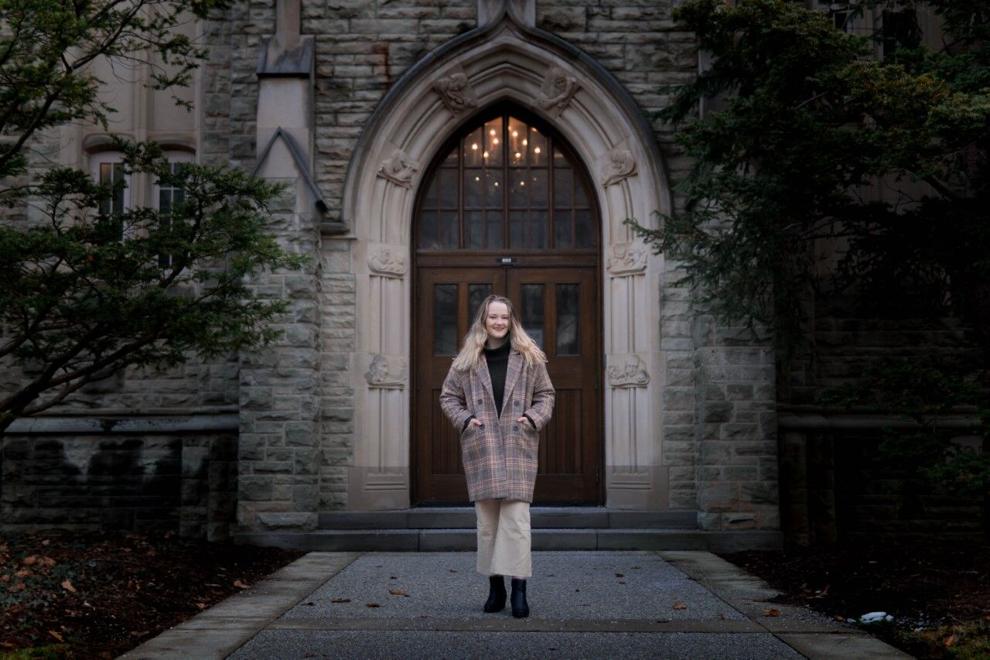 Editor's note: This article is news analysis. The Gazette's news team analyzed each platform collectively to determine which pillars we believe are feasible and which we believe are beyond the powers of the presidency based on our extensive reporting on the University Students' Council.
---
Callista Ryan, a fifth-year international relations student and current associate vice-president communications for the USC, has released a platform of new, creative and largely achievable initiatives in her bid for USC presidency.
Ryan's platform outlines 11 pillars covering a range of issues on campus, which fall under three broad categories: affordability, community and ethics — or ACE as the campaign team coins it — all with a strong commitment to transparency.
The platform appears well-researched, taking inspiration from peer universities and incorporating Western University's upcoming strategic plan renewals. While her students events may be mundane on paper, all plans are commendably flexible to any future coronavirus restrictions.
Academics
Ryan's academic pillar focuses on improving academic counselling by increasing staff and standardizing policies across all faculties.
Though her goal of increasing counselling staff may be far fetched, as Ryan would have to convince Western — a fairly financially conservative institution — to spend more, advocating academic counselling offices to adopt consistent policies may be more feasible.
Ryan pledges to make online education more accommodating with an accessibility checklist. The list would mandate professors announce whether the course is synchronous or asynchronous before the class begins, allowing flexibility for students who live in different time zones or work part-time.
While this point may face faculty union and Senate resistance for infringing on professors' academic freedom, it's certainly an area of advocacy worth pursuing — especially if most courses continue online next fall.
The candidate also hopes to transition the student appeals support coordinator online, a role which aims to support students who face academic conflicts with the university.
Affordability
A significant part of Ryan's platform focuses on affordability and new student opportunities.
Ryan plans to create a computer loan program — which will provide laptops to students who can't afford to buy a new one within a short time frame.
The candidate also proposes an intergenerational housing pilot project — a housing program Ryan adopted from the University of Toronto — which would allow students to live with seniors at a lower cost once health restrictions are lifted. Ryan hopes the program will increase the affordability and accessibility of student housing.
To make student life more affordable, Ryan proposes working with the financial aid office to create student experience grants. Ryan argues tutoring costs, participating in events and grad pictures are all central to the student experience — and wants the grant to fund these needs.
In order to keep ancillary fees low while pursuing these projects, Ryan proposes Western pay a greater portion — arguing Western pays less towards ancillary fees than most peer universities.  Although asking Western to pay up is great in theory, it's an approach used by many before Ryan and has consistently failed to garner results.
Though asking Western to pay their part may not be realistic, Ryan proposes another solution to keep ancillary fees low — capping them.
Although ancillary fees fluctuate, Ryan pledges to keep all fee increases except the health and dental plan under two per cent for inflation for the upcoming academic year.
Equity, Diversity and Inclusion
Accessibility is one of Ryan's strongest platform points as she hopes to advocate for interim arrangements for students awaiting results of disability accommodations.
Ryan weaves USC accountability throughout her platform — which is particularly present in her pillar addressing racism. Committing to practising what she preaches, Ryan plans to audit the USC's hiring practice to combat any implicit bias. This is a solid step that is completely within the USC's power.
As an extra step to address racism on campus, Ryan plans to advocate to Campus Police and the city to dispatch mental health professionals instead of officers on certain calls. While this is a great and ambitious initiative, it's hard to know how feasible it would be, given that the USC does not have much history negotiating with the city police department.
Additionally, she plans to open a Gender and Sexuality Resource Centre on campus which would provide referrals, sexual health supplies and a plethora of resources.
But, Ryan falls short in her plan to address mental health. A main pillar for mental health advocates for an intervention system facilitated by professors and relies on the relationships students have developed with faculty to properly function.
While equipping professors to assist students in receiving mental health support helps when students reach out, it is unreasonable to expect professors to catch students who require assistance and even more so to assume students who need help are developing strong relationships in the classroom.
As a result of the pandemic, mental health will be a significant issue for the USC to address in the coming year and Ryan may need to consider alternate paths to achieve change.
Student Life

With Homecoming returning to its original date in late September, Ryan plans to run a series of small-scale events to bolster the annual football game — such as a food festival, outdoor roller skating and student performers among regular HOCO activities — which can all feasibly operate under remaining COVID-19 restrictions.
Ryan does not discuss Purple Fest in her platform — leaving doubts as to whether she will renew the event after the pandemic as her fellow candidates pledge to do.
Other initiatives are highlighted in Ryan's platform, such as the Purple series, where she hopes to run small outdoor performances and improve campus night-life through late-night entertainment at The Spoke and the Wave.
Ryan's platform is reasonably compatible with the fluctuating COVID-19 restrictions expected for the upcoming year, through small-scale outdoor events and initiatives which do not require large gatherings.
Sustainability
Ryan's sustainability pillar makes a step in the right direction, as she plans to publish the USC's carbon footprint and environmental impact. Hoping to lead by example and hold the organization accountable, Ryan hopes this will motivate the USC to decrease its own environmental impact.
Another unique idea Ryan champions is a community garden to foster a culture of sustainability on campus. Ryan also hopes to increase awareness about Western's composting system and educate students on recycling.
Though her sustainability section is modest compared to other candidates, her goals are all achievable and novel for the USC.