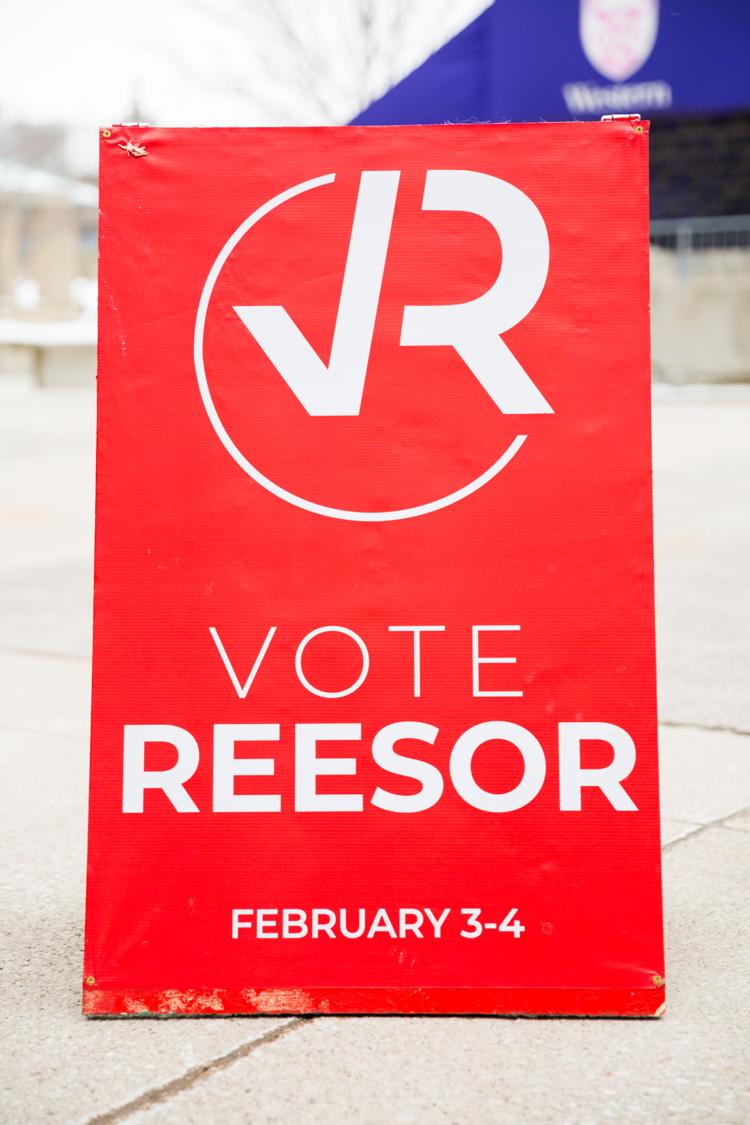 Social science councillor and faculty head soph, Matt Reesor, officially launched his USC presidential campaign this week, releasing his platform online and shaking hands in the University Community Centre atrium.
Reesor's 19-page platform is packed to the brim with ideas sorted into seven main pillars, many of which include both long-term ideas and interim plans so students start seeing results quickly.
Certain areas — namely sustainability and sexual violence policy — are thorough and well researched, stemming from national university examples, personal experiences and student consultations.
Environment 
Reesor devotes a significant section of his platform to sustainability, proposing seven amendments to the university and University Students' Council's current environmental policies. 
These proposals draw on initiatives from United Nations emissions goals, municipal declarations and the sustainable habits of other Canadian universities — Reesor has clearly done his research.
The standout idea is declaring a climate emergency on campus with Western University, as the city of London did at the beginning of 2019. He also pledges to work with Western to renew their emissions goals.
While these platform points are largely symbolic rather than presenting direct solutions, they're a bold first step that will (hopefully) make the university beholden to climate action in the future. That said, it's hard to imagine an institutionally conservative school like Western making this declaration and following through.
Reesor also pulls ideas from the University of British Columbia, with a mug exchange program at The Spoke. Easy access to travel mugs right where students get their coffee has the potential to drastically reduce waste without asking students, staff and faculty to drastically change their lifestyles.
Community engagement 
To increase ever-dwindling student engagement with USC executives, Reesor promises to hold "truly open" office hours, promising his executive will be the "most accessible it has ever been." Although executive office hours are not as consistent as they have been in previous years, the current executive held officer hours and met with students as recently as Wednesday. 
Reesor would also prioritize executive attendance at major events on campus — something that already happens — and ensure they attend meetings with faculty councils.
Increased accessibility will be paired with public awareness campaigns and brand journalism to inform the public on a weekly basis about the achievements of each executive. While reports like this already exist within the USC, students often have a hard time finding them, or often don't seek them out.
Reesor promises more transparency and accessibility from the USC executives, but shouting louder about achievements doesn't really matter when it falls on deaf ears. Reesor — and any USC candidate's — main challenge will be making the average student care, and remaining transparent when things don't go as planned.
Wellness
Reesor says mental health will, if elected, be a priority for his administration. But a major idea in this section of his platform requires explanation. 
Reesor wants to address students' concerns about a lack of mental health professionals on campus. He plans to advocate for increasing funding to hire more professionals, and in the interim, hire local "professionals-in-training".
The university is currently dealing with a budgetary crisis following provincially mandated cuts to tuition and threats to their public funding with the introduction of a new budget metric system. Bringing more professionals onto campus (and the salaries that go along with that) is a huge promise and Western would be in charge of footing the bill. And if the USC's looking to help the funding, it has its own budget problems.
His platform does not directly address the current Thames Hall renovation, which will amalgamate all of Western's health services — both physical and mental — into one building with a coherent system.
Safety 
This is another robust platform point for Reesor. He is the only candidate to discuss tackling Western housing's sexual assault policy, which is a thoughtful pivot forward after Western's campus-wide policy passed this year. 
His sophing experience is evident in this policy, as he discusses the lack of a survivor-centric model in residences. He proposes amendments that would give the survivors more agency in the process, instead of forcing them to make a formal report after disclosing an assault to a soph or residence advisor. This accords with Western's new policy.
Reesor couples this with a push to address rape culture through a series of public awareness campaigns and mandating Anova sexual violence prevention training for all student leaders. 
He also pledges to advocate for increased lighting on campus and in parking lots, emergency poles and mapping out "safe routes" that feature both across campus. He also wishes to increase campus police patrols at night. While these changes are important, they only work as supplements to the important policy change. Western is also currently renovating campus in order to increase lighting.
Equity 
Reesor does not have a dedicated section of his platform for equity, but instead has equity-based points scattered throughout other sections. 
One of his most prominent points on equity deals with including religious and cultural clubs in council with the creation of an interfaith coordinator in the peer programming portfolio, and be responsible for organizing once a semester round tables for consultation with religious groups. 
In the wake of racist incidents in an English class last semester, Reesor says there is a need for anti-racism training for student leaders and first-years during their OWeek, similar to the annual consent training. Reesor, however, does not address the anti-racism working group struck last semester in response to racism on campus.
Purple Fest  
Managing Fake Homecoming celebrations and Purple Fest is arguably one of the most important challenges for the USC president.
Reesor dedicates a page in his platform to address how he will shape the third iteration of Purple Fest. Reesor promises to pick a headliner that better represents the "USC's values." But, it seems unlikely Broughdale partiers would be courted by a brand-friendly act.
Reesor says he'll make it a priority to push Western's Homecoming celebration back to its original September date. The majority of students who were around for a pre-Fake Homecoming era have graduated, and it's questionable if current students prioritize this move — and equally dubious that Western would accept it. 
He also wishes to expand the "Purple Series" to include "Purple Sessions" that would highlight local and up-and-coming artists. Reesor hopes this will cater to students with varied music tastes that aren't always satisfied by Purple Fest.