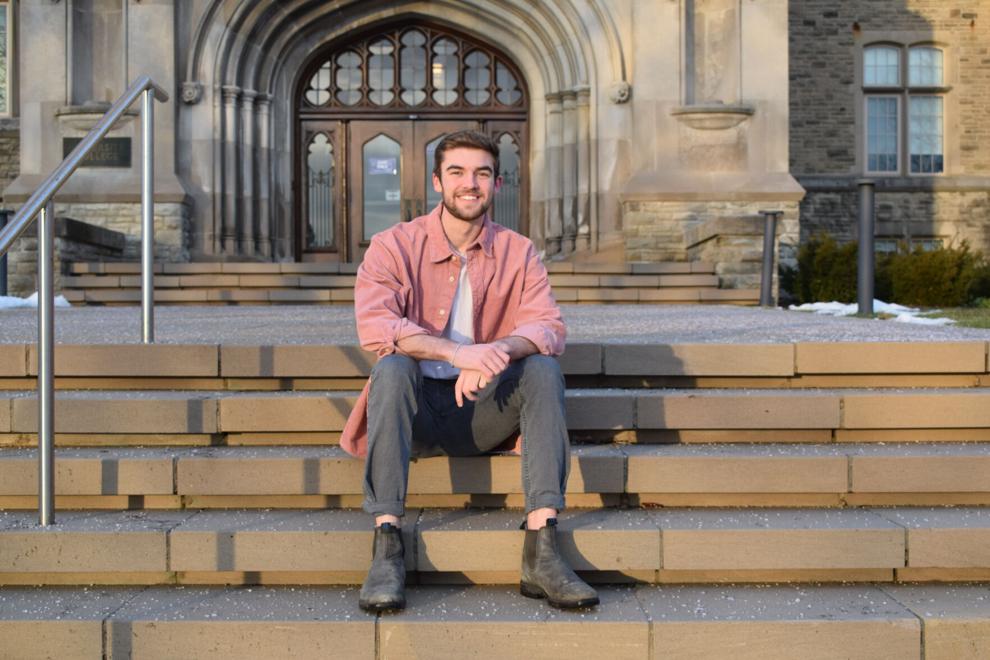 Editor's note: This article is news analysis. The Gazette's news team analyzed each platform collectively to determine which pillars we believe are feasible and which we believe are beyond the powers of the presidency based on our extensive reporting on the University Students' Council.
---
Parker Thomlinson has experience that stretches into the far corners of campus — with positions in Western's Senate, Board of Governors, orientation program and the University Students' Council — which is all well-reflected in his platform that prioritizes five pillars: student life, engagement, advocacy, student support and development.
The Ivey Business School student's platform reflects his knowledge of the limits of the USC's power and the fickleness of coronavirus restrictions, leaving him careful to promise advocacy instead of setting up expectations for sudden change.
But, despite his experience as a student advocate and the strength of his pillars, Thomlinson's platform appears lacklustre and many pillars hinge on continuing work already set in motion by preceding USC executives.
Academics
Thomlinson's big-ticket item for a relatively sparse student academics platform is advocating for an earlier exam schedule release — an especially attractive point for out-of-province and international students who want to book their flights early.
The platform also includes a proposal to develop a tutoring database to connect student tutors with their peers who need support.
But, while Thomlinson wants to offer expanded academic services, he does so without considering the consequences of over-saturating the availability of services, especially ones that offer the same aids the USC and Western already provide. 
For example, Thomlinson wants to prioritize new initiatives like the discounted USC Prep 101, despite the existence of the university's free Peer Assisted Learning centre and other on-campus tutoring programs.
Affordability

Advocating for student affordability is a top priority for Thomlinson, who has explored advocating to the university and government to give students an inexpensive university experience in all avenues in his platform.
He is the only candidate to consider the USC endowment fund — a series of investments to grow the student union's wealth over time — highlighting his priority to see a financially secure council for years to come.
Thomlinson also makes promises to look out for international students — a group that has faced especially difficult circumstances surrounding affordable education during the pandemic — by advocating for an in-cohort tuition cap, so students can prepare for the cost of their entire degree. 
It's worth considering that all of this advocacy will take time and students hoping to see reduced fees and a more affordable student experience may have to wait until after Thomlinson's presidential term ends to see those changes.
To balance out these advocacy centred goals, Thomlinson also proposes smaller-scale affordability initiatives, such as negotiating a student discount program with local London businesses and creating an in-house program to give students "points" to spend at USC services like The Spoke.
Equity, Diversity and Inclusion
Accessibility is a detailed and well-researched platform point for Thomlinson, as he advocates for temporary accommodations for students awaiting approval for campus disability services.  
He is also looking to consult with the USC Accessibility Committee while planning large-scale student programming to make events like Orientation Week more accessible to students with auditory sensitivities and disabilities. 
Thomlinson is also looking to advocate for professors to record all lectures — as the pandemic has shown is possible — to help students with accessibility issues or who struggle with their mental health.
As for addressing racism on campus, Thomlinson believes the USC's primary role should be to boost the voices of Ethnocultural Support Services and other clubs representing diverse students, rather than leading the advocacy themselves. 
He hopes to support student clubs by pushing Western to reform their racism reporting tool and holding the university accountable to following the Anti-Racism Working Group's recommendations.
Thomlinson's platform says the prevention of sexual and gender-based violence is "one of [his] top advocacy initiatives," though the majority of his main ideas are to support the work already taking place within USC subcommittees and implemented by Western's updated SGBV policy.
Student Life
Thomlinson's platform is relatively vague when it comes to student events, though this is likely due to the uncertainty of COVID-19 restrictions.
The candidate is careful to note his hopes of bringing back PurpleFest and Purple Series concerts if Western returns in-person — whenever that may be.
Citing the Purple Store's low foot traffic, Thomlinson wants to transform it into a hybrid thrift store, allowing students to showcase their designs and sell or donate old Mustang merchandise. 
Thomlinson also wants to revamp Western Film, which loses revenue most years, and implement a USC film festival where students can showcase their filmmaking talents and look forward to showings of classic movie marathons.
As for the Mustang Express, which he believes is under-used, Thomlinson hopes to expand it to close the gaps in the LTC bus routes — especially for students who live on the south side of campus — as buses tend to fill up quickly and students are often left waiting for another to pass by. 
Thomlinson hopes to integrate the Mustang Express into the route along Western road to pick up students for their early morning classes.
Sustainability
One of Thomlinson's unique initiatives is his goal to set up signage at The Spoke and Wave to include water usage and carbon emissions, allowing students to make environmentally informed decisions about their meals.
He also wants to see cohesive signage on garbage bins across campus that will better indicate how to properly dispose of waste, in addition to working with London to implement a new city-wide composting program.
Thomlinson prioritizes eliminating paper assignment submissions through mandating students submit their work online — an ambition students have seen from previous presidential candidates but has been hindered as both Western's Senate and the faculty union maintain professors' preference to mark on paper. Though this plan may be now or never as faculty have adapted to paper-less over the course of virtual learning.
Hope for a car-free campus also stands out as a particularly ambitious goal as he aims to create a "green, pedestrian-friendly and energy efficient campus."
Correction (January 25, 2020, 6:05 p.m.): This article has been corrected to reflect that Thomlinson has five pillars rather than four, as previously stated.