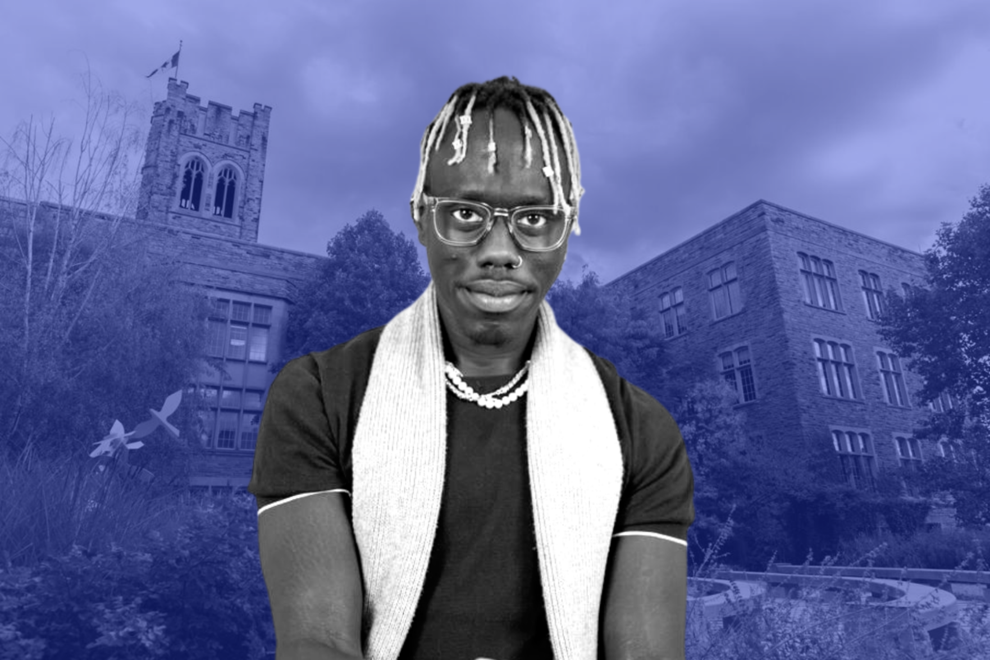 Editor's Note: Ajak has made minor rewrites to his platform since releasing it on Friday. This analysis is based on the first copy of his platform. None of his core platform points or approaches to them had changed at time of publication.
Sunday Ajak, a fifth-year sociology and social justice and peace studies student at King's, has released a 45-page platform in his bid for USC president.
His platform is wordy and complex but features some novel ideas that are a much-needed breath of fresh air in University Students' Council elections — organizing charity-related challenges across faculties and raising awareness for addiction and eating disorders on campus chief among them.
Ajak's on-campus involvement is apparent throughout his platform, but some of his points  show he may not understand the processes needed to implement his advocacy goals, which could be worrisome.
Student Life
Ajak proposes a number of fun and feasible student experience action items, including the creation of a "USC Interfaculty Cup" — apparently akin to the Harry Potter House Cup — which would see students compete in charity-related challenges, like a food drive, for their faculty or affiliate college. This idea is feasible, but it is unclear what the reward is other than charity. While it might not have a sweeping impact on engagement or morale, there's very little downside to its implementation and it has the potential to do a lot of good.
Ajak also plans to bring back PurpleFest — the large-scale concert that planned to bring A$AP Rocky to campus in 2019. PurpleFest, while a popular event and likely feasible in some form, does not address what Ajak claims it will: providing a safer alternative to Broughdale Avenue partying during Homecoming. While the concert historically diverted students to the safer venue while performers were onstage, some still took the street when the show was over. His platform even shows data that Broughdale partiers increased when PurpleFest was introduced.
Many smaller student life ideas are also included in his platform, including a marketplace for student businesses and a vintage clothing fair. Both are feasible and could garner significant interest. But one of his initiatives — an official USC online forum where students could ask questions and report phishing emails — seems like an unnecessary expense when students have social media and phishing reporting alternatives from Western Technology Services.
Ajak also proposes making a performance art rehearsal space in the University Community Centre, an initiative that would address an issue faced by campus dance groups who often practice in hallways. While well-intentioned, there is no mention of where this available open space is or if Ajak has assessed its feasibility.
Student Support
Ajak's significant student support section contains a mix of ideas addressing academic accommodation, mental health and affiliate affairs, but some are poorly-researched.
Ajak aims to advocate for reinstating self-reported absences or an alternative policy. He plans to create a report with the President's Accessibility Advisory Committee at King's University College, outlining professors' issues with the policy.
But considering he doesn't mention Western University's Senate, where academic policies are approved, it is unclear if Ajak knows about the policymaking process and where to advocate.
The most impressive mental health initiatives in Ajak's platform are his novel proposals for addressing eating disorders and addiction — two overlooked issues at Western.
Ajak notes eating disorders often emerge in individuals who are university-aged. He says he will advocate for mandatory eating disorder training for all mental health workers at Western and the hiring of an eating disorder specialist, as well as promoting eating disorder services already available on campus.
He also wants to establish an addictions awareness campaign on both main campus and affiliate colleges and provide resources for students struggling with addiction — a commendable action item.
In contrast, Ajak's idea of partnering with Health and Wellness Services to offer 24/7 mental health services for students in crisis during Orientation Week, Frost Week and exam season, seems unrealistic.
Western's mental health services have long been understaffed and wait times for seeing a counsellor extended to four weeks this fall. Round-the-clock availability is likely unfeasible, not to mention many mental health organizations, like the Canadian Mental Health Association, already offer free 24/7 crisis support.
Ajak wants to set up monthly roundtables with Huron University College, Brescia University College and King's students and the USC executive team, solely focusing on affiliate needs. Even if they are only attended by affiliate council members, the roundtables appear to be a constructive solution to a chronic issue at Western: affiliate students feel disconnected from main campus and overlooked by the USC.
Ajak introduces two other initiatives he says will benefit affiliate students: establishing a chatline affiliate students could call to access main campus information and installing LED displays on campus showing real-time shuttle bus wait times.
The chatline is redundant given Western Chat, maintained by the university, provides the same services. It's questionable whether installing LED displays is feasible since Ajak doesn't present the potential cost and number of installations.
Ajak also aims to promote student engagement by holding monthly town hall meetings where students can voice their concerns directly to USC executives. While admirable, this initiative would likely see low attendance given a 15-minute public question and comment period has been added to council meetings since November but has seen no students make use of it.
Equity, Diversity and Inclusion
An area of strength for Ajak is his focus on equity, diversity and inclusion.
Ajak has two ideas to centre BIPOC voices at Western and the USC's EDI work. He plans to create a committee of cultural club executives to inform EDI at the USC. It's unclear how this will be different from the USC's Ethnocultural Support Services, but it won't cost anything and may have some benefit.
Ajak also says he will reestablish the university's President's Anti-Racism Working Group. It's a good idea, and he makes a strong point that these groups are "often implemented in times of racial relevance," but quickly forgotten. But Ajak would not be able to create this group unilaterally — he would have to advocate to Western to reestablish it.
An excellent proposal in Ajak's platform is the Indigenous Student Night of Recognition, which would highlight Indigenous students and cultures, similar to events other cultural groups hold on campus. This event seems inexpensive and valuable.
Ajak also wants to increase diversity within mental health services at Western by centring Indigenous voices in mental healthcare, as well as promote further gender-based and sexual violence education. While this sounds good, it's outside his purview to implement and would require significant advocacy.
Ajak's platform does not mention disabled students.
Affordability
Ajak says he will prioritize working with the Ontario Undergraduate Student Alliance to lobby the provincial government to increase the amount of financial assistance given to low-income students. This initiative is in line with OUSA's 2022 policy paper, which includes a similar recommendation for the provincial government. He acknowledges the advocacy will likely not translate into results during his presidency, given the length of provincial-level advocacy.
Ajak also proposes advocating directly to Western administration for an accumulation limit for domestic student tuition inflation and predictable year-over-year tuition prices for future international students. But Ajak would have little say in Western's tuition fees and seems to not realize Western has guaranteed a four per cent cap on increases in international student tuition since 2019.
He also wants to ask city councillors to lobby the provincial government to create a rent cap for student housing specifically, and encourage other student unions to do the same which he believes will "greatly increase the chances of this action being called into Senate."
It is unclear why Ajak believes advocating to city councillors, rather than members of provincial parliament, is the best way to advocate for changes to provincial policy. Nor is it clear what "Senate" he is referring to — rental legislation is passed through the Legislative Assembly of Ontario and there is no provincial-level Senate. It is also doubtful any governing body could effectively define a "student rental" for the purposes of an additional rent cap in legislation.
Gender-Based and Sexual Violence
Ajak's platform provides one potentially positive idea to address gender-based and sexual violence, but two others are concerning.
His best idea is proposing to add MapMyExperience — an existing collaborative map that anonymously logs locations of sexual assaults in London — to the USCNow app.
Ajak says he would also like to collaborate with the Canadian Mental Health Association to train a small team of volunteers with lived experience to respond to GBSV events using a "peer-based model." It's unclear from his platform if "peer" refers to undergraduate students — if so, this idea is neither safe nor appropriate — or young trained professionals, like social workers. What's especially concerning is that Ajak labels this as one of his most important platform points, but it is unclearly-worded and has the potential to be highly inappropriate.
Ajak also proposes partnering with Wilma — a ride-sharing app for women and gender-diverse people — to USCNow. While Ajak says he has consulted with Wilma's founder, Wilma operates on a monthly subscription model in addition to per-ride fees and it is unclear if or how the subscription fee would be covered.
Sustainability
One of Ajak's two sustainability items is to partner with the Climate Crisis Coalition at Western in heavy advocacy for decarbonizing the university's investment portfolio. This is an admirable advocacy goal, although it would likely not be realized during his term.
The second is similarly advocacy-based, but more likely to see progress. He proposes working with EnviroWestern to gauge the effectiveness of specific sustainability initiatives at Western, and advocate for improvements if necessary. This evaluation and advocacy process may lead to positive change.