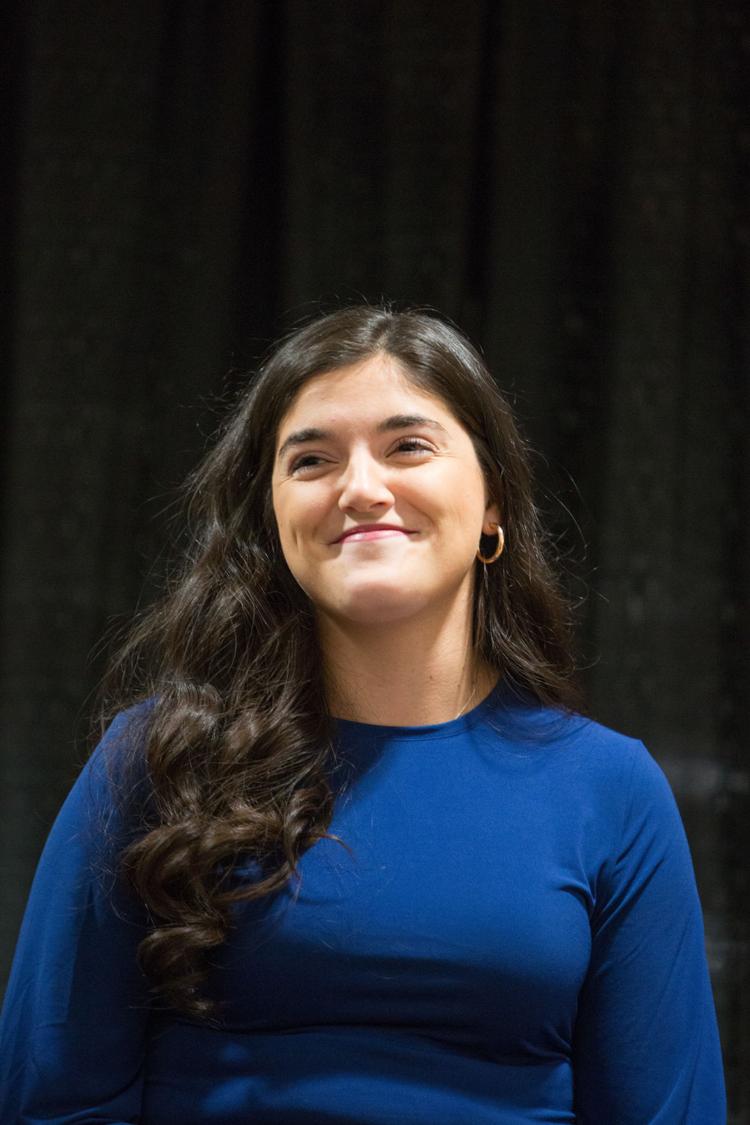 Victoria Barroso, USC presidential candidate and current Science president, has a lot of ideas on how to improve life at Western.
Many strong points are presented in her environmental policies and plans for inclusivity — such as her proposal for paper-towel-only bins in campus bathrooms and plans to administer an accessibility audit.
However, Barroso's platform gives limited detail in other key areas, namely Purple Fest. 
Environment
Barroso's environmental policies shine through as one of the stronger points of her platform. Her plans fall in line with Western University's goal of becoming a zero-waste campus, outlining specific plans on how to get there. 
She proposes paper-towel-only bins for every bathroom on campus. Discarded paper towels make up a fifth of campus waste. Considering paper towel can be recycled, this would be an important change.
But, the University Students' Council would have to work hard to change buildings beyond the University Community Centre. Similarly, Barroso proposes upgrading campus buildings to meet green standards, which would fall onto Facilities Management.
Like Rehill, Barroso would reform paper-based academic practices. Pitting herself against Western and faculty who prefer paper marking and course materials.
Barroso plans to offer additional discounts at The Spoke on top of the current discount for using reusable mugs. However, she does not specify what this discount would be. 
Other initiatives include placing compost bins around campus to combat food waste, as well as working closely with student groups to increase environmental literacy on campus.
Community engagement
Despite each candidate pledging more transparency in the USC, none of them address the Student Choice Initiative in their platform.
Barroso does approach it obliquely, saying the USC's budget should become easier to understand. In tandem with this promise, the current executive said in January's council meeting that they will be posting the USC's budget materials directly to social media.
In addition, Barroso plans to develop a networking program students can apply to, which would allow students to connect with Western alumni.
A unique and strong point in this area is Barroso's plan to increase accessibility during clubs week. Rather than crowding the Mustang Lounge for a whole week, Barroso suggests themed days where similar clubs can connect and create partnerships.
Wellness
Barroso acknowledges that students at Western generally don't feel comfortable accessing the mental health resources on campus. As a result, she plans to work to ensure counsellors from all religions and backgrounds are available at Western by implementing an online service already being used by other universities, such as McGill University and the University of British Columbia.
Streamlining services to reduce waiting times for students, like Barroso plans to do, would be ideal. However, she does not specify how she would do this. But, she does plan to implement support groups and take-home strategies for students when counselling is unavailable. This policy could be beneficial during times counselling is crowded, especially when exam season rolls around.
Barroso does mention she would advocate for mental health training for academic counsellors — a more idealistic goal outlined in this pillar. However, her proposal to implement a portal for student feedback regarding the mental health services on campus could be a great first step.
Safety
Like others', Barroso's platform searches for new directions after the recent updates to the sexual violence policy. Her solution is to focus on education, like Rehill, by running informational campaigns.
Her pillar on safety also includes improving lighting around areas such as the TD Stadium, Huron parking lot and affiliate campuses. This is a common theme across all candidates' platforms, and Western recently invested in 44 new lights by the Natural Science Centre.
Barroso also wants to identify unsafe areas that require maintenance or have poor lighting, and, if elected, has promised to work with Foot Patrol and Campus Police to mitigate these issues.
Equity
Equity and inclusion is another strong area of Barroso's platform, addressing a wide range of groups at Western.
Much of the discussion among other candidates about equity has centred on racism and sexism on campus, likely due to recent scandals at Western. Barroso mentions these, but includes additional material on accessibility.
Barroso's platform includes an accessibility audit. This audit would reach across campus, not just the UCC, which would naturally require Western's co-operation. Nonetheless, it's a sharp idea on a topic few candidates are discussing in as much detail this year.
Like Rehill, Barroso proposes anti-oppression training for Western faculty, likely in reaction to an incident in which an English professor used the N-word in lecture.
When it comes to racism at Western, Barroso plans to provide support for those experiencing discrimination as well as implementing anti-oppression training for all faculty members.
Placing Kosher microwaves around campus is also something Barroso will advocate for if elected. Additionally, she plans to make efforts to with The Spoke and the Wave to include Halal options on the menu. Barroso also wants to advocate for a more healthy selection for students in general, an unsatisfied need for many students.
Purple Fest
Although Purple Fest is only one day of the year, it is undeniably one of the biggest challenges the incoming USC president will face.
But, Barroso's platform gives little attention to issues surrounding Fake Homecoming or Purple Fest. She acknowledges in her platform that Purple Fest 2019 was "a bit rocky" and admits steps need to be taken to improve the event in the future; Barroso is unclear about what specifically needs to be improved and how she plans to ensure Purple Fest 2020 runs more smoothly.