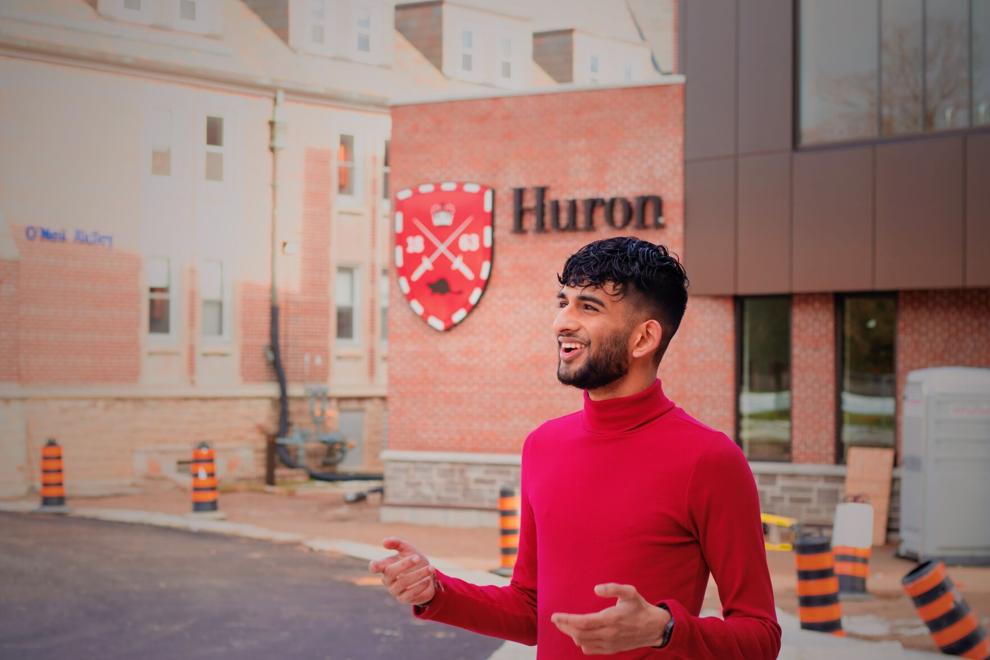 Editor's note: This article is news analysis. The Gazette's news team analyzed each platform collectively to determine which pillars we believe are feasible and which we believe are beyond the powers of the presidency based on our extensive reporting on the University Students' Council.
---
Social Science Student Council president Zamir Fakirani launched a campaign for USC president defined by bold and ambitious ideas for students, all grounded on a firm basis of advocacy work.  
The fourth-year politics, philosophy and economics student released a 43-page platform with 10 pillars, covering a wide range of student concerns, with a focus on equity. 
While many of his goals will likely take multiple years beyond his presidency to reach and some appear beyond the power of the University Students' Council, almost all long-term advocacy is commendably paired with a short-term solution.
Fakirani's student events are the most novel of the three candidates — boasting a skating rink, bumper cars and more — though some are dubiously possible under potential future coronavirus restrictions. 
Academics
Fakirani has lofty plans for reforming academic life at Western University. But, these plans rely largely on advocacy to reform faculties and instructors rather than USC initiatives.
Fakirani plans to reform self-reported absences by automating and updating the system to increase accessibility. He also wants to expand SRAs to Ivey Business School students and work to mitigate professors' eluding the SRA system by making assignments worth 31 per cent.
He plans to push Western to introduce a faculty Code of Conduct, which will demand a zero-tolerance policy. But, given that Western's faculty union is not up for contract negotiations until fall 2022, this would be an almost impossible task for Fakirani to complete within his term, even if the university consulted the USC during negotiations.
Also among Fakirani's more dubious promises is his push for Senate to create syllabus templates for professors that are streamlined and accessible for students. Both of these asks are in-demand from students, but would infringe on professors' academic freedom and are likely to be shot down on the Senate floor and the bargaining table in 2022.
Affordability
Fakirani plans to work with the university to create more accessible scholarships and bursaries, along with capping tuition costs — ensuring they don't rise above inflation — a respectable goal, which may be a challenge given the university's insistence that money is tight due to the unexpected costs of the pandemic.
He also promises to advocate for more flexible payment structures, where students can pay tuition on a quarterly or even monthly basis. Though this advocacy may take time to see results, he plans to institute a grace period and appeals process for those facing late charges in the short-term.
He also vows to work with the government and university to re-institute an international tuition increase cap, after international tuition skyrocketed this year.
Fakirani includes students from the affiliates throughout his platform, more than his fellow candidates, including improving affiliate students' access to financial aid offered by Western and the USC on main campus.
Equity, Diversity and Inclusion

Fakirani has an extensive equity pillar, starting with his commitment to push Western to reform its racism reporting tool, recommended by the Anti-Racism Working Group.  
He also plans to analyze data collected through the tool — an initiative that would be helpful for informing future anti-racism projects, though it's unclear whether the USC could independently analyze the data if the reporting tool is run by the university.
Fakirani hopes to work with the USC Board of Trustees to increase coverage for mental health counselling and work with the university to hire more diverse mental health support workers. He also hopes to push Western to start a 24/7 mental health hotline for students in crisis. 
He additionally wants residence to change their sexual assault policies, which currently require survivors to undergo traumatic investigations regardless of whether they want to pursue charges — while a noble goal, it is unclear how receptive Western will be to the USC's demands, especially since the university already reviewed it's policies two years ago with significant input from the council.
Accountability for perpetrators will also be heightened, as Fakirani plans to demand the university sanction those found guilty of gender-based violence on or off-campus. Western has tried to use the code against students' off-campus actions in the past by partnering with police but were met with severe criticism from the USC. 
The university has since ended their information-sharing agreement with London police and Western does not independently have the power to determine if a student committed a crime — like assault — and without this power of conviction, would likely struggle to sanction a student under the code.
Student Life
Fakirani has ambitious plans for student events, including an in-person Orientation Week, promising socially-distanced activities like live music and bumper cars. The questionably pandemic-safe in-person programs will continue throughout the year with food trucks and ice skating on a parking lot.
Fakirani also plans to continue Purple Fest in fall 2022 — almost a year after his presidency would be set to begin — with a drive-in concert including a livestream for students who cannot attend in-person.
The leftover money allocated for this year's OWeek will be set aside for extra events aimed at the class of 2024 — the cohort that missed their high school graduations and first year of university due to the pandemic — as the class moves into upper years in an initiative Fakirani is calling the 2020 Fund, an initiative that would rely on future executives to carry on.
Sustainability
The candidate wants Western to divest its endowment fund — a billion-dollar portfolio of university investments partly funded by student tuition — from fossil fuels into greener holdings. This is a huge ask which Western has resisted for years, but other student unions — notably the University of British Columbia — have successfully pushed their schools to divert investments.
Fakirani also wants to reduce Western's waste production by phasing out single-use plastics. While he notes this will be done in a way that is "accessible for all," Western has gone back and forth on this policy for last half decade, as the paper straws implemented to replace the plastic were too flimsy.
The candidate will also push the university to collect and publish annual sustainability reports, which will detail emissions, waste, water data and strategies to reduce waste on campus — though he makes no similar commitment to environmental transparency for USC operations.