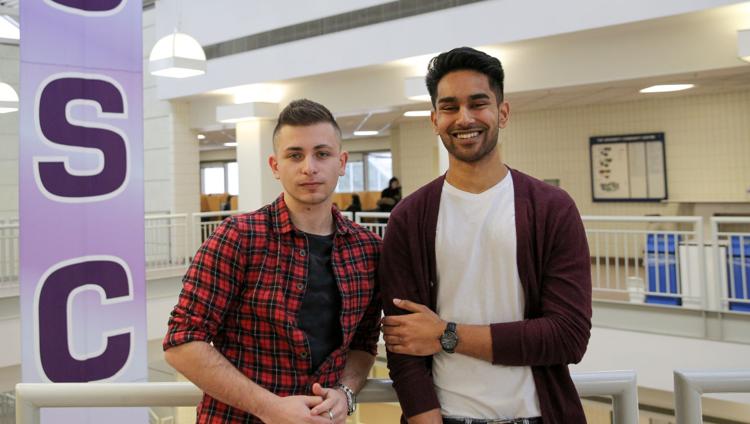 With the 2018 University Students' Council elections officially underway, here's a need-to-know rundown of Team Ocean and Team PrattChang's presidential slates' platforms, Team Ocean and Team PrattChang.
Team Ocean
Team Ocean's platform is built around their slogan: "A new student experience."
Presidential candidate Ocean Enbar and vice-presidential candidate Rav Datta's platform consists of five main sections: mental health, wellness and safety; student life and community; engagement and entrepreneurship; student academics; and campus operations. 
Mental health, wellness and safety
Team Ocean proposes to combat the mental health crisis at Western University by increasing the number of therapy dogs and by introducing stress-reduction training, such as mindfulness sessions. The pair also promise to give students access to a subscription to the mental health app, Headspace. 
Under this section, Team Ocean includes platform points for student leaders. The candidates promise to offer more support to RezLife staff and sophs through increased academic accommodation and better self-care stations. Team Ocean also plans to try and bring back free classes at the Western Student Recreation Centre.
Student life and community
Under student life, Team Ocean proposes a new Purple Card for students, which would grant discounts on campus and across London. Other highlights include the introduction of an early morning breakfast during exam season (location to be announced) and better advertisement of the USC's Food Support Services to fight food insecurity. Team Ocean also plans to introduce travelling office hours for the executives and more food options at The Spoke and the Wave.
Engagement and entrepreneurship
To encourage student entrepreneurship, Team Ocean promises to eliminate the USC vendor fee for students who are looking to showcase and sell their products in the University Community Centre. The pair also plan to introduce access to Bitcoin and other cryptocurrencies on campus, as the slate believes that many students are gradually investing in digital currency.
Student academics
Within academics, the slate presents many advocacy points. Team Ocean promises to advocate for free, open-access textbooks, pass/fail courses, course registration waitlists and more co-op and workplace-integrated learning opportunities. Team Ocean states many students have expressed "dissatisfaction" with the amount of co-op and workplace-integrated learning opportunities at Western, and they plan to work with local businesses to amend this.
A final academics platform point describes "transitional" co-curricular courses for first-years that would ease their transition to university and educate them on the importance of diversity.
Campus operations
Team Ocean began its campus operations section with universal washrooms to accommodate all genders and disabilities. They also promise to improve snow removal on campus, to add shelters for bus stops on the Brescia and King's University College routes and to add an intercity shuttle that runs on the weekends to the Greater Toronto Area and back.
The slate also aims to ensure that students are well represented in the development of London's upcoming bus rapid transit system and that store hours, prices and student jobs are kept steady at campus storefronts as the minimum wage increases to $15 in January of next year.
---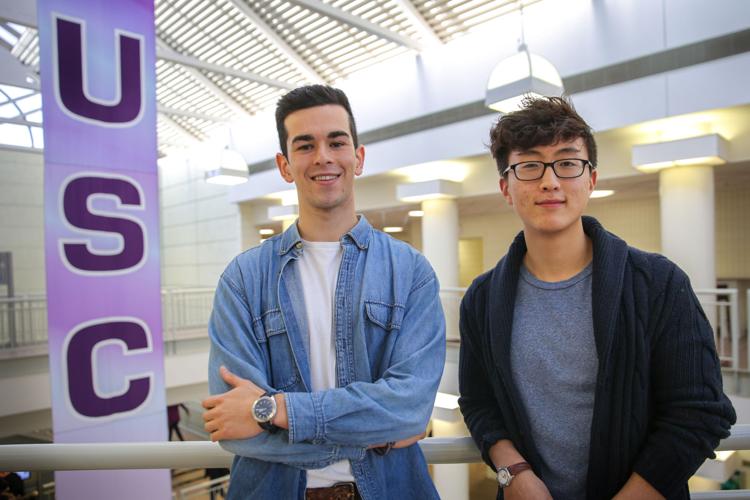 Team PrattChang
Team PrattChang's mission statement is clear: "break down barriers and ensure that every student has the best years of their life here at Western."
Released Monday morning, presidential candidate Mitchell Pratt and vice-presidential candidate Danny Chang divided their platform into five main "pillars": student experience, academics, health and wellness, a safer Western and life in London. Notably, summarized versions of the platform can be accessed in three languages besides English — Korean, Chinese and Hindi.
Student experience
As the platform's largest section, student experience is clearly a priority for PrattChang. Some of the candidates' most noteworthy platform points focus on more student programming, like bringing back the Western Homecoming parade and securing higher profile performers for Purple Fest.
This section also promises a clubs' space renovation and a review of the administrative fee that sophs currently pay. Further, PrattChang plans to advocate for a self-identification system that would allow students to use their preferred name on non-legal documents, such as class lists or their student email account.
Health and wellness
Points in this section were divided into three main categories: proactive solutions for mental health, reactive solutions for mental health, and health and wellness.
Under proactive solutions, PrattChang aims to create a wellness portal, which will help students quickly identify wellness resources on campus. PrattChang also looks to empower students by providing sophs, USC members and other campus leaders with mental health first-aid training.
Otherwise, PrattChang promises to consolidate and streamline existing mental health resources across Western, and they also plan to work with the Rec Center to review class instructor fees.
Academics
The academic section of PrattChang's platform focuses on advocacy initiatives, ranging from smaller asks, like a waitlist for course registration, to larger ones, like a promise to help maintain Ontario's current three per cent tuition cap.
Other points include advocating for the continuation of fall reading week and the introduction of pass/fail credits and free, open-access textbooks. PrattChang also suggests introducing an academic relief program that would give students accommodation on one assignment each semester worth less than 25 per cent by submitting a form online.
A safer Western
PrattChang plans to advocate for the original Homecoming date in late September. Regardless, they also promise to provide food and water on the original date and to run informational campaigns beforehand that promote safe celebrations.
Other items include striking a working group to look at sexual violence prevention on campus and installing railing guards to increase pedestrian safety on Western Road and Lambton Drive.
Life in London
Finally, PrattChang promises to represent students' interests to the city. This includes transit — such as bus rapid transit — pedestrian safety and Homecoming. The pair also plans to highlight London's upcoming municipal election.