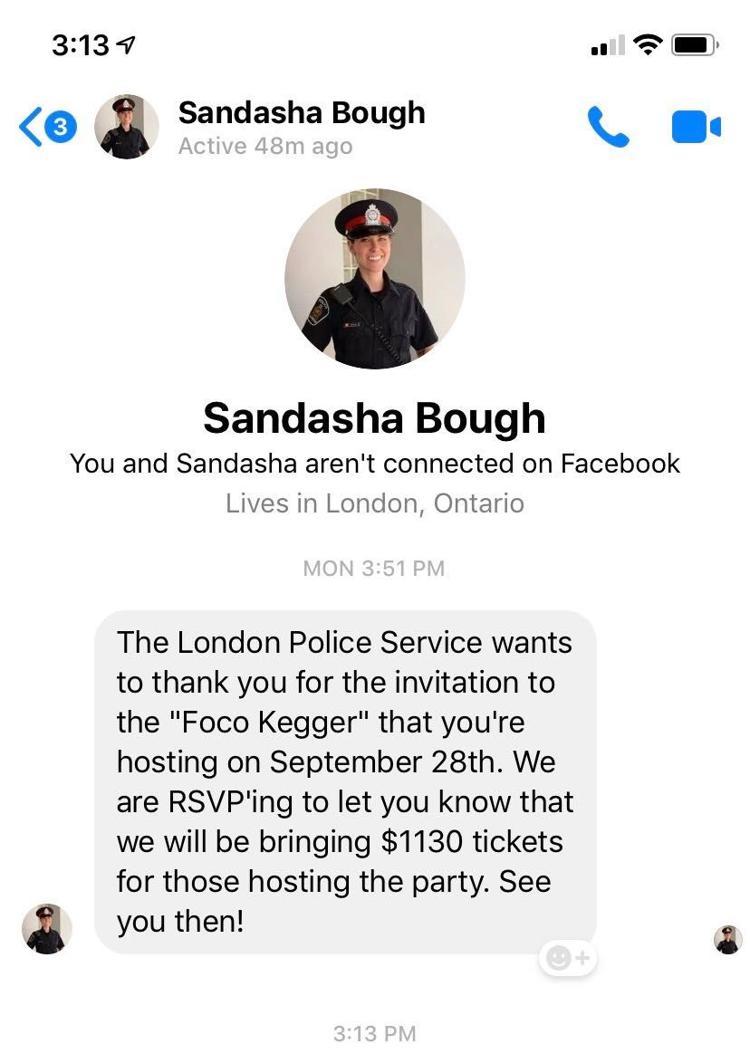 Western and the police had heard about Gian Piero's party.
Piero and his three housemates had created a Facebook group, and invited around 200 people to a Fake Homecoming party at their house just off Broughdale Avenue.
The housemates then received a message from the police. 
"The London Police Service wants to thank you for the invitation to the 'Foco Kegger' that you're hosting on September 28th. We are RSVP'ing to let you know that we will be bringing $1130 tickets for those hosting the party. See you then!" 
Piero and his roommates quickly cancelled the event, fearing the fines.
The threats of fines over social media, before parties even take place, show an aggressive messaging campaign by police — as they brandish a tough anti-party bylaw afforded to them by a city desperate to stop Fake Homecoming.
But, before ever hearing from police, Piero heard another knock at the door. It was someone from Western University.
An advisor from Western's Off-Campus Housing department told Piero they had been notified about the Facebook group.
"He was very polite, very respectful. He just warned us that there's a new bylaw in place," said Piero. 
Then, Piero's roommate saw the message request from a London police officer, who also had knowledge of the Fake Homecoming event. 
While the Housing official told Piero they had seen the Facebook group, and were approaching them because of it, the advisors' manager said it was probably a routine house call. 
He said they not were working with police to jointly approach party planners. 
"We do monthly visits to houses and stuff like that, so it's nothing to do with what the police are doing with the nuisance bylaw," he said.
Piero and his roommates, shaken by the two surprise messages, decided to inform the 100 people who had so far confirmed they were attending the event. 
"Just so everyone knows, This party is cancelled so don't bother showing up," they wrote in the private event page. "Someone tipped off the police and western housing administration."
London police seem to have a different approach for dealing with parties that could potentially be deemed a nuisance.  
When asked by the Gazette, London police said that monitoring these Facebook events are a regular activity for them and not exclusive to Fake Homecoming parties.  
"We do this every year. If we are aware of any of the events being posted on social media then we are advising the people who are hosting the events that we will be attending as well," said a police spokeswoman.
Police contacting students before any punishable action took place raises questions about how police view the terms of their new bylaw. 
Parties must be considered a "nuisance" to receive fines. This definition includes excessive noise, public intoxication and climbing on top of a roof.
Hosts of nuisance parties are fined a minimum of $1130. Police can also dole out provincial offence charges, with a maximum fine of $25,000.
The bylaw does not mention a threshold of partiers that would make a party a nuisance. The language of the message nonetheless seems to promise the fines would be issued. 
Piero expressed his frustration with the bylaw's broad definition, and that they were unsure what classifies a party as a nuisance.
"We were going to try keeping our event under control," he said. "It would just be on our property, we were going to talk to our neighbours in advance. We weren't trying to cause a nuisance."