A poster at Imaginus, Western's annual poster sale, has some students concerned about cultural appropriation.
The poster is of The Jimi Hendrix Experience's second album cover, Axis: Bold as Love. In the image, three band members' faces are superimposed over Hindu deities.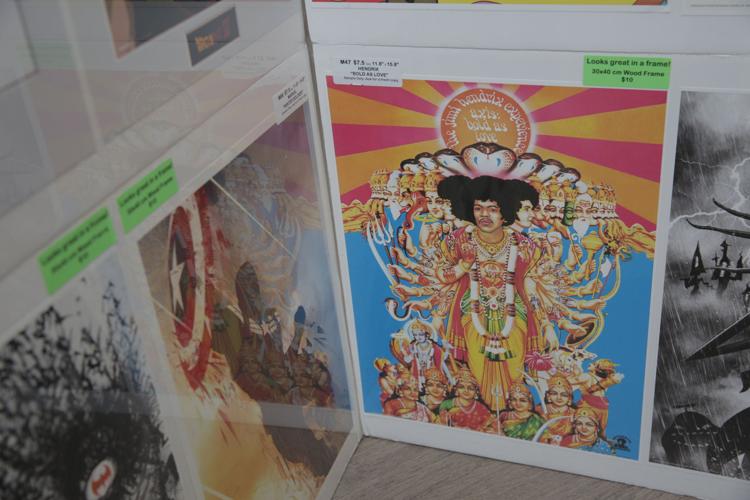 At the time of the album art's release in 1967, guitarist Jimi Hendrix had also publicly expressed his disapproval, condemning the artist's design. In 2014, Malaysia implemented a country-wide ban on the Axis: Bold as Love cover art, including CD covers, posters and other print materials.
Nanditha Iyer, a third-year health sciences student, said that she found it upsetting that the poster company was selling the image on Western's campus.
"It felt like they didn't respect certain students' needs or beliefs," expressed Iyer. "I think it's important that students know that it's important to respect other people's beliefs, and culture should not be appropriated."
Fourth-year medical sciences student, Kush Joshi, was made aware of the poster by Iyer, who messaged it to him via Facebook.
Like Iyer, he said that he was surprised and disappointed when he first saw it because he believed the poster was disrespectful to what Hinduism represents.
"It's the first time that I've seen it," said Joshi. "If I've seen it before, then I probably didn't pay much attention to it. But this is the first time when I actually took time to analyze it and form an opinion."
Joshi said that he had advised his friend to talk to University Students' Council executives to address the issue and hopefully remove the poster.
According to Jana Cernavskis, USC communications officer, the poster was taken down as soon as students' complaints were brought to the USC's attention.
The Hindu Students' Association's executive team released a statement that expressed their concerns, writing the poster's presence denounced Western's support of culture diversity.
"We don't think it's appropriate to reduce a religion to a disposable marketing tactic by sticking a face on the front of a visual design that holds deep value to millions of people," the statement read.
However, the HSA said they were pleased to see the poster had been taken down in a timely fashion. In the future, HSA would like to see a better screening process for posters to promote an inclusive campus environment.
"It says that the USC cares about its students," said Iyer. "I appreciate the USC for respecting the students' concerns and beliefs. That's what our campus needs to be doing."
Update: (Sept. 28 at 3:00 p.m.)

The USC confirmed a second poster was removed after a student complaint. The poster depicted South Park characters stylized as attending The Last Supper. The student complained the poster was offensive to Christian students.