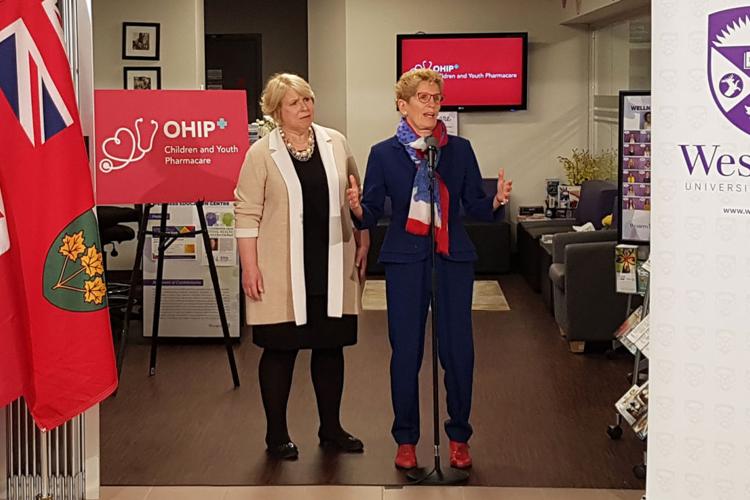 Ontario Premier Kathleen Wynne stopped at Western University's Wellness Centre to discuss a number of the government's initiatives early Friday morning. 
During the visit, Wynne discussed the OHIP Plus pharmacare plan that was introduced in the recent Ontario budget unveiling. 
The plan will cover the costs of 4,400 medications for Ontario youth from birth to 24 years old — benefitting an estimated 4 million people. The plan is scheduled to begin Jan. 1, 2018. 
"We know that this is the kind of support that families need. It's a huge leap forward towards a national pharmacare plan; a general universal pharmacare plan which we know is necessary across the country," Wynne said. "Ontario is stepping up and taking a lead."
Wynne also discussed the ongoing changes to the OSAP program noting that 200,000 youth will benefit from free tuition starting in September. 
Afterwards, the Premier participated in a question and answer period. 
One individual asked Wynne about the province's bus rapid transit plans and if London would receive the same support and investment as other cities, like Kitchener. 
Wynne did not have details on the infrastructure investments, but noted there are discussions to have the high speed rail go from Toronto to Windsor. 
"We know London is important. I'm here standing in London because it's an important part of the province," Wynne said.
Wynne said she is waiting for David Collenette, a special advisor for Ontario high-speed rail, to complete his report before discussing more specifics.
Other topics discussed included the current flooding going on in some areas of Ontario, the improved unemployment rate and the government's decision to spend nearly $54,000 on Canada Goose winter jackets.
Prior to Wynne's visit to the Wellness Centre, she attended a partners breakfast with the University Students' Council (USC) student executive. The incoming and outgoing exec met with numerous stakeholders including London North Centre MPP and deputy premier Deb Matthews, mayor Matt Brown, high-level Western administration including President Amit Chakma and USC senior staff.