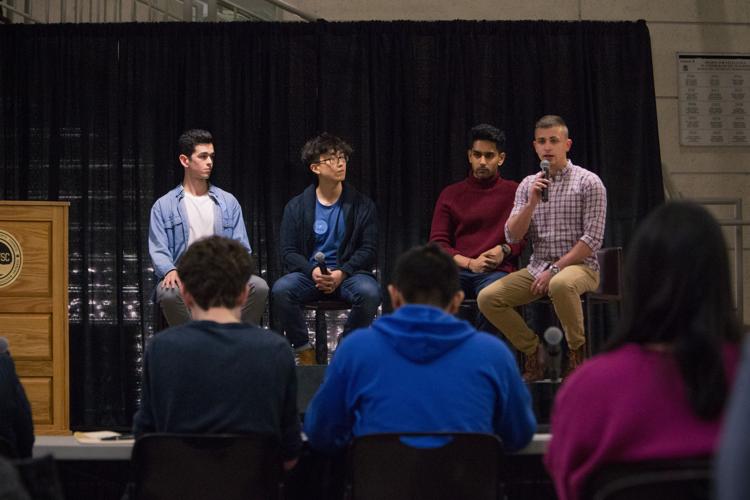 Editor's note: since the media debate, vice-presidential candidate for Team Ocean Rav Datta has dropped out of the election. 
The USC Media Debate between presidential slates PrattChang and Team Ocean saw the personal mix with the political on Jan. 24. 
The two presidential slates agreed many times throughout the night, but several topics sparked pointed rebuttals, including mental health and allyship. 
The slates fiercely debated the best way to approach mental health and wellness on campus and how students should be supported. In their platforms and on stage, both slates stated that mental health was a top priority, but in the debate, they disagreed starkly on the right approach to each problem. 
While PrattChang emphasized their systemic approach to tackling the mental health crisis, Team Ocean defended their platform's individual proposals. Many times, PrattChang said they were not the "band-aid solution" slate, referring to Team Ocean's platform points to plan more therapy dog events and implement an app.
In particular, the candidates debated Team Ocean's support of the app Headspace to help mitigate students' mental health problems.
"What we're looking towards is an app that will offer students a way to deal with daily stress and anxiety," said Rav Datta, Team Ocean's vice-presidential candidate.
"But not a systemic solution," interjected Danny Chang, vice-presidential candidate for PrattChang.
"Fortunately, how we're approaching mental health is to consult with students," replied Ocean Enbar, presidential candidate. 
Chang went on to say that using an untested app on Western University's campus is irresponsible and that, while he's tried it, he prefers another app, Calm. 
Mitch said mental health training will be provided for student leaders on campus, saying that peer support will make students feel comfortable to explore issues #voteusc

— Grace (@gracektoe) January 25, 2018
Enbar said the Headspace app has been tested at other universities. Further, Datta said that what Western is currently doing to tackle mental health issues isn't working, and Team Ocean is proposing solutions.
Another contentious subject was allyship and what it means to be an ally. Datta argued that allyship is not just wearing a badge: it's something you have to work toward every day. He accused Team PrattChang of leaving an "All-in for allyship" presentation early. Presidential candidate Mitchell Pratt explained that PrattChang did have to leave the meeting for a another commitment, but he went further to say that allyship is more than just attending a single meeting.
The candidates also discussed the lack of women running for the USC presidency this year and women's issues on campus in general. Both slates expressed disappointment that no women were running, promising to empower women on campus if elected.
Datta said Team Ocean is committed to making all USC subcommittees 50 per cent men and 50 per cent women. Pratt's focus was on allyship and outreach.
While some issues were contentious, both slates agreed on many topics throughout the night, including support for Western's smoking ban, support of bus rapid transit and the USC's commitment to support women in leadership.
Ocean said that free speech is something that the slate is passionate about, but that womens rights should be recognized first #voteusc

— Grace (@gracektoe) January 25, 2018
"If elected, one of the things that our slate hopes to bring to this campus is making sure that our diverse group of students always feel accepted, always feel at home, know that they're in a safe space, that they can express themselves and that they can be themselves," said Datta.
PrattChang's closing remarks emphasized their commitment to fight for students.
"At the end of the day — Mitch and I — our promises are not empty, and that's what we're committing to you if we're elected," said Chang. "We've been fighting for students on this campus for the past three and four years and hope to continue doing so."
Over 100 students showed up to the debate in the University Community Centre hosted by the Gazette and Radio Western.