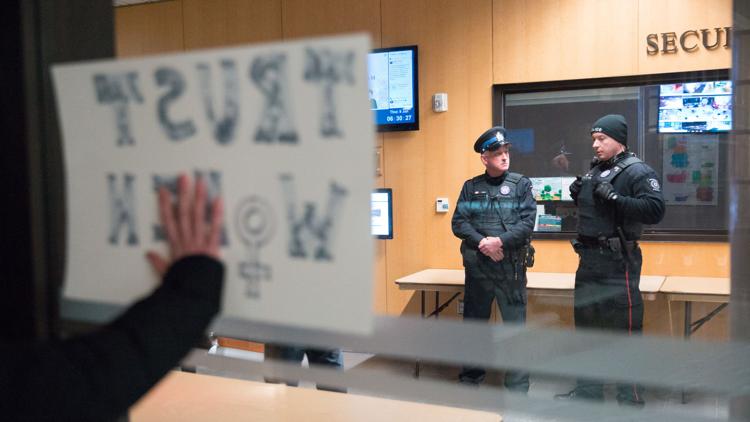 The windows of King's Student Life Centre were covered with colourful Bristol board Thursday night.
"I'm a woman not a womb" and "if you cut off my reproductive choice … can I cut off yours," with a drawing of scissors, were just a couple of the slogans written on posters raised high for people inside the building to see.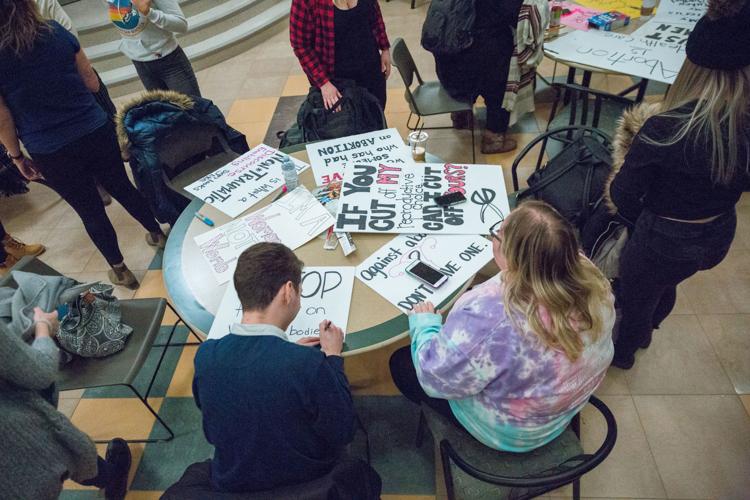 Dozens of demonstrators gathered by the entrance of the campus' Joanne and Peter Kenny Theatre to protest a screening of Unplanned — a controversial anti-abortion film being screened by the King's University College ministry.
While the movie is based on the memoir of Abby Johnson — a Planned Parenthood clinic director turned anti-abortion advocate — it has been widely criticized for portraying false information about abortion procedures.
A couple dozen King's students gathered to demonstrate their disapproval of the film, arguing it spreads misinformation and makes women feel unsafe on their own campus. The ministry has defended their stance, viewing the screening as the beginning of a productive discussion.
Over 70 people attended the screening, many of which appeared to be community members above average student age.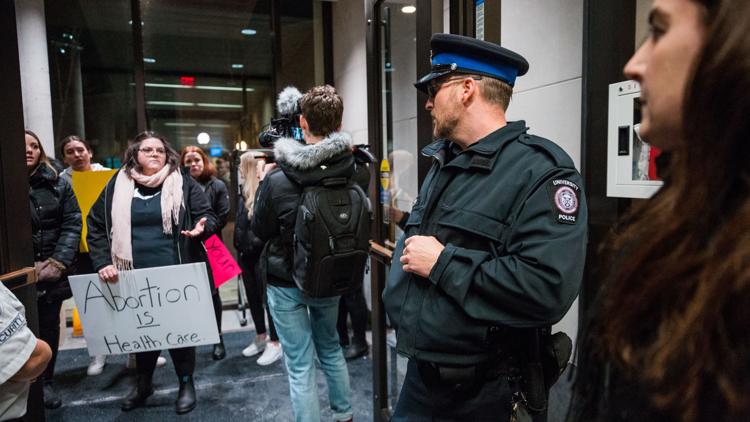 The protesters — led by the London Doula Project and Pro-Choice London — were invited to participate in a discussion period planned for after the film.
But, when they arrived — signs in hand — campus police stopped them at the door. The group was told they were not allowed to chant or carry signs into the Student Life Centre — and allegedly police threatened them with trespassing charges if they did.
"We're not allowed into our own student centre, even though we are paying students and have valid student IDs. It's cold outside and we just want to peacefully protest in here," protest leader and London Doula Project member Christal Malone said after speaking with campus police.
Although campus police officers were at the event, they told the Gazette it's up to King's officials to decide who they permit on campus. And while doling out trespassing notices was unlikely, they said, it would be possible if the situation escalated.
Malone was told to contact the head of campus police for an explanation, who did not respond to her numerous phone calls throughout the event.
Protesters were surprised by police and private security presence at the event; campus police said this is a routine response when they catch wind of a protest.
"This is a shock. It makes it feel very unsafe," Malone said. "We were invited to come and have a peaceful discussion about this movie, so it's very disappointing that their presence was needed."
But, police later clarified in an interview that officers are not usually present at the scene — instead, they monitor protests from cameras around main campus. They said they do not have access to the cameras on King's campus.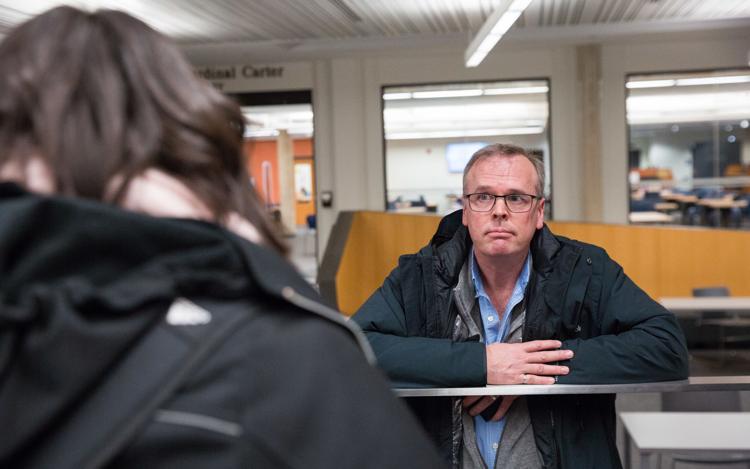 King's dean of students, Joe Henry, told the group of students they were unable to chant indoors as the Student Learning Centre is attached to the library, and the ban was out of respect for quiet study spaces.
"Everyone was welcome to come into the Student Life Centre but loud protesting would not be tolerated as it would interfere with a student study space," wrote Jane Antoniak, King's communications manager, in an emailed statement following the protest. "At no time were people prohibited from entering the SLC."
Instead, the group's chants could be heard through the glass windows, spiking as movie-goers entered the security-guarded theatre. Eventually, due to the freezing temperatures, demonstrators taped their signs to the windows and entered the building quietly.
The group remained for an hour into the movie, loitering outside of the theatre, before making a dramatic chanting exit that alerted security.
Pro-choice groups protest film screening