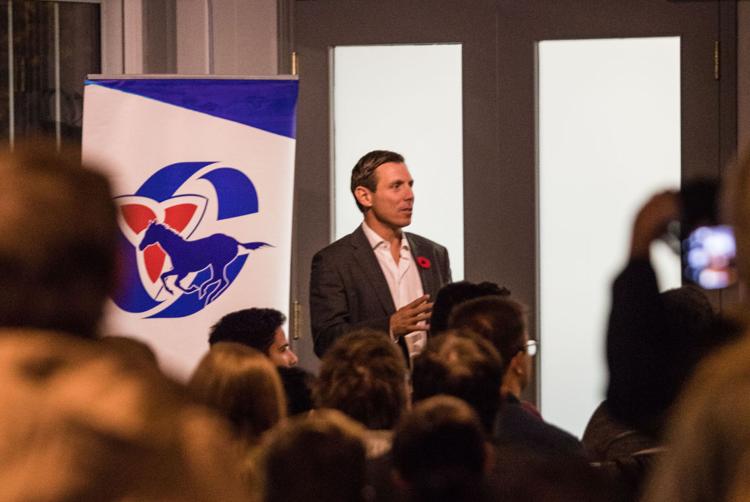 Progressive Conservative Leader Patrick Brown talked about Ontario's future and highlighted the province's skill gap at the night's WesternU Conservatives Speakers Series event on Nov. 7.
His speech covered topics ranging from Ontario's debt to job growth. To improve some of the province's issues, he explained Ontario should foster the development of more businesses, adapt to labour market demands and invest in education programs that directly lead to jobs, like engineering. Around 80 people gathered at The Grad Club at 5 p.m. to attend the event.
Patrick Brown at #westernu for WesternU Conservatives Speaker Series @brownbarrie #ldnont #cdnpoli pic.twitter.com/lYQfSOVfzf

— Amy O'Kruk (@amyokruk) November 7, 2017
In an interview, Brown said Ontario needs to address the skill gap. 
"Right now, we're graduating young people for jobs that don't exist," Brown said. "The [Ontario] Chamber of Commerce and the skills mismatch are in the billions. A Progressive Conservative government would help young people so that when you work hard and save money, you'll have a job."
He also expressed his disappointment with the current government's handling of the Ontario college faculty strike. He said Ontario's Premier Kathleen Wynne left the two parties to negotiate for too long, and now many students have had their semesters negatively affected by the strike.
Brown said the government should continue to support programs that provide financial aid to students who require it. 
His communications director, Rebecca Thompson, also attended the event. Thompson is a Western University political sciences graduate from 2001 and former member of the WesternU Conservatives.
"This is a fantastic opportunity for young people to get involved in the democratic process," Thompson said about the event.
Fourth-year political science student and president of WesternU Conservatives Sebastian Skamski believes that Brown is a pragmatic and energetic leader.
"With the election just seven months away, the event provided a great opportunity for students to familiarize themselves with the issues facing Ontarians," Skamski said.