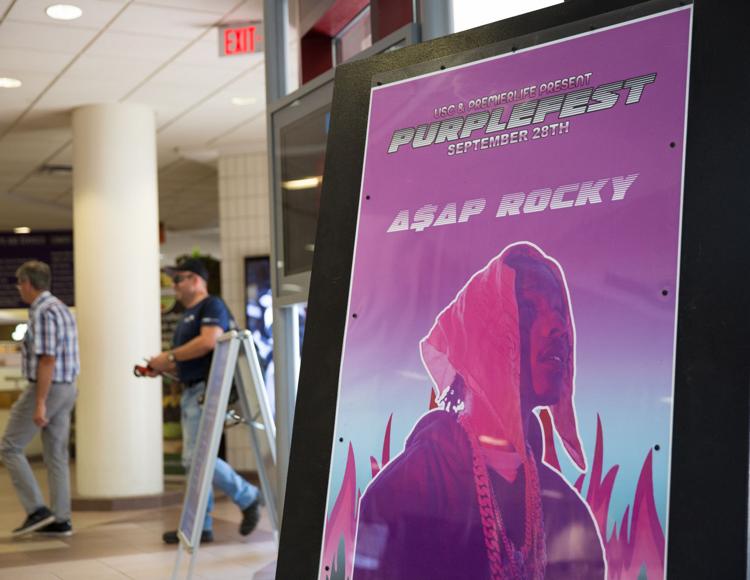 Purple Fest is expected to attract a large crowd of Western students and their guests this Saturday, who will see headliner A$AP Rocky. The concert will be held to the same, if not tighter, security standards as last year's Purple Fest.
The concert will be held at Western University's TD Stadium and expects a crowd of 14,000 — a sizable increase to last year's venue, which saw 11,000 students and guests in the Elgin Hall parking lot.
To handle the crowd, the University Students' Council — who is organizing the event — has prepared safety measures for students they hope to divert from Broughdale Avenue.
"We're really confident that we have more than enough security officers to handle the size," said Nico Waltenbury, USC communications officer. "We want to make sure the event is as safe as possible."
The event's success could mean the first victory in a years-long effort to fix Fake Homecoming. Last year's concert was received poorly by the public, leaving little room for error if an adapted Purple Fest falls short.
For the event's security, the USC has contracted an external security company, who will be helping to manage the venue alongside campus and London police.
Security will be responsible for everything from checking bags as students enter. This is to ensure people in mosh pits are safe and to respond to any incidents as necessary.
Everyone attending the Purple Fest event is subject to search upon entry, and security will enforce a no re-entry policy. Those refusing to be searched cannot enter.
The concert is meant to attract students away from Broughdale Avenue to a safer, supervised area. The concert ran last year, but city and police officials blamed its popular headliners for drawing even more partiers into the city.
"It's all part of the Broughdale task forces' collaborative effort," Waltenbury said.
The Task Force is a faction between Western, USC and the city to try and quell Fake Homecoming. Purple Fest, while run by the USC, is perhaps the task force's premier strategy.
The concert should be packed, at standing admission only, and guests will have amenities similar to last year's like food vendors and tables, booths and trucks set up by event sponsors, in addition to a 19-plus licensed beer garden. 
Waltenbury confirmed that Purple Fest is a rain or shine event. But, in the event of lightening or heavy winds that make the concert unsafe, the venue will be evacuated and no refunds will be issued. 
Concert attendees should also note that gates will open at 9:30 a.m. and close at 2 p.m.
Any students who arrive before 11 a.m. will get a free hotdog while supplies last. 
The concert will feature artists bülow, Tyga, A Boogie wit da Hoodie and ASAP Rocky.
The set times for the artists are displayed on USC's webpage for this upcoming Saturday, which are as follows: 
9:30 a.m.: openers

10:30 a.m.: bülow

11:30 p.m.: Tyga

12:45 p.m.: A Boogie wit da Hoodie

2:15 p.m.: A$AP Rocky
The set times are still waiting confirmation and are subject to change.
Last year, criticism of Purple Fest stemmed from the timing of its acts. When Broughdale was busiest, around noon, the concert was nearly empty — with headliner Lil Uzi yet to take the stage. This year's event starts earlier, and each of its acts is bigger than last year's.
Students who purchased tickets can only bring one guest. If they bought tickets in person, where vendors may have allowed students to buy more, they can only use two of the tickets they bought.
Waltenbury said the USC will redirect anyone with ticket questions to the original seller, if it was not purchased on their website or the Purple Store.
Additional information is available on the USC's webpage for this upcoming Saturday, outlining safety precautions for those who attend Purple fest as well as information for Broughdale tenants. 
Correction (Sept. 26, 9:46 p.m.): the set times have been changed to match an updated schedule.