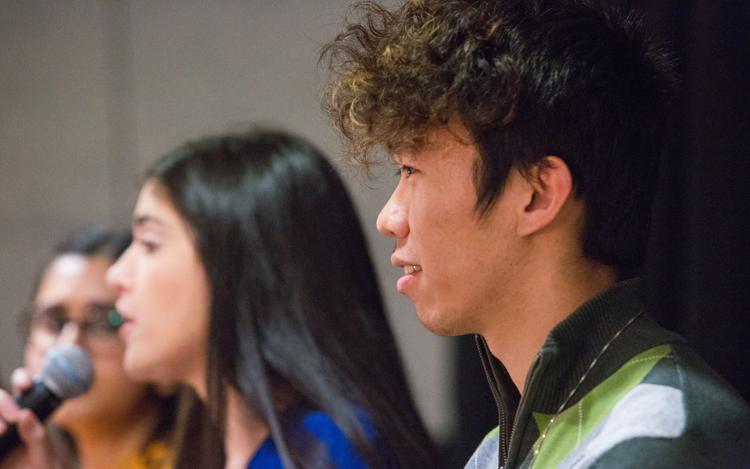 Keenen Qin was found to be pre-campaigning in his bid to be USC president for "liking" a Gazette article before the official campaign period.
The Elections Governance Committee — the body that oversees elections — found Qin pre-campaigned when he liked a Gazette article that announced his candidacy on Facebook the evening of Jan. 19.
The article was published Jan. 17 and the campaign period officially began on Jan. 20.
This is the first violation of the presidential election season — with a verdict reached the same day students begin to cast their ballots — and also the first with this year's retooled ruleset for elections. Candidates are now not necessarily punished for violating a minor rule a single time.
The EGC's investigation found Qin violated section 11.7 of bylaw 2, the bylaw governing how candidates can act during the two-week campaign season.
The bylaw states that "candidates and prospective candidates are not permitted to influence or attempt to influence voters prior to the campaign period." This includes promoting materials that could influence voters, such as Gazette articles, though candidates are allowed to speak to media for such articles before the campaign period.
A hearing on the evidence was set up for Feb. 2, but Qin did not attend. In his absence, the committee unanimously agreed his actions violated the bylaw. Qin said he had a prior commitment during the hearing, and his campaign team was also unable to attend.
The EGC determined the violation was not worthy of disqualification, instead the verdict is a warning for the candidate but does not further penalize him.
In an emailed statement, Qin said the "like" was an honest mistake.
"It is unfortunate that this honest mistake occurred, I am just surprised that me reacting to a post with the surprised emoji is being reported instead of the fact that one of my wooden signs was stolen from in front of Talbot [College]," he wrote.
Bylaw 2, version 200
The elections bylaw has undergone repeated changes in recent years. It was most recently updated in November's council meeting.
Prior to last year's University Students' Council election, candidates were penalized by a demerit point system, where violations could total up to 30 points for presidential candidates — 20 for faculty candidates — before resulting in disqualification.
Violations almost never resulted in disqualification, and after outcry over the system, it was changed.
Many on council thought that the point tallies allowed candidates to strategically break the rules, banking points but not crossing the disqualification threshold.
To move away from the demerit points model, last year's election operated on a major and minor violations system. Committing one major violation, or three minor ones, resulted in candidates being removed from the race.
This race, malicious acts like sabotage or vote tampering result in disqualification, while candidates who commit minor offences will be given warnings. If a candidate makes the same mistake twice, it could be considered a contempt of the committee and could still result in disqualification.
Minor violations include acts like using purple in campaign branding, campaigning during a council meeting or breaching advertising policy, among many others.
Under last year's rules, a warning could have been issued for minor violations, or the EGC could impose a fine or limit their campaign activities; candidates cannot be fined under the new model.