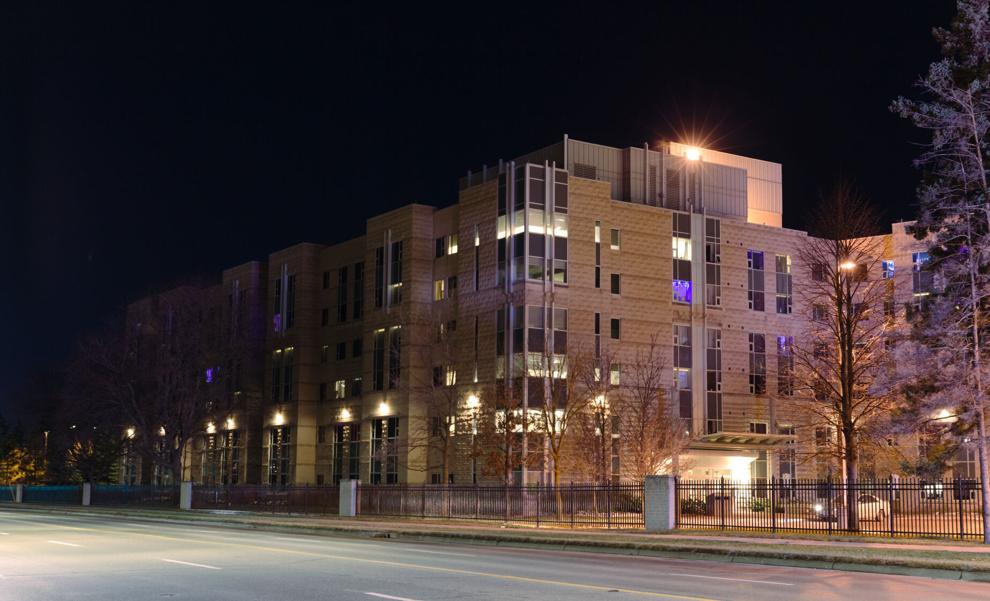 When Veronica Zhang moved back to Essex Hall last Tuesday, she did not expect to receive a phone call instructing her to go into quarantine before she finished unpacking in her room.
The Middlesex-London Health Unit declared a COVID-19 outbreak in Western University's Essex Hall residence March 2, after seven students tested positive over the weekend. The outbreak spanned two wings of the building, 3 North and 4 North.
Western moved the seven students to an off-site location, where they will remain for at least the two week quarantine period, while all other students living on affected floors were quarantined until Wednesday morning — eight days after the initial announcement.
3 North resident Charlotte Joe received the same phone call as Zhang from Western Housing. All students' names have been changed to protect their privacy.
"They told me I had two options, one was to quarantine in my suite and the other was the ability to go home and quarantine," said Joe. "From then on, they told me there was one case on my floor, but didn't inform [me] about any other cases until an email [which] arrived the next day [about] several other cases in Essex on my floor and the floor above me."
4 North resident Chad Morrison, along with his suitemates Kyle Fraser and Abdul Gibson received similar phone calls on Tuesday evening notifying them to quarantine.
Morrison, Fraser, Gibson and Joe decided to quarantine in residence, while Zhang left Essex later that day and went home.
"I decided to stay because before I got my results back I didn't wanna put my family at risk," said Morrison. "I also figured out that my roommates are staying, [and] with all the midterms happening I work better here, so I'll tough it out. It's kind of impractical to drive back to Toronto for 10 days."
Within two hours of the phone call, Student Health Services administered COVID-19 tests to all quarantined residents on 3N and 4N.
Fraser and Joe described the quarantine as "boring" and said "each day feels like a long Sunday."
"We can't do anything," said Fraser. "I just want to go outside."
The first few days also felt disorganized.
"At first I feel like [Housing] didn't really know what they wanted to do because my suitemate is also with me and we were both kinda told different information at the same time," said Joe. "I was told that the quarantine time could potentially be reduced depending on our results, and [my suitemate] was told that we were certainly staying for the 14 days."
Western is tasked with informing students about their quarantine, but the health unit decides when students are able to leave their rooms again.
While meals were delivered directly to the rooms of students in quarantine, the amount of food provided the first few days were inadequate, according to Gibson, leaving many students hungry at first, but the situation improved after a few days as students requested more.
"In the beginning, I think the portions were standardized for perhaps a rabbit," said Gibson.
"I'm a vegetarian, that's also had to be accommodated for. The first day, there was a bit of a mix-up and they had to send me back different food. The first few days I was definitely a little bit hungry and the food wasn't something I wanted. But now they have changed and brought more variety," said 3 North-resident Joe. "Our lunch and dinner is served to us and breakfast is brought to us the night before."
The expanded portion sizes also came with an expanded variety of food and snacks.
"At lunch [on Friday], we got Subway and I really appreciated it," said Gibson. "[Saturday] we're getting Domino's [Pizza] and so you know they're really caring for us and they want us to have the best possible experience one could have in quarantine."
Housing also set up a laundry service where quarantined residents can submit a laundry form by Saturday, have their laundry picked up on Monday and returned by Wednesday. The university reached out to quarantined students through residence student support via phone calls and emails.
The impacted hallways were monitored by security guards to ensure students remained in their suites. Essex Hall is a suite-style residence and students share semi-private bathrooms with one other resident, and a kitchen and common area with three other residents in the same suite.
Students on quarantined floors acknowledged that residence staff were working as fast as possible and doing everything they could.
Residents on other floors in Essex Hall were more frustrated with the lack of information provided regarding the outbreak in their building. Many residents found out about the outbreak through social media posts and word-of-mouth Tuesday evening, prior to an email sent out by housing at 8 p.m..
Zhang was upset that Western had known about the positive cases since Saturday and chose not to disclose the information until Tuesday.
"I was fairly shocked. I went from being excited about returning to residence to being scared and panicked. After the dust settled I was just confused about why Western didn't give me a heads-up about the outbreak when I confirmed my move in a few hours earlier — or why they didn't tell me as I was checking in."
Although Zhang had not come in physical contact with anyone in Essex since December 2020, she was mandated to go into quarantine with the rest of her floor.
Western said they follow the Middlesex-London Health Unit's guidance for when to disclose positive cases. The first positive case was identified and removed from residence on Saturday.
"The following Tuesday, Western received notice from the MLHU of six additional positive cases all related to the initial case, which only then resulted in an outbreak declaration from the MLHU," said Chris Alleyne, Western's associate vice-president of housing and ancillary services.
"The Middlesex-London Health Unit will notify Western of a positive case of COVID-19 if there is increased risk to the community. As a positive COVID-19 test is a personal health record, Western is not always aware of positive cases unless MLHU deems it necessary or the affected student informs Western staff."
Western typically informs residents living on effected floors before notifying the rest of the building.
"Once the MLHU declared the outbreak in Essex Hall, it was communicated as quickly as possible to those residents directly affected," Alleyne told the Gazette. "A follow-up email was sent that same evening to the rest of the Essex residence community informing them of the outbreak declaration and that general activities could continue."
Sam Huttenen, a resident on a non-quarantined floor said knowing if there are cases in the building helps inform students' decisions, and often leads them to be more cautious.
"I feel safe because of the decisions I make personally. I make a personal choice to not go out as much as I want to."
"I know [Housing is] not trying to cause concerns among students or get students to panic or react too nervously. Obviously, you don't need to know the names. It's important to be transparent for people to be more cautious," said Huttenen. "If there are cases and students don't know about them and they think they're completely safe in some sort of bubble within their residence, everyone in the building might be at risk."
Huttenen said the lack of communication from residence staff members on positive cases in the residence is "unorganized, confusing and arguably dangerous."
Quarantined residents expressed similar grievances.
"One thing that's very concerning to me [is that] they informed us there was a positive case on Tuesday and the email informed the case was caught on Saturday," said Joe. "I definitely think they tried to figure out things before informing us which is definitely not fair and it's not safe that they didn't tell us."
Essex's incubation period was set to end on March 16. However, the MLHU determined the "potential for community spread was limited and the cases that came to [their] attention were contained and isolated," making it safe to end the residence's quarantine six days earlier. Since declaring an outbreak, the health unit has not found any new positive cases in the residence.