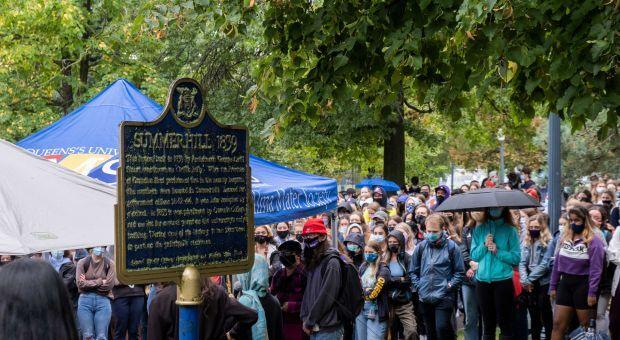 Over a thousand students at Queen's University walked out of class Monday afternoon in solidarity with Western students and to take a stand against sexual and gender based violence. 
Organized by the Queen's University student union the Queen's Alma Mater Society, the event saw students gather on campus to show their support for Western University students who have been impacted by sexual violence since the beginning of the school year. 
Similar to Western Univeristy's walkout on Sept. 17, Queen's students wore teal or purple in solidarity with Western students and carried signs calling on all universities, including their own, to do more to prevent sexual violence on campus.   
"In response to the tragic events that recently occured on Western's campus, and to the prevalence of sexual violence on university campuses, we are calling on students to wear purple or teal and join our walkout," said Queen's AMS in a statement on Instagram.
Queen's president Patrick Deane also said in a Twitter post that he fully supported the planned student walkout.
"I am encouraged to see that many [Queen's] students are participating in today's planned walkout and rally to show solidarity with [Western] students and denounce gender-based and sexual violence. You have my full support."